Lunch with Jim Lai, President of Global Unichip(GUC), was the highlight of my week, I had a very nice crab cake salad. As you may have read, GUC announced itself as the "Flexible ASIC Leader" taking direct aim at the traditional ASIC market led by the likes of IBM, ST Micro, TI, Renesas, and Samsung. This will be like "shooting fish in a barrel" for two very simple reasons: 28nm/20nm design challenges and the incredibly complex IP and packaging that goes with it!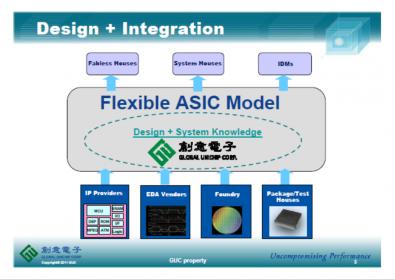 Established in 1998

Headquartered in Hsin-chu Science Park

IPO on TSE (symbol: 3443), 2006

Largest shareholder is TSMC, current share 36%

Worldwide presence: US, China, Europe, Japan and Korea
After my time as Director of Strategic Foundry Relationships for Virage Logic, I spent two years with the eSilicon and Virage sales teams in Silicon Valley. My theory was that IP was key to competing in the ASIC market so combining the two would be a perfect fit. My vision was for eSilicon and Virage and to merge and create an ultra competitive ASIC company which of course did NOT happen but I digress……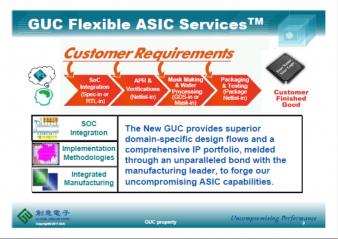 The New GUC provides superior domain-specific design flows and a comprehensive IP portfolio, melded through an unparalleled bond with the manufacturing leader, to forge our uncompromising ASIC capabilities.
During this time I identified 200+ fabless semiconductor companies in Northern California and profiled them based on product application, EDA methodology, IP, foundry, process node, etc…. I also attended weekly eSilicon and Virage Logic sales meetings to document why business was won and lost. Bottom line, IP absolutely was a key differentiator in why eSilicon lost to the ASIC guys, including GUC.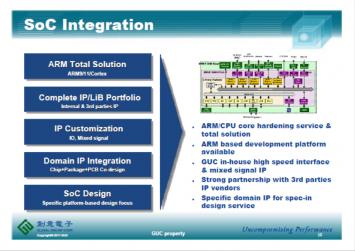 GUC provides an unmatched combination of advanced technology, low power and embedded CPU design capabilities and production knowhow through close partnership with TSMC and major 3D IC packaging and testing companies that are ideal for advanced communications, computing and consumer electronics ASIC applications.
Process technology is also now a differentiator since the ASIC guys have all but given up their fabs. TSMC has the only yielding 28nm processes, so which ASIC company has the inside track at TSMC? Well that would be GUC. The eSilicon guys often complained about the unfair advantage GUC had being the child of TSMC. When I relayed this story to Jim Lai he responded, "Yes, of course that is true!" GUC HQ in Taiwan is right across the street from TSMC Fab 12. TSMC executives are in Fab 12, including Dr. Cliff Hou, Vice President, Design and Technology Platform at TSMC, who is on the GUC board of directors.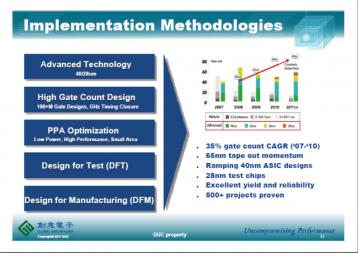 GUC is the Flexible ASIC Leader that communications, computing and consumer electronics companies turn to when low power AND high performance ASICs are "a must have." The company provides superior domain-specific designflows and a comprehensive, proven IP portfolio, melded through an unparalleled bond with the manufacturing leader, to forge our uncompromising ASIC capabilities.
GUC may live in the shadow of TSMC but with 500+ employees worldwide, 100+ customers, and 2010 revenue of $327M, they are casting a much larger shadow on the traditional ASIC industry. It will start at 28nm and finish in 20nm, Global Unichip Corporation will be the number one ASIC company worldwide, believe it! I have been invited to GUC HQ during my trip to Taiwan later this month and I'm really looking forward to it!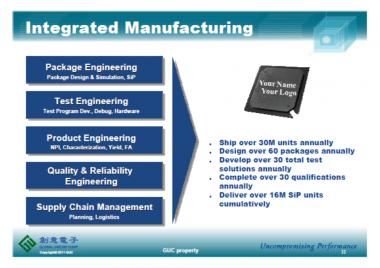 Share this post via: