Novocell Semiconductor, core antifuse-based OTP Smartbit™ technology was first patented in 2001 and 2002, and created a solid foundation for the first ten years," stated Walt Novosel, President and CTO, "Since then, our customer-driven focus has led to numerous innovations in our original high reliability Smartbit-based NVM IP to best service specific system on chip (SoC) market segments. Our announcement today unveils our full line of NVM products to fully serve our customers' needs, from 8bit register OTP, to specialty trimming and calibration OTP, to 4Mbit ultra-high density code storage and configuration OTP, to 1000x multi-time write hybrid OTP/MTP."


All Novocell products continue to be based on the fundamental Smartbit technology, and provide the highest level of programming and storage reliability and security available in the OTP segment, particularly at low power, advanced process nodes. Smartbit-based OTP NVM product IP is qualified at all major foundries, and the exclusive dynamic programming methodology makes Novocell OTP the most process independent and foundry independent antifuse NVM available, with the technology available and scalable from larger legacy .35µm process nodes to advanced nodes including 20nm and beyond.
Novocell's single original NovoBlox® product has been divided and expanded to include three new product families that now encompass Novobits™, NovoBytes™, and NovoHD™, each tailored to meet the needs of specific market applications.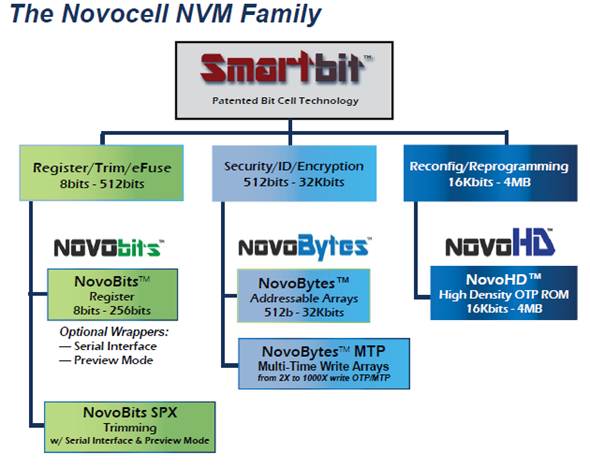 Novobits – Novobits is a register-type architecture OTP, designed as a dense and highly reliable efuse replacement and available in sizes ranging from 8bits to 256bits. A special version of Novobits, previously known as NovoBlox Serial and now branded Novobits SPX, is available specifically for analog trimming and calibration and includes convenience features like Serial mode I/O and a special Preview mode for data testing in analog mixed signal applications.
NovoBytes – NovoBytes is a ROM-style block array OTP offering access times under 8 nanoseconds and ability to program from standard IO voltage with current <2.5mA, particularly well-suited to feature enablement and part configuration. NovoBytes is available from 8bits to 32Kbits in a choice of word sizes. A special multi-time write version of NovoBytes, NovoBytes MTP, was the industry's first hybrid OTP/MTP solution to provide virtual multi-time write functionality in 2010, and is available off-the-shelf in 2x, 4x and 8x write versions, or may be customized in configurations to up to 1000x writes. NovoBytes MTP is available in densities from 8bits to 32Kbits, and has found rapid adoption within the mobile segment for its ability to effectively help customers better manage part reconfiguration and inventory optimization challenges in that fast changing market. NovoHD – NovoHD is an ultra-high density ROM style OTP available in sizes up to 4Mbits for high capacity code storage, security, and feature enablement in low power, advanced node applications.
All Novocell NVM products are built on the uncontested Smartbit bit cell design technology and programming process, rely fully on only standard CMOS processes with no additional masks or post-process steps, and feature a unique High Voltage Generator that eliminates the need for a area-consuming external charge pump, requiring only the standard process I/O voltage to achieve oxide breakdown. The IP macros program each bit dynamically, while monitoring the programming process to completion which then triggers a logic DONE confirmation signal. No additional error correction circuitry, additional chip area for redundant bit inclusion, or other chip footprint waste is required.
An interesting feature offered by the Novocell NVM family, based on antifuse One Time Programmable (OTP) technology, is the "breakdown detector", allowing to precisely determining when the voltage applied to the gate (allowing programming the memory cell by breaking the oxide and consequently allowing the current to flow through this oxide) will effectively have created an irreversible oxide breakdown, the "hard breakdown", by opposition of a "soft breakdown" which is an apparent, reversible oxide breakdown. If the oxide has been stressed during a period of time which is not long enough, the hard breakdown is not effective and the user can't program the memory cell. Looking at the two pictures help understanding the mechanisms:
On the first, the current (vs time) is going up sharply only after the thermal breakdown is effective
The next pictures shows the current behavior of a memory cell for different cases, and we can see that when the hard breakdown is effective the current value is about three order of magnitude higher than for a progressive (or soft) breakdown.
Thus, we can say that one of the Novocell's differentiator is reliability. To avoid the limitations of traditional embedded NVM technology by utilizing the patented dynamic programming and monitoring process and method of the Novocell SmartBit™, ensuring that 100% of customers' embedded bit cells are fully programmed. The result is Novocell's unmatched 100% yield and unparalleled reliability, guaranteeing customers that their data is fully programmed initially, and will remain so for an industry leading 30 years or more. Novocell NVM IP scales to meet all NVM size and complexity challenges that grow exponentially as SoCs continue to move to advanced nodes such as 45nm and beyond.
Eric Estevefrom IPNEST–
Share this post via: