It's that time of the quarter again, where the semiconductor analysts revise forecasts, passing off glorified guesstimates as valid financial planning data. They aren't forecasts! They are observations! I blame these hacks for the 12.5% Silicon Valley unemployment rate! I blame these hacks for the dwindling available capitol for emerging fabless, EDA, and IP companies. I even blame these hacks for global warming! Okay, maybe not global warming, but the other stuff for sure!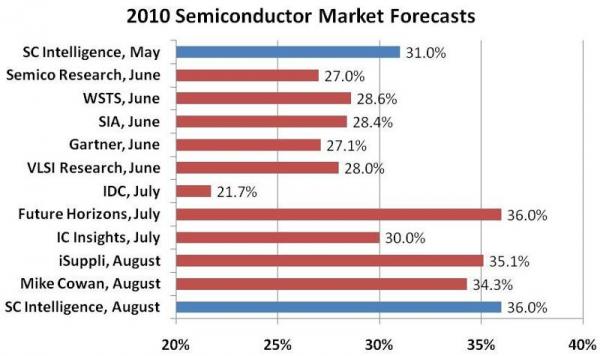 iSupply is first out of the gate with a downward observation (forecast) of 32% versus 35%. Semiconductor revenues around the world are now expected to hit $302 billion this year, a gain of 32 percent from $228 billion in 2009. This drop is attributed to "weaker consumer demand for certain electronic devices and higher industry inventory" rather than "just bad forecasting". Revenue in the fourth quarter is expected to drop by 0.3 percent, which will be the first sequential drop since the semiconductor market took an "unforecasted" nose dive in the fourth quarter of 2008 and first quarter of 2009.
TheSemiconductor Intelligence observation (forecast) was 36% so expect a revision from Bill Jewell. Bill also warns us that, according to National Bureau of Economic Research (NBER), the current recession is the longest since World War II:
The NBER is generally seen as the authority for documenting US recessions and defines them as:
"a significant decline in the economic activity spread across the country, lasting more than a few months, normally visible in real GDP growth, real personal income, employment (non-farm payrolls), industrial production, and wholesale-retail sales."

By definition, the end of a recession means the U.S. economy stopped contracting and not when it reaches the level it was at the start, so we have a way to go yet. The US Real GDP & Durable Goods graphic is based on data from the U.S. Department of Commerce and shows the quarterly U.S. real gross domestic product (GDP) indexed to 4th quarter 2007, the peak prior to the recession.



Speaking of the semiconductor ecosystem, next week I will be at the 2010 TSMC OIP Partner Forum on Tuesday and the SMIC 2010 Technology Symposium on Friday, two free lunches, the life of a world famous blogger! It would be a pleasure to meet you, that is, of course, if you recognize me without the Porsche hat!


Share this post via: