Federal Reserve Chairman Ben Bernanke recently testified before Congress that the U.S. economy is recovering, and he predicts the nation will not experience a double-dip recession, or as I predicted a big "V" then a small "v" in my blog: China Semiconductor Bubble.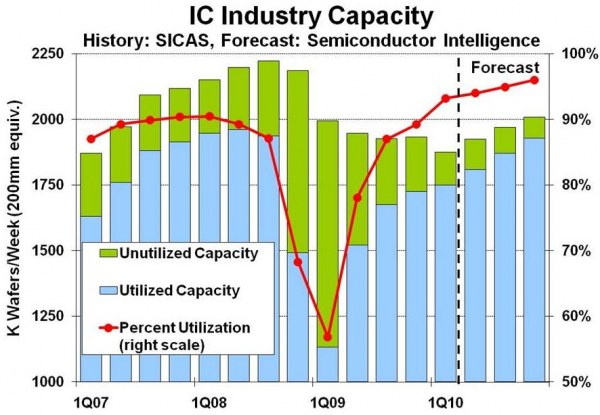 Bill Jewel from Semiconductor Intelligence agrees with Bernanke:
Semiconductor Intelligence forecasts the semiconductor market will grow a strong 31% in 2010, moderating to 10% in 2011. IC capacity utilization will peak at 96% in 2010 and drop to a still healthy 90% in 2011.
Citing the 16 year history of SICAS data, Bill notes that semiconductor manufacturing utilization has exceeded 95% only three times – in 1995, 2000 and 2004 – which resulted in shortages and price increases. Like 2010, each of the three years also saw strong growth in semiconductor capital expenditures. Unfortunately the booms of 1995, 2000 and 2004 were short lived with the semiconductor market and semiconductor capital expenditures either declining or showing significantly slower growth rates in the years immediately following – 1996, 2001 and 2005.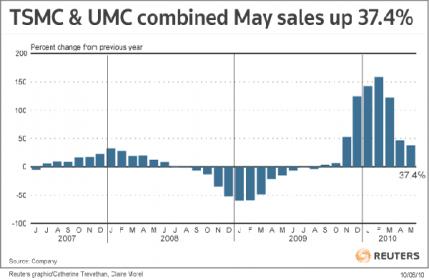 TSMC and UMC financials also support Bernenke. TSMC revenue hit an all time high of $1.07 billion in May 2010, resetting the record of $1.048 billion in the prior month. May revenue 2010 grew 37.9% from a year earlier. TSMC has estimated its consolidated revenues will reach $3.12 billion in the second quarter with the results of April and May amounting to more than 2/3rds of that number. UMC also posted May ($313M) over April ($289M) gains with revenue for the January-May rising 82.8% from a year earlier. Both companies acknowledged mobile internet devices as a driving force behind record revenues and profits for 2010.
Speaking of which, an updated version of Mary Meeker's Internet Report can be found here, I first blogged about it in: Semiconductor Industry 2008 – 2018.


The most recent GSA 2010 Semiconductor Analyst Growth Forecasts shows quite a bit of instability. Semiconductor Industry Association (SIA) reports that worldwide semiconductor revenue will grow by 28.4% to $290.5 billion in 2010, 6.3% growth in 2011, followed by 2.9% growth in 2012. Gartner forecasts worldwide semiconductor revenue will grow by 27.1% in 2010 but also noted that:
"Chip revenue growth is clearly outpacing system revenue growth, and that is a concern. Gartner's new semiconductor forecast has below-average growth in the second half of 2010, as we are anticipating a minor correction to realign semiconductor sales with electronic system sales."
Wait, are semiconductor companies producing more chips than the systems companies can ship? Is this an inventory correction or an oversupply problem due to fears of capacity shortages? Semiconductor manufacturing capacity averaged 60% before the economic crisis started in 2009 and is up to 96% one year later? 27-30% semiconductor growth when economic forecasts project global economic growth rates of 4.6 percent in 2010 and 4.5 percent for 2011? Speaking of instability:
"Achieving long-term fiscal sustainability will be difficult. But unless we as a nation make a strong commitment to fiscal responsibility, in the longer run, we will have neither financial stability nor healthy economic growth." Chairman Ben S. Bernanke, Economic and financial conditions and the federal budget Before the Committee on the Budget, U.S. House of Representatives, Washington, D.C. June 9, 2010
lang: en_US
Share this post via: