Electronics production has been volatile over the past two years primarily due to the COVID-19 pandemic. Electronics production three-month-average change versus a year ago is shown below for key Asian countries. COVID-19 shutdowns affected production in early 2020. Trends in 2021 show a strong bounce back.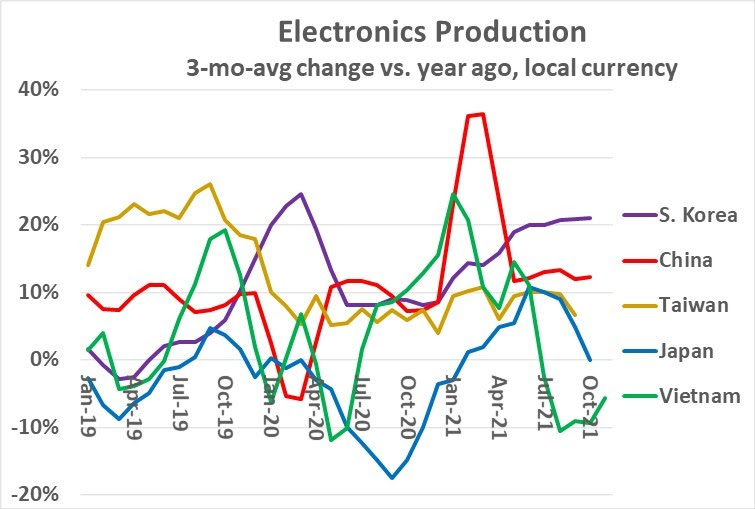 The key trends by country are:
South Korea – electronics production was not significantly impacted by COVID, with March 2020 three-month-average production up 25% from a year earlier. Recent growth has been strong, 20% or higher since June 2021. South Korea avoided significant COVID slowdowns by emphasizing early detection, containment, and treatment.
China – the source country of the COVID virus imposed major shutdowns in early 2020, resulting in March 2020 production down 6% from a year earlier. Production recovered beginning in April 2020. Early 2021 showed a strong recovery with March 2021 up 36% from the weak period a year earlier. China's production growth has stabilized in the 12% to 13% range since May 2021.
Taiwan – production was moderately affected by COVID shutdowns, with March 2020 up only 5% from a year earlier, in contrast to the 20% plus growth in most of 2019. Since April 2020, Taiwan production growth has been relatively stable in the range of 5% to 11%.
Japan – electronics production has been declining for several years primarily due to manufacturing shifting to lower wage countries. Growth turned positive in August 2019 before declining again in December 2019. Japan avoided significant COVID cases early in the pandemic, but a surge of cases in July and August 2020 led to some shutdowns and a production decline of 18% in September 2020. Production turned positive in February 2021, reaching a peak of 11% in June 2021. Since June, production has decelerated, reaching 0% change in October 2021.
Vietnam – electronic production has been on a strong growth trend in recent years primarily due to manufacturing shifts from China and South Korea. COVID related shutdowns led to a production decline of 12% in May 2020. Production quickly recovered reaching 25% growth in January 2021. Vietnam was held up as an example to the world when its strict containment measures led to relatively few COVID cases in 2020. However, Vietnam saw a sharp increase in COVID cases driven by the Delta variant beginning in July 2021. A shutdown from July 8 to October 1, 2021, in much of the south of Vietnam resulted in an electronic production decline of 11% in August 2021. The decline eased to 6% in November 2021.
The following chart shows electronics production three-month-average change versus a year ago for the United States (U.S.), United Kingdom (UK), and the 27 countries of the European Union (EU27).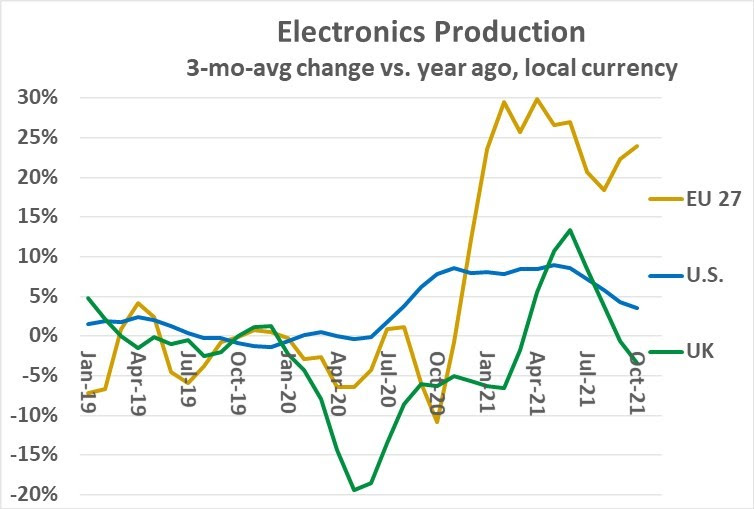 The key trends are:
United States – electronics production was not significantly affected by COVID-19 as shutdowns of factories were isolated. U.S. production growth was weak in 2019, ranging from a 1% decline to a 2% increase. The weakness continued in the first half of 2020 before picking up to growth in the 6% to 9% range in August 2020 through August 2021. In September and October 2021 growth moderated to about 4%.
United Kingdom – production was generally weak in 2019, ranging from a 3% decline to 4% growth. The UK instituted a nationwide lockdown due to COVID beginning in March 2020 and easing up in May and June of 2020. Production declined by 19% from a year ago in May and June of 2020. Year-to-year growth did not turn positive until April 2021 and peaked at 13% growth in June 2021 compared to the weak June of 2020. Growth has been decelerating in the last several months, with October 2021 down 3% from a year ago. In addition to COVID, the UK has been dealing with the effects of Brexit (the UK withdrawal from the EU) which became official at the end of 2020.
European Union – countries had varied lockdown policies in early 2020, but the overall effect was a 6% decline in production in April and May of 2020 versus a year earlier. Production rebounded to a strong 24% growth in January 2021 and has remained in the 18% to 30% growth range since. EU electronics production has been a beneficiary of Brexit as some production previously done in the UK has now shifted to the EU. Also, the EU27 as a whole has been less impacted by COVID than the UK. According to Worldometer, the UK has 162 COVID-19 cases per 1,000 people, twice the rate of 80 in Germany, the largest EU manufacturer.
The impact of the COVID-19 is also reflected in the unit shipment data of two key electronic devices: PCs and smartphone. According to IDC, PC shipments fell 8% in 1Q 2020 versus a year earlier, primarily due to COVID related production shutdowns. In the next three quarters, PC shipments grew strongly, from a 14% increase in 2Q 2020 to 26% in 4Q 2020. 1Q 2021 was up 55% compared to the weak 1Q 2020. Demand for PCs was strong due to the pandemic. Shutdowns and other restrictions forced many people to work from home and many students to learn from home. The increase in electronic communication led many households to acquire or upgrade PCs. PC growth moderated to 4% in 3Q 2020 as much of the demand increase was satisfied. In addition, component shortages limited some PC production. This month, IDC projected PC shipments will increase 13.5% in 2021 and moderate to 0.3% growth in 2021.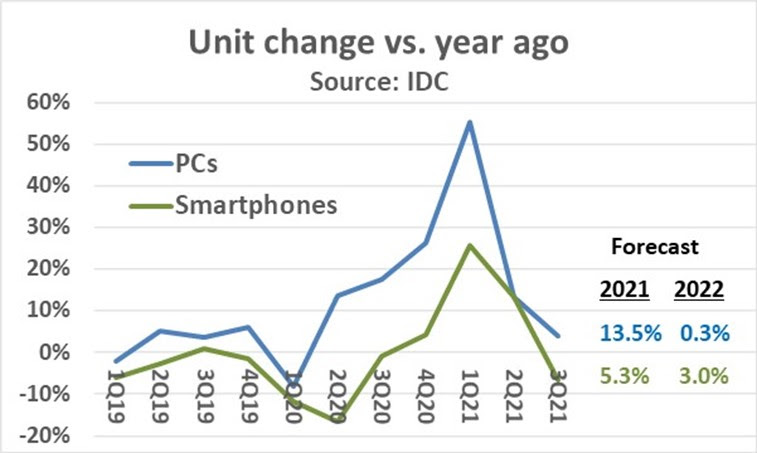 Smartphone shipments were heavily hurt by the COVID pandemic in 1Q 2020 since most production is done in China, which shutdown most of its manufacturing in early 2020. IDC stated shipments were down versus a year ago by 12% in 1Q 2020 and down by 17% in 2Q 2020. Shipment growth recovered to 26% in 2Q 2021 and 13% in 2Q 2021. In 3Q 2021, shipments were down 7% from a year ago. IDC attributes the decline to component shortages and other logistical problems. IDC expects year 2021 smartphone growth will be 5.3%, slightly moderating to 3.0% in 2022.
The world and the electronics industry are still feeling major effects from the COVID-19 pandemic. Worldometer shows the world is currently in a fifth wave of the virus. However, the death rate from COVID-19 is declining due to vaccinations, better treatments, and improved control methods. Electronics production has been hurt by various production shutdowns, component shortages and logistical challenges. These issues will probably continue through most of 2022. By 2023, electronics production should be back to typical trends. I am not using the world normal since nothing will see normal again for several years.
Also Read:
2021 Finishing Strong with 2022 Moderating
Semiconductor CapEx too strong?
Auto Semiconductor Shortage Worsens
Share this post via: