The semiconductor market in 3rd quarter 2021 was $144.8 billion, according to WSTS, up 7.4% from the prior quarter and up 27.6% from a year ago. The strong year-to-year growth was a slight deceleration from 30.4% in 2nd quarter 2021. The major memory companies reported very healthy 3Q21 revenue increases versus 2Q21 with all of them up double digits, led by Kioxia at 21.5%. Among the leading non-memory companies Qualcomm, AMD, Infineon, and NXP all had double digit growth. Intel was the only top semiconductor company with a revenue decline, down 2.2% in 3Q21 versus 2Q21.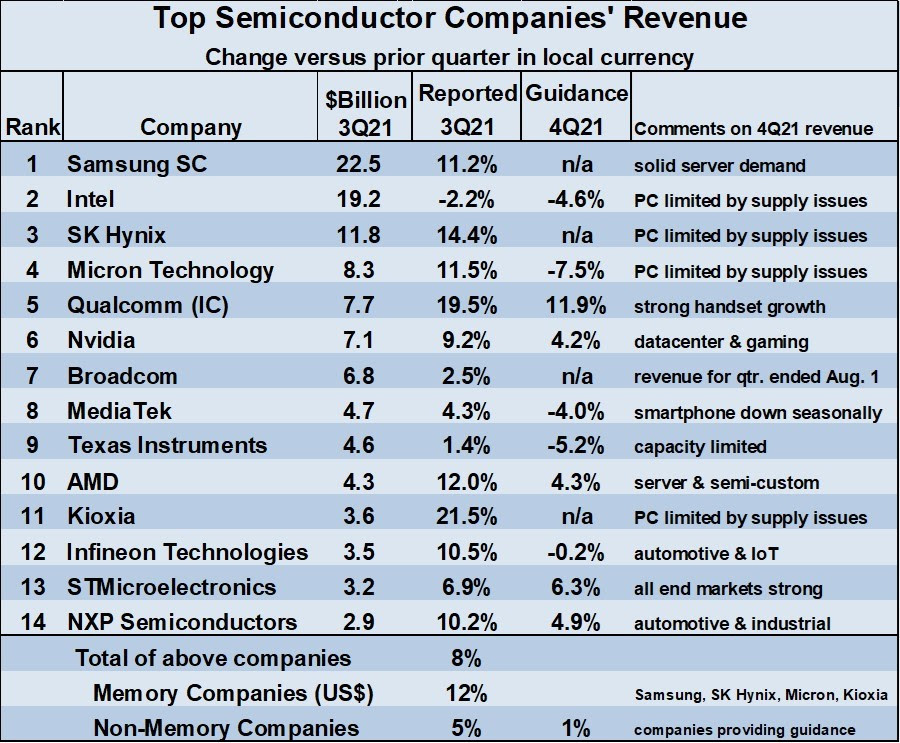 The top semiconductor companies' guidance for 4Q21 are mixed. Qualcomm expects 11.9% 4Q21 growth versus 3Q21 driven by strong handset growth, especially for Android smartphones. Nvidia, AMD, STMicroelectronics and NXP all project mid-single-digit revenue increases – citing datacenter, servers, gaming, automotive, and industrial as key drivers. Intel, Micron, MediaTek, Texas Instruments and Infineon all guided for 4Q21 revenue declines. The automotive market has drawn much attention for semiconductor shortages, however other markets are also showing problems. Weakness in the PC market due to shortages of some key components was highlighted as a concern by Intel, SK Hynix, Micron and Kioxia.
Constraints on supplies of semiconductors and other components are reflected in lower forecasts for the key end equipment categories of PCs and smartphones. In May 2021, IDC projected 2021 PC shipments of 357 million units, up 17.6% from 2020. In August 2021, IDC reduced its 2021 forecast to 347 million units, up 14.2% from 2020 and 10 million units lower than the May forecast. IDC cited supply chain issues for the lower forecast. Counterpoint Research in July 2021 expected 2021 smartphone shipments of 1,447 million units, up 8.7% from 2020. In September 2021, Counterpoint reduced its 2021 forecast to 1,414 million units, up 6.2% from 2020 and 33 million units lower than the July projection. Counterpoint blamed semiconductor shortages for its downward revision.

The most recent forecasts for the semiconductor market in 2021 and 2022 also incorporate the impact of supply constraints. Our November forecast from Semiconductor Intelligence calls for 2021 growth of 24.5% (down from 26% in our August forecast) and 14% growth in 2022 (down from 15% in August). IC Insights' November projection of 23% growth in 2021 is down from their June forecast of 24.1%. Gartner is the most optimistic with an October estimate of a 27% increase in 2021. IDC has the lowest 2021 projection at 17%. With three quarters of data from WSTS and 4Q21 revenue guidance from most major companies, the 2021 semiconductor market will almost certainly finish in a range of 23% to 26%, the highest growth since 31.8% in 2010 following the great recession.
Our Semiconductor Intelligence forecast of 14% semiconductor market growth in 2022 is based on these key assumptions:
Normalization of growth of end equipment after higher-than-normal growth in 2021.
Relief of most major semiconductor and other component supply problems.
Continued recovery of most worldwide economies in 2022 following the worst of the pandemic.
The biggest uncertainty is the impact of COVID-19 in 2022. According to the Johns Hopkins University of Medicine, cases have risen over the last month following a decline from an August peak. Only 42% of the world's population has been fully vaccinated, with the U.S. at 60%. Although most of the world has opened up, there are still numerous cases of local lockdowns. If COVID-19 is not mostly under control in 2022, the entire global economy will perform below its potential.
Also Read:
Semiconductor CapEx too strong?
Auto Semiconductor Shortage Worsens
Share this post via: