The shortage of semiconductors for automotive applications is getting  worse. Recent statements from major automakers:
General Motors significantly cut production at eight North American plants earlier this month due to the semiconductor shortage. GM expects North American vehicle production in the second half of the year will be down about 100,000 compared with the first half.
Ford Motor has cut North American production of its popular F-150 pickup truck due to the shortage.
Toyota announced on September 10 it will reduce global vehicle products by 70,000 units in September and 333,000 units in October. For its full fiscal year ending March 31, 2022, Toyota expects to produce 9 million vehicles, down from its previous forecast of 9.3 million.
Volkswagen has also cut production and will build 100,000 fewer vehicles in 2021 than planned.
Hyundai Motor cut production at its U.S. Hyundai and Kia plants.
Stellantis, the merger of the Fiat-Chrysler and Peugeot groups, temporarily halted vehicle production at four plants in North America and one in Italy in  late August.
At the Munich Motor Show earlier this month, Daimler AG's CEO Ola Kallenius stated its Mercedes unit will have significantly lower third quarter sales, buts expects its semiconductor supply to improve in the fourth quarter. He expects shortages to influence 2022 auto production, with the industry fully recovering in 2023. Ford Europe chairman Gunnar Herrmann said the semiconductor shortage could continue until 2024. Volkswagen CEO Herbert Diess expects shortages to ease as countries reduce COVID-19 cases, but a general shortage of semiconductors could persist for some time due to demand from other applications such as the internet of things.
The chart below shows vehicle production by the six largest automakers relative to March 2021, when production was about at pre-pandemic levels. Since March, production has generally been on a downtrend due to semiconductor shortages. SAIC of China fared the best, bouncing back to 92% of March production in August from 66% in July. In June, SAIC Motor Chairman Chen Hong stated his company's semiconductor supply shortage would be alleviated in late July. In August 2021, GM Group, Hyundai Group and Toyota Group each produced vehicles at about 60% of the March level. VW Group and Stellantis in August were at about 37% of March production.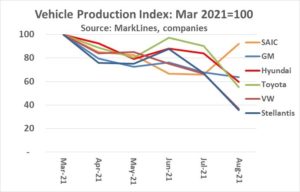 On September 16, IHS Markit updated its April forecast for global light vehicle sales. The 2021 forecast was reduced by 7.7 million units, or 9%. 2022 was cut by 7.1 million units, or 8%. The April forecast called for 2022 sales of 89.7 million units, up from the pre-pandemic 89.0 million in 2019. The September forecast has 2022 sales at 82.6 million, 7% below 2019 levels. Thus, the automotive market is not expected to fully recover until at least 2023.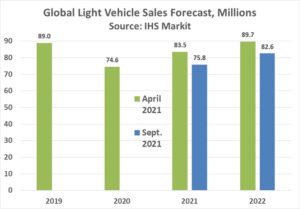 Our Semiconductor Intelligence April newsletter asserted automakers were primarily to blame for their semiconductor shortages since they drastically cut production and semiconductor orders while other semiconductor applications were either relatively stable or growing. Another contributing factor was automakers use of Just-In-Time (JIT) inventory management systems. JIT systems are designed to reduce automakers' parts inventories by working with suppliers to furnish parts just as they are needed for production.
The Wall Street Journal in April 2021 stated many automakers are modifying their JIT systems to have safety stock of critical material such as semiconductors. Raconteur.net proposes automakers move from JIT to just-in-case (JIC). JIC means keeping minimal levels of inventory for critical components. Sourcengine.com points to NXP Semiconductor as an example of a supplier signing medium-term supply contracts with some its automotive customers. It cites DigiTimes prediction automotive semiconductor shortages will not be resolved until the middle of 2022. IHS Markit estimates automotive microcontroller supply will not catch up with demand until 2Q 2022.
Automakers are now realizing the importance of semiconductors. Automotive semiconductors have unique requirements compared to other applications. Many need to operate in extreme temperatures. Devices must often be supplied in high volumes over long time periods. Automakers compete with other major applications such as PCs and smartphones for the more advanced devices such microcontrollers. Automakers generally cannot switch to another semiconductor supplier in the short term. Trends toward electric cars and self-driving cars only make semiconductors even more important. It is time for automakers to think more strategically about semiconductors and not treat them as just another component in a vehicle.
Also Read:
Semiconductor CapEx strong in 2021
Supply Issues Limit 2021 Semiconductor Growth
Share this post via: