The worldwide semiconductor market is back to a healthy level of growth. WSTS data shows the 2Q 2013 global semiconductor market was up 6.0% from 1Q 2013 – the strongest quarter-to-quarter growth since 6.6% growth in 2Q 2011. Recent forecasts for 2013 market growth range from a conservative 2.1% from WSTS to an optimistic "up to 10%" from Objective Analysis. We at Semiconductor Intelligence are holding to our May number of 6.0% growth.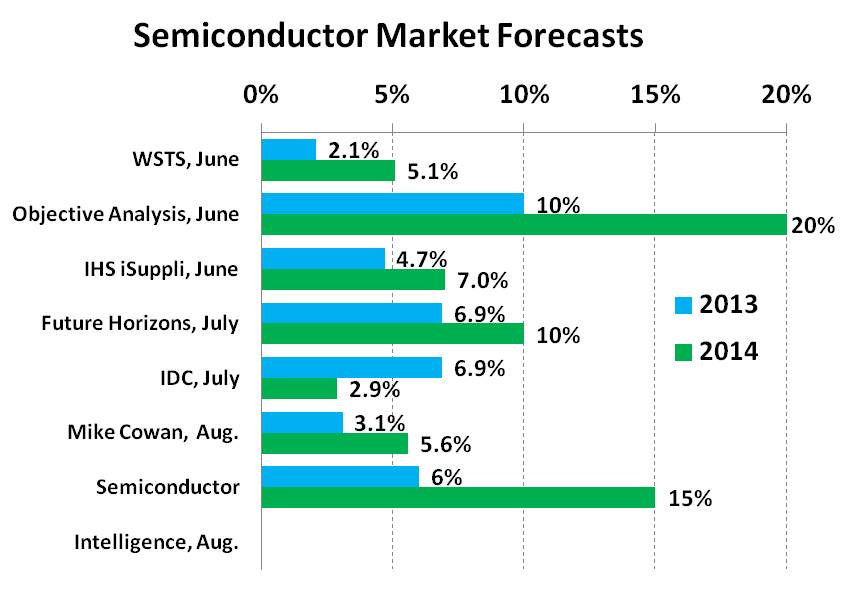 Forecasts for 2014 have a wide range – from IDC's 2.9% (the only forecaster to show slower growth in 2014 than in 2013) to "over 20%" from Objective Analysis. We at Semiconductor Intelligence have increase our forecast for 2014 to 15% from our May forecast of 12%. The average for the 2014 forecasts shown is 9.4%, which is a strong growth rate for the semiconductor market considering the compound annual growth rate (CAGR) from the prior cycle peak in 2004 to the current cycle peak in 2010 was 5.8%.
How certain is the outlook for 2013? To reach 6% growth for the year, 3Q 2013 and 4Q 2013 quarter-to-quarter growth would need to average 6.4%. This growth rate seams very reasonable based on the 3Q 2013 versus 2Q 2013 revenue growth guidance from major semiconductor companies.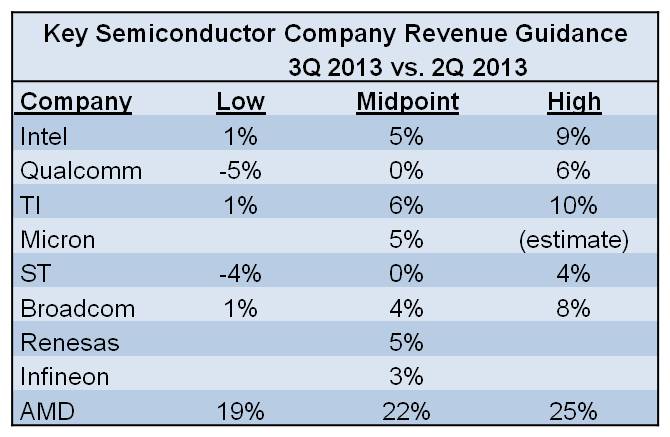 The midpoint of 3Q 2013 revenue guidance for most of the companies above is in the range of 3% to 6%. AMD projects 22% growth due to new products and design wins. Qualcomm expects flat revenue quarter-to-quarter based on the timing of key new product releases. ST Microelectronics' outlook for a flat 3Q is blamed on its struggling wireless business. Excluding wireless, ST expects 3.5% growth. The upper end of guidance is in the upper single digit or double digit range for most of the companies. Samsung did not provide specific revenue guidance but expects 3Q demand growth for both DRAM and flash in its memory business and strong demand growth for image sensors in its LSI business. Micron Technology also did not provide specific guidance, but we estimated their growth based on their projections for DRAM and flash bit growth and price changes. The weighted average midpoint 3Q 2013 revenue growth for the above companies is 4.2% versus 3.7% growth in 2Q 2013. This compares to WSTS' 6.0% 2Q 2013 market growth. Thus smaller semiconductor companies generally are experiencing stronger growth than the major companies listed above.
What will drive accelerating growth for the semiconductor market in 2014? Much of the growth will be driven by an improving global economy in 2014. The International Monetary Fund (IMF) July forecast called for global real GDP growth to increase from 3.1% in 2013 to 3.8% in 2014. Key drivers of the accelerated 2014 growth will be U.S. (growth accelerating from 1.7% in 2013 to 2.7% in 2014) and the Euro Area (recovering from a 0.6% decline in 2013 to 0.9% growth in 2014). China's growth is expected to continue just below 8%. Although China's growth is below the 10% plus rate of a few years ago, other emerging economies are showing accelerating growth in 2014 including Central and Eastern Europe, Russia, India, Latin America and southeast Asia.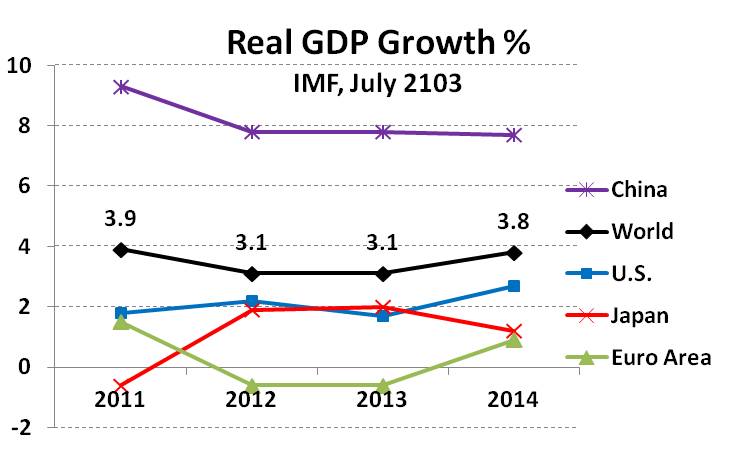 lang: en_US

Share this post via: