The world semiconductor market declined 2.2% in 1Q 2012 from 4Q 2011, according to WSTS. The market ended 2011 on a down slide, with 4Q 2011 down 7.7% from 3Q 2011. The year 2011 semiconductor market was up only 0.4%.
Three major events contributed to the weakness in 2011:
[LIST=1]
March 2011 earthquake and tsunami in Japan disrupted electronics and semiconductor production.
Floods in Thailand in 3Q and 4Q 2011 severely impacted electronics production, especially hard disk drives (HDD).
The European financial crisis resulted in weak demand in 4Q 2011.

2012 will not likely see significantly different growth than 2011. Of the three major crises in 2011, Japan and Thailand have mostly recovered. However the European financial crisis continues. The affected nations have adopted a plan to overcome debt problems, but the austerity measures put in place will result in weakness in the European economy through at least 2012.

The table below shows the available revenue guidance from the top semiconductor suppliers for 2Q 2012 versus 1Q 2012. The guidance is generally strong, with the top end of guidance for Intel, TI, ST and Broadcom around 10%. Qualcomm expects a decline, in line with its typical seasonal trends. Samsung expects a recovery in PC DRAM and increased demand for embedded flash memory. Our forecast at Semiconductor Intelligence is for 2Q 2012 semiconductor market growth of 6% over 1Q 2012.
Semiconductor Intelligence's forecast for the year 2012 is2% growth. Our prior forecast in February was a 1% decline, however 1Q 2012 was not as weak as we expected. Growth of 6% in 2Q 2012 followed by growth averaging6% in 3Q and 4Q drives the 2% forecast for the year. The chart below shows forecasts from the last two months. Most industry analyst firms see growth in the 4% to 7% range. Mike Cowan's model based on historical WSTS data predicts a1.7% decline.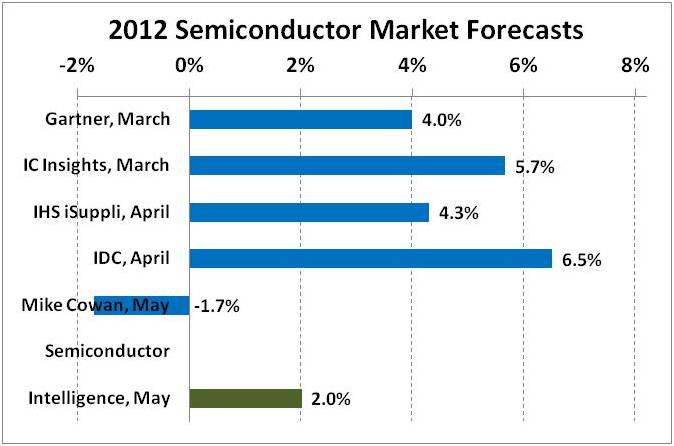 Semiconductor Intelligence is a consulting firm providing market analysis, market insights and company analysis for anyone involved in the semiconductor industry – manufacturers, designers,foundries, suppliers, users or investors. Please contact me if you would like further information.
Sincerely,
Bill Jewell
Semiconductor Intelligence, LLC
billjewell@semiconductorintelligence.com

Share this post via: