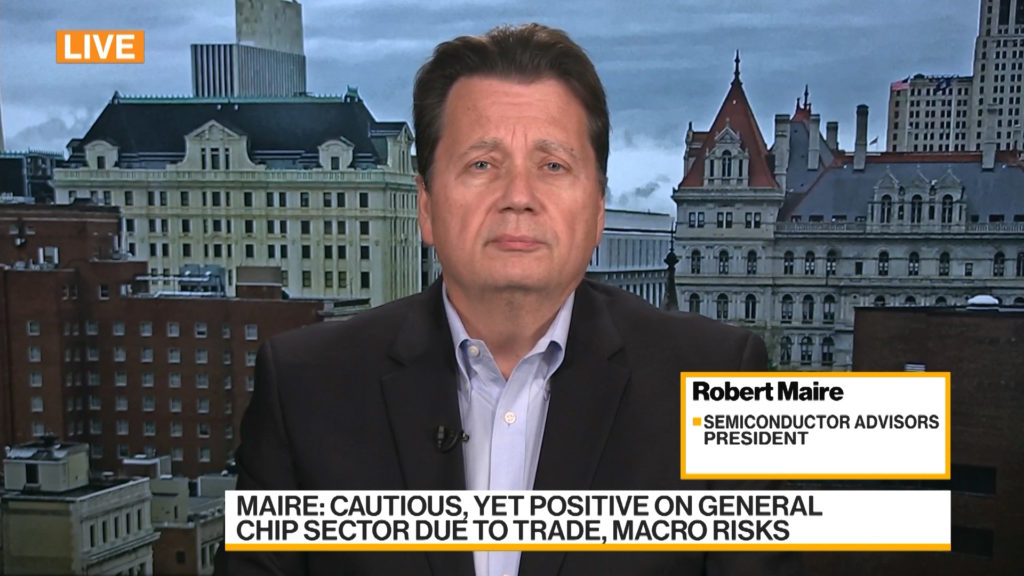 KLA reports excellent June & Better Sept Guide-
Orbotech Diversification Helps provide growth-
Mix is perfect-China working fine-
Foundry is solid-
Solid execution and Financials
KLAC reported $1.46B in revenues and $2.73 Non GAAP with gross margins of 60.3%. That is versus expectations of $1.42B and EPS of $2.41…a handy beat. Guide is for September revenues of $1.48B +-$75M and EPS of $2.42 to $3.06, this is versus street of $1.4B and $2.29 in EPS.
Perhaps most important, management feels that the second half will be up versus the first half with a chance of more memory in the December quarter.
Diversification works
Perhaps the only negative in the quarter was that the core "process control" business (the old KLA) was down slightly, 2%, quarter over quarter. The new business segments of semiconductor process and PCB & Component were up sharply, 18% and 26% respectively.
Quarters like this are one of the key reasons for KLA's diversification and it worked like it should. Wafer inspection was down 9% with patterning up 3% Q/Q. Overall business was up 3% Q/Q
Given that ASML saw a very sharp drop in orders for litho tools we are not surprised to see a bit of softness in wafer inspection. The fact that patterning was up is likely a bit better as it could have been soft as well. We would expect patterning sales at KLA to trail litho sales at ASML by a bit.
China sales continue unabated and un touched
Much as we saw with Lam, KLA's China sales seemed to have seen near zero impact. China business with KLA is neck and neck with Taiwan (TSMC) business at 26% each. Korea is not far behind at 21% (Samsung), with the US at 11% (Intel and a smidge of Micron?).
From management's perspective there seems to be no expectation of China slowing. You certainly wouldn't know there were any restrictions whatsoever on China ales of US semiconductor technology.
Financials remain the best in the business
With gross margins of 60.3% and operating margin at 35% and an expectation of further improvement its hard to complain. The dividend was increased again to $0.90 per quarter and the free cash flow was great at $411M for the quarter.
Customer demand remains strong
Management commented at several instances that end user demand remained very strong with no expectation of anything other than getting better. Covid 19 seems to almost be a distant memory as most all supply chain issues seem long since resolved. Even though the country and the world seem pre-occupied with Covid and political instability you wouldn't know it from KLA's report which seems much like any other up cycle in the industry.
Intel's recent admission of its 7NM stumble does't look to have impact on KLA as Intel if anything should likely be spending more with KLA to try to find and fix the yield busting problems.
We also continue to hear that Samsung still has yield issues with the only company that seems to be flying along is TSMC….perhaps they buy a lot of KLA tools to keep things running so smoothly.
China domestic chip producers are obviously spending big time to get up the steep learning curve. There seems to be no shortage of money to spend on the semiconductor industry in China. KLA tools are likely at the top of their wish list as they accelerate learning.
The Stock
The stock was off slightly in the after market likely due to the fact that the core business was flattish coupled with the fact that the stock was up big today in advance of earnings. We would not be surprised to see some profit taking given the strong ride that KLA stock has been on.
The sector as a whole has been on fire as semiconductors seem to continue to be a way to play the anti-Covid investment strategy due to demand for work at home and remote learning etc;. The ongoing strength of this seems to be lasting longer than expected especially if it goes all the way through the second half of the year unabated.
KLA remains one of our favorite all time holdings in the group
Share this post via: