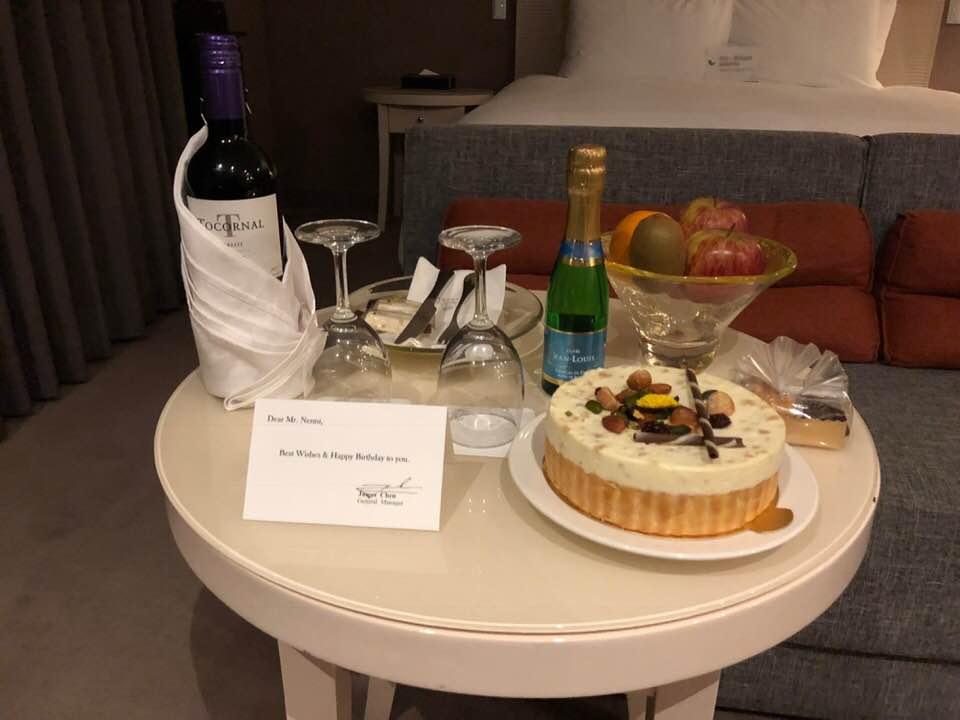 This is an ongoing conversation inside the semiconductor ecosystem, especially when I am traveling. Everyone wants to know what is going on here or there and since I just returned from Taiwan I will post my thoughts. Last week was also my birthday which was cut short due to the time change but I did get preferential treatment on the flight and at the hotel. Upgrades, champagne, treats, and a full-fledged cake from Hotel Royal in Hsinchu. Either I haven't traveled on my birthday before or they didn't roll out the red carpet last time or I would have remembered this, absolutely.
My choice for #1 winner is of course TSMC. They are having a great year and will continue to do so, my opinion. GF ending 7nm put AMD firmly in place at TSMC, Intel is rumored to be moving more products to TSMC, and of course Apple and the rest of the industry has already taped-out to TSMC 7nm so get the marching bands and the dragon dance ready for the end of year celebration.
One note about the Intel move, it is being reported that processors (Coffee Lake) are being moved to TSMC. I find this highly unlikely. Intel 14nm is in no way compatible to any TSMC process so this would be a redesign and why would Intel do that? It is much more likely that mobile chips would be retargeted for TSMC (SoCs, modems, IoT, etc…). Remember, the Intel Silicon Engineering Group is now run by Jim Keller. Jim was at Apple, AMD, and Tesla before Intel so he knows TSMC. Maybe even the next generation FPGAs since Intel is going to be short on 10nm and the ex Altera folks are very TSMC experienced. Or maybe the GPUs since TSMC is very good at GPUs (NVIDIA). There is a forum thread on this you may want to take a look at: Intel 14nm capacity issue.
Broadcom is another winner. Hock Tan keeps changing the rules of the semiconductor game and there is no telling what he will do next but you can bet it will be disruptive. We all scratched our heads when Broadcom acquired Computer Associates for $18.9B in cash. Hock clarified his strategy in the quarterly call:
Speaking of acquisitions, before I turn this call back to Tom to talk about the financials in greater detail, let me perhaps take a few more minutes and talk about CA Technologies. The number one question we get from when we get with CA is, why did we choose to buy? Cut to the chase. We're buying CA because of the customers and their importance to these customers. CA sales mission critical software to virtually all of the world's largest enterprises. These are global leaders in key verticals including financial services, telecoms, insurance, healthcare and retail. And CA does it a scale fairly unique to the infrastructure software space. This can only come from longstanding relationships with these customers that spend several decades. In other words, these guys are deeply embedded… https://www.legacy.semiwiki.com/forum/f302/interesting-notes-broadcom-q3-2018-call-10764.html

I also consider GF a winner with their new boutique foundry pivot. I covered this in a previous post GLOBALFOUNDRIES Pivoting away from Bleeding Edge Technologies.
For losers I would start with Intel. 10nm is still in question and even more loserish is the way they disposed of their CEO who spent his entire career at Intel. I cannot believe a Silicon Valley icon like Intel would do such a despicable thing to a 36 year veteran. Clearly it was sleight of hand, waving one hand so you do not see what the other is doing, or not doing in this case. Replacing a questionable CEO with a temp CEO who has publicly declared he does not want to be CEO while you spend months looking for a new CEO? The big question I have is: Why is the Intel Board of Directors NOT being held accountable for this blunder?Correct me if I'm wrong here but this does not pass the corporate smell test.
Let's continue this discussion in the comments section. Who do you think the semiconductor winners and loser of 2018 will be?
Share this post via: