TSMC continues to drive the economic recovery with impressive Q1 numbers and an even more impressive Q2 and Q3 outlook. TSMC is my economic bellwether due to its diverse customer base and shear volume of consumer electronics silicon. The big surprise in the 1 hour Q1 conference call is a new Giga Fab (#15) ground breaking this year for added 40nm and 28nm production. This is TSMCs 3[SUP]rd[/SUP] Giga Fab which can produce 100,000+ wafers per month. So the TSMC strategy is clear, economies of scale, out produce your competitors and prepare for a wafer price war like no other.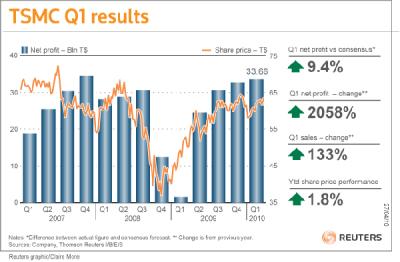 Coincidently I'm in Taiwan this week and yes, another earthquake hit, this time just hours before my arrival. As I blogged before, my Taiwan friends think I bring California earthquakes to Taiwan. My first was in September 1999, then again in July 2009. This year my earthquake karma is better. My Taiwan trips usually start with a 6am Monday morning arrival and a 7pm Thursday evening departure. My March trip ended early so I was in the air for the Thursday 6.9 earthquake. This trip started late with a Monday evening arrival so again I was in the air for the Monday 6.5 quake. I am now required by the Taiwan government to give 30 days advance notice upon my arrival so they can be earthquake prepared. No Fab damage was reported after Monday's quake.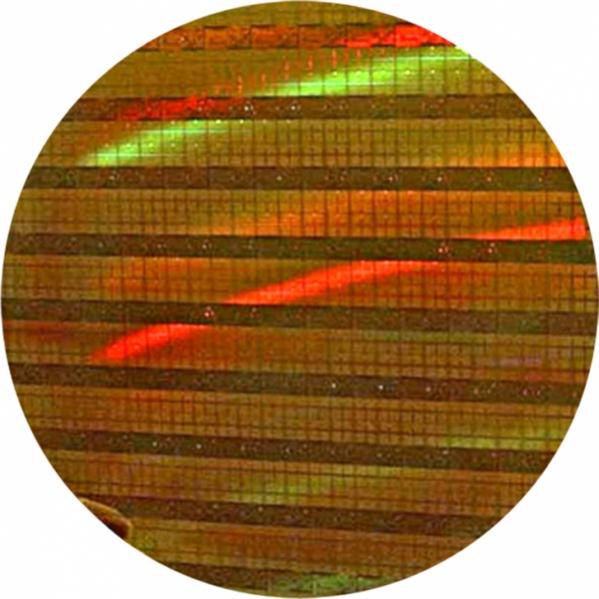 The other big surprise for some is that TSMC 28nm production will start the end of Q2 2010. Dr. Shang-Yi Chiang, Vice President of TSMC R&D, confirmed that "TSMC plans to start trial-run production of 28-nanometer technology in June", which is what he told me personally at our April 13th meeting. GlobalFoundries told me 28nm trial-run production is scheduled for Q1 2011 so TSMC is still 6 months ahead. GlobalFoundries also announced a 20nm node, again following TSMC.
On the financial side, TSMC's balance sheet can be found here, conference call materials here, management report here, earnings release here, and the conference call transcript here. The most interesting numbers to me are the Revenue by Applications which showed gains in communications and consumer electronics but a decrease in computers. Also Revenue by Technology: Advanced process technologies (0.13-micron and below) accounted for 71% of wafer revenues, 90-nanometer process technology accounted for 17% of wafer revenues, 65-nanometer 27%, and 40-nanometer jumped to 14% of total wafer sales.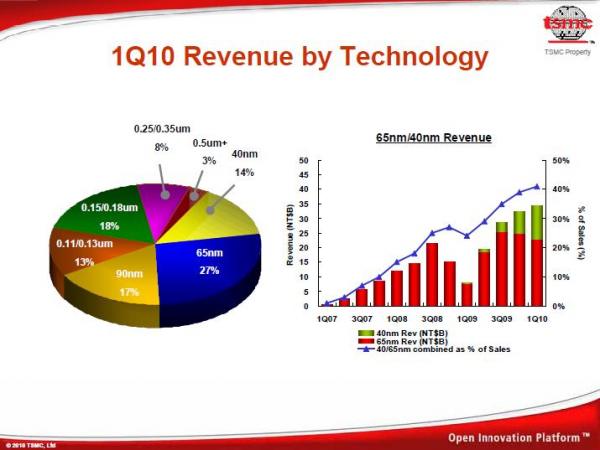 Moving forward, TSMC expects Q2 sales to reach T$100-102 billion from Q1 T$92.19 billion, beating market expectations. TSMC also said second-quarter gross profit margin should be 48-50 percent, compared with the 47.9 percent in the previous three months. TSMC expects an operating profit margin of 36.5-38.5 percent, versus the first quarter's 37%.
Clearly semiconductor manufacturing outsourcing is moving forward at a rapid pace. TSMC Chairman and CEO Morris Chang forecast 2010 sales in the global semiconductor market (+22%) will again be outpaced by foundry market growth (+36%). Unfortunately, with all electronics sectors showing stronger than seasonal demand, wafer rationing is amongst us.
According to Morris Chang:
"We have been building capacity as fast as we could and the result is still that demand is 30 per cent greater than supply"
"TSMC's plants are likely to continue to run at full capacity for the next year"
"In the very short term [over the next nine to 12 months], it makes no sense to ask our customers to give us more orders [because of the lack of capacity]"
"Perhaps in a year or two our utilisation will drop below 100 per cent, but we'll take that in stride"

Share this post via: