Every Semiconductor Analyst has given Intel the once over a hundred times about their slowing PC unit volume. They are looking in the wrong place because the true secret of the Q2 earnings – in my humble opinion – is that Intel's factories are full and parts are on allocation. What???
Check it out, high-end, 8 and 10 core XEON processors introduced this spring are selling for between $100 and $1200 more on the gray market. Gray markets can act as a bleed off valve and in times of production excess parts will sell for under list while in times of shortage, a customer will make a quick buck selling out the back door to others who have an urgent need.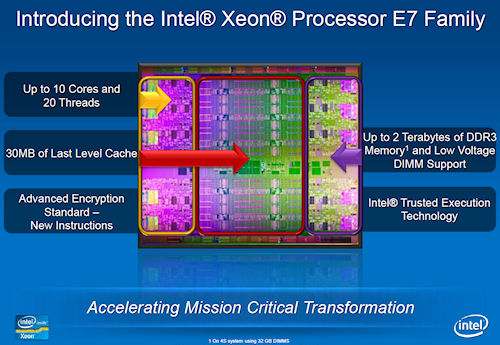 I didn't have a clue about the current "Allocation Situation" until I listened to the earnings conference call. From my perspective it was all stellar until they got to the data center revenue growth. It was up only 15% year over year. I was expecting 25-30% – which is what Intel cranked out the last 3 quarters. Why 15% after Google ups the Cap Ex by 100% and IBM waxes about the Cloud?
With a 30% year over year increase in the Data Center Group, Intel would have hit $13.4B in revenue – a true blowout. Then to add to the intrigue, they go on to forecast revenue of $14B ($14B +/- $500M) for Q3 and a large increase in R&D and even more Cap EX for 2011. How can this be if PC sales are lagging and dividends are being shoveled out the door at a furious pace? Did Paul Otellini lose control of the checkbook?
I believe there once was a high tech exec that said, "cash flow is more important than your mother." Obviously he wasn't invited over to Sunday dinner with Mom after that. History shows that Otellini runs a tight ship but makes strong bets on forward trends. The trend in Data Center is strong and worthy of writing some big checks for more capacity and a few hundred more engineers to kill ARM by 14nm (more about this in a later column).
Here's a second little nugget to chew on. Otellini knows that regardless of the shortfalls in netbooks – a minor $350M business per quarter – Intel is at a Tipping point with the data center revenue and that profits are compounding at a rate that is staggering. 80%+ gross margins and 50%+ operating margins means he needs to go ahead and build the Fabs as fast as possible to capitalize on the customers that are waiting for these new ultra performance efficient server chips that reduce sky high power and cooling bills.
These new XEON processors that were introduced in the spring at an ASP that is 25% higher than the old models are mighty big die with some measuring over 500mm2 in area. The pricing data suggests that they are not yielding high enough yet to satisfy the demand however they are yielding to a point that it is extremely profitable. All it takes is for 5 or 10 good die per wafer to hit the high profit margins. So while the XEON family makes up less than 6% of Intel's unit volume they probably occupy a complete fab.
One can ask if this scenario is true then what is the impact in the notebook and desktop space. I believe Intel built to a level to satisfy the typical seasonal demand and then cut over all other wafers to the server side leaving some crumbs for AMD –which turned in a good quarter for Q2 and forecasted a strong Q3.


Back in the 1990s Intel experienced capacity crunches multiple times during 386, 486 and Pentium ramps. Their solution was to hold prices flat for several quarters. So I reviewed Intel's CPU pricing since January across what has to be 300 SKUs by now and I cannot see one CPU that has seen a price reduction. The second derivative of the flat pricing is that AMD sees a surprise pickup and/or the industry sees lower unit volume.
So the mystery grows… is the PC slowdown to single digit growth actually do somewhat to a capacity crunch at Intel and not the iPAD or the crummy economy in Europe or the US. I believe that Paul Otellini's end game is at 14nm and he would certainly sacrifice PC units with $20 Atom chips in Netbooks and $60 Celerons destined for low-end notebooks in order to sell $2000 – $4600 XEON chips that will fund the accelerated deployment of larger 14nm fabs that come on line in 2013 and the armies of engineers designing x86 for tablets and smartphones going into those same fabs.
Full Disclosure: As an investor I am long INTC. However this is not a recommendation to buy any of the stocks covered in this article. Every investor needs to do his homework with regards to investing.

Space is limited so register for GTC 2011 HERE today!
Share this post via: