It's no secret that I have been a big fan of GLOBALFOUNDRIES since they came about in March of 2009. We even included them in our first book "Fabless: The Transformation of the Semiconductor Industry" right next to TSMC. I am also a big fan of pivoting which is the term we use here in Silicon Valley to describe some of the most innovative technology turnarounds. Apple going mobile is one of my favorite pivots, Nvidia is also a pivot master, Intel not so much. As a foundry connoisseur I knew most of the challenges GF would face but the challenges were much greater than even I expected, absolutely.
TSMC has always been a fierce competitor but the Apple partnership makes them unbeatable in my opinion. The new "node per year" cadence that Apple requires to launch new products every September has turned out to be a devastating pivot for the other foundries. Not only does it keep Apple ahead with bleeding edge silicon, it helps TSMC introduce new process technology ecosystems at a dizzying pace.
So yes, GF will skip 7nm and below and join the ranks of UMC, SMIC, TowerJazz etc… as a boutique foundry which can be quite profitable. In fact, with CMOS, FinFET, and the FD-SOI offerings, I would crown GF the King of the Foundry Boutiques!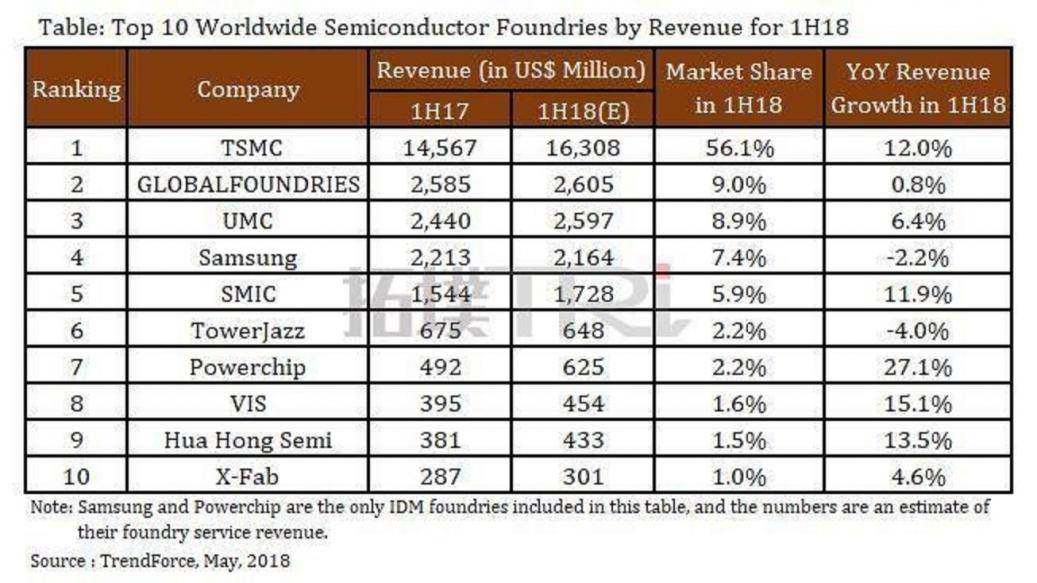 So where does that leave us on the bleeding edge? TSMC and Samsung. My prediction is that the new Intel CEO will do some refocusing and Intel Custom Foundry will not be part of it.
Upside
Remember that GF 7nm capacity is 15k WPM versus the massive 7nm capacity of TSMC and Samsung so there will be no shortages based on this announcement. Also, AMD and TSMC agreed on this months ago to secure 7nm capacity so this is pure upside for TSMC and possibly Samsung. Will AMD and others use Samsung for a second source? My guess is yes because that is how the foundry business has always worked. AMD already second sources Samsung 14nm. At 7nm AMD will stay with TSMC but at the lower nodes they will straddle TSMC and Samsung, my opinion.
Downside
The semiconductor equipment companies may take a small hit even though GF can re-purpose the 7nm line for 14/12nm but that still leaves ASML EUV machines orphaned. It is also not clear what the IBM Power PC people will do for leading edge silicon moving forward.
There is much more to discuss here so let's do it in the comments section. And don't forget, GLOBALFOUDNRIES, Samsung and TSMC all have events coming up in September and October. This announcement will make them that much more interesting.
Here is AMD's response:
Expanding our High-Performance Leadership with Focused 7nm Development
AMD's next major milestone is the introduction of our upcoming 7nm product portfolio, including the initial products with our second generation "Zen2" CPU core and our new "Navi" GPU architecture. We have already taped out multiple 7nm products at TSMC, including our first 7nm GPU planned to launch later this year and our first 7nm server CPU that we plan to launch in 2019. Our work with TSMC on their 7nm node has gone very well and we have seen excellent results from early silicon. To streamline our development and align our investments closely with each of our foundry partner's investments, today we are announcing we intend to focus the breadth of our 7nm product portfolio on TSMC's industry-leading 7nm process. We also continue to have a broad partnership with GLOBALFOUNDRIES spanning multiple process nodes and technologies. We will leverage the additional investments GLOBALFOUNDRIES' is making in their robust 14nm and 12nm technologies at their New York fab to support the ongoing ramp of our AMD Ryzen, AMD Radeon, and AMD EPYC processors. We do not expect any changes to our product roadmaps as a result of these changes…
And the official PR from GF:
GLOBALFOUNDRIES Reshapes Technology Portfolio to Intensify Focus on Growing Demand for Differentiated Offerings
Semiconductor manufacturer realigns leading-edge roadmap to meet client need and establishes wholly-owned subsidiary to design custom ASICs
Santa Clara, Calif., August 27, 2018 – GLOBALFOUNDRIES today announced an important step in its transformation, continuing the trajectory launched with the appointment of Tom Caulfield as CEO earlier this year. In line with the strategic direction Caulfield has articulated, GF is reshaping its technology portfolio to intensify its focus on delivering truly differentiated offerings for clients in high-growth markets.
GF is realigning its leading-edge FinFET roadmap to serve the next wave of clients that will adopt the technology in the coming years. The company will shift development resources to make its 14/12nm FinFET platform more relevant to these clients, delivering a range of innovative IP and features including RF, embedded memory, low power and more. To support this transition, GF is putting its 7nm FinFET program on hold indefinitely and restructuring its research and development teams to support its enhanced portfolio initiatives. This will require a workforce reduction, however a significant number of top technologists will be redeployed on 14/12nm FinFET derivatives and other differentiated offerings.
"Demand for semiconductors has never been higher, and clients are asking us to play an ever-increasing role in enabling tomorrow's technology innovations," Caulfield said. "The vast majority of today's fabless customers are looking to get more value out of each technology generation to leverage the substantial investments required to design into each technology node. Essentially, these nodes are transitioning to design platforms serving multiple waves of applications, giving each node greater longevity. This industry dynamic has resulted in fewer fabless clients designing into the outer limits of Moore's Law. We are shifting our resources and focus by doubling down on our investments in differentiated technologies across our entire portfolio that are most relevant to our clients in growing market segments."
In addition, to better leverage GF's strong heritage and significant investments in ASIC design and IP, the company is establishing its ASIC business as a wholly-owned subsidiary, independent from the foundry business. A relevant ASIC business requires continued access to leading-edge technology. This independent ASIC entity will provide clients with access to alternative foundry options at 7nm and beyond, while allowing the ASIC business to engage with a broader set of clients, especially the growing number of systems companies that need ASIC capabilities and more manufacturing scale than GF can provide alone.
GF is intensifying investment in areas where it has clear differentiation and adds true value for clients, with an emphasis on delivering feature-rich offerings across its portfolio. This includes continued focus on its FDX[SUP]TM[/SUP] platform, leading RF offerings (including RF SOI and high-performance SiGe), analog/mixed signal, and other technologies designed for a growing number of applications that require low power, real-time connectivity, and on-board intelligence. GF is uniquely positioned to serve this burgeoning market for "connected intelligence," with strong demand in new areas such as autonomous driving, IoT and the global transition to 5G.
"Lifting the burden of investing at the leading edge will allow GF to make more targeted investments in technologies that really matter to the majority of chip designers in fast-growing markets such as RF, IoT, 5G, industrial and automotive," said Samuel Wang, research vice president at Gartner. "While the leading edge gets most of the headlines, fewer customers can afford the transition to 7nm and finer geometries. 14nm and above technologies will continue to be the important demand driver for the foundry business for many years to come. There is significant room for innovation on these nodes to fuel the next wave of technology."
About GF
GLOBALFOUNDRIES is a leading full-service semiconductor foundry providing a unique combination of design, development, and fabrication services to some of the world's most inspired technology companies. With a global manufacturing footprint spanning three continents, GLOBALFOUNDRIES makes possible the technologies and systems that transform industries and give clients the power to shape their markets. GLOBALFOUNDRIES is owned by Mubadala Investment Company. For more information, visit http://www.globalfoundries.com.
Contact:
Jason Gorss
GLOBALFOUNDRIES
(518) 698-7765
jason.gorss@globalfoundries.com
Share this post via: