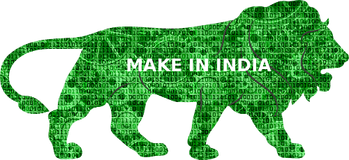 Cyber security, economic growth, government leadership and industry support must be weighed
The debate
A healthy public debate is underway as to whether India should invest in semiconductor manufacturing. PVG Menon, former chair of the India Electronics and Semiconductor Association, supports the objective as part of a full "chip" ecosystem yet reflects deep skepticism as to its achievability. Parag Naik, Co-Founder and CEO of Saankhya Labs, argues that India should prioritize investment in "fabless" design firms that generate chip demand, control intellectual property rights (IPR) and direct product sourcing. In June, Ministry of Electronics & Information Technology (MeitY) published a program that sets forth renewed financial incentives targeting electronics manufacturing, including semiconductors. Minister of Commerce and Industry Piyush Goyal recently asked Indian industry to take leadership in setting up a semiconductor factory (fab) in India.
The background
Despite having extensive top talent, India's chip sector remains essentially a "design services job shop." Global multinationals leverage Indian expertise at low cost while capturing the IPR and attendant profits.  There are no commercial fabs in the country.  India has posted incentive packages for chip manufacturing for a decade, but alone they have been insufficient to motivate the industry to invest. India is not playing to win and is on the sidelines at a critical juncture. The geopolitical battle between China and the U.S. offers an opportunity for India to become a strategic hedge for the industry.
GoI has historically fixated on "building a fab", targeting the foundry model. Building a fab is arguably the easy part. Loading the fab consistently with customer demand, developing well-enabled technology platforms, delivering operational efficiency and excellent customer support, and generating return on investment are key challenges. A very capable global foundry industry, led by TSMC, has evolved over the past 30+ years. These firms compete fiercely and provide world class technology and customer service. Customer loyalty is high and switching product sourcing to a new India fab would represent a high risk. Most customers would be unwilling to source in India unless the cost of NOT doing so is higher.
Another key challenge is attracting both private investment and the active participation of the global semiconductor industry.  This requires the demonstration of a viable and sustainable strategy. Competitors have largely depreciated fabs and a track record of relentless cost management. The low variable cost and near zero depreciation enables aggressive pricing by incumbents. A multi-billion-dollar investment in India will be at a long-term competitive cost and profit disadvantage unless supported by aggressive subsidies. GoI plays a key role. A national strategy is sorely needed.
Why would India want to invest in a chip manufacturing sector?
India is at a critical crossroad. Its virtual 100% reliance on the global industry for electronics products carries adverse strategic implications. The country's national security and core national infrastructure are increasingly at high risk of cyber threats by geopolitical foes, notably China, which controls 50% of global electronics manufacturing. Having not previously invested to control critical segments of the electronics industry value chain, India is behind.
Dr. G. Satheesh Reddy, head of India's Defence Research and Development Organisation, recognizes the "dependency threat" albeit at a higher platform level. He stated in November 2019 that his agency "… has set a target to achieve self-reliance in missiles, radars, sonars, torpedoes, armaments and EW (early warning) systems.  We intend to have no import for these systems in five years." A laudable and challenging goal. Did the scope include the electronics sub-systems of these platforms? Chips?
Despite India's recent economic progress, more is needed to accelerate the pace of growth and meet its vast social needs. India is under-achieving its potential for higher rates of GDP growth by deferring to global players for innovation and supply chain control in electronics, including chips. India's burgeoning indigenous electronics and chip demand, powered by 1.35 billion people and a strongly emerging middle class, if properly positioned, can incentivize global foundry players and fabless companies to invest and position themselves to capture this demand. But GoI policy must be a forcing function to translate indigenous "consumption demand" into one where products are designed and manufactured in India.
How might India proceed?
Clarity of objective is central. Global market leadership or matching China's massive subsidies are not necessary. One approach would be to focus the strategy on self-sufficiency and security of supply for the key electronics platforms and chips powering national security (defense, intelligence, cyber, space) and critical infrastructure (energy grids, communications, media, finance and banking networks). Commercial innovation and GDP growth will follow.
Five strategic pillars could support implementation:
Create a "Trusted Electronics Value Chain" policy to foster innovative global and India-based security protocols and require that all key electronics assemblies and chips in India's national security and critical infrastructure applications comply with these protocols. The objective is to drive design and ultimately manufacturing of electronics and chip content into India, leveraging preferential market access and the national security exemption provisions of international trade agreements.
Transform India's chip design services sector into a global Fabless product industry through public-private investment in companies targeting security applications and the emerging technologies of the cognitive era (e.g., Artificial Intelligence, Blockchain, Machine Learning, Virtual Reality, IoT, Big Data and Quantum Computing). Investments in companies that can commercialize leading India-based research in semiconductor product development, such as Shakti from IIT-Madras, should also be prioritized.
Create a world-class technology park that replicates Taiwan's model. This would be a joint investment by GoI and a regional entity providing capital and operating subsidies for land, infrastructure (roads, water, power, communications), and specialty gas and chemical storage and distribution.
Attract and incentivize a leading global memory manufacturer to build their next fab in the park, acting as the "anchor" tenant; the industry ecosystem of suppliers would quickly follow. Government relationships with South Korea (SK Hynix, Samsung), Japan (Kioxia) and United States (WD, Micron) should be fully leveraged to integrate memory manufacturing into national strategic alliances.
Structure a public-private investment model for fabs. An Indian-led public-private investment model, built on an equity-based technology and operations partnership with TSMC, would quickly legitimize India. TSMC would further monetize its technology and gain geographic diversification to mitigate increasing tensions between Taiwan and the mainland. Recent discussions with US and Japanese entities signal TSMC's openness to operations outside Taiwan, rare for the industry leader. Global fabless firms could participate through an equity-based take-or-pay capacity obligation. Doing so in a TSMC-partner fab could de-risk customer sourcing concerns, align fabless product lines with required global or Indian security protocols, and confer preferential market access for India's chip demand.
A competitive scale 300mm "Trusted" fab producing analog and logic devices in the 65-to-22nm nodes would plumb the model. A 200mm "Trusted" fab featuring the 180/130nm nodes would complement and incorporate key "III/V" technologies such as gallium arsenide and gallium nitride (GaN), providing a commercialization path for world class GaN research being done in the CeNSE at IISc-Bangalore. Future technologies such as silicon carbide could be integrated when viable. For the foreseeable future, leading edge logic processes (e.g., 16/14nm and below) should be sourced from foundries in allied countries.
Critical success factor: Leadership
There is a high degree of skepticism on the part of the global semiconductor industry that India has the seriousness of purpose, political will or staying power for chip manufacturing. India must convince industry on these points to attract investment. Proof points would include improved infrastructure, a world-class technology park, resolution of "ease of doing business" commercial issues, and much more compelling subsidies. Indian-born semiconductor leadership talent is abundant, but with many offshore. A viable and compelling strategy will motivate these leaders to marshal their networks in support.
PM Modi has recognized the critical role of the digital economy and that GDP growth is driven by technology, R&D, and innovation.  His Digital India, Smart Cities, Make in India, and startupindia initiatives reflect a vision that the digital economy can be transformative in improving the productivity and quality of life in India. The strategy to attract electronics assemblers Foxconn, Wistron, Pegatron and Samsung into India and demonstrate an "at-scale" electronics manufacturing sector is a good start.
If India were ever to invest in chip manufacturing, now is the time. A skeptical global semiconductor industry would welcome the supply chain diversification to mitigate increasing geopolitical risks in China, Taiwan, and Southeast Asia. The pace of innovation in emerging technologies is accelerating. A talented Indian semiconductor industry is hoping for leadership from Delhi. India's national security, the future cyber-security of its critical infrastructure, and the pace of economic growth and prosperity hang in the balance.
Terry Daly is a semiconductor industry veteran and former senior vice president with GLOBALFOUNDRIES. He is currently a senior fellow at The Fletcher School of Law & Diplomacy. This article is an excerpt from his keynote address delivered to the Confederation of Indian Industry in November 2019, New Delhi.
Share this post via: