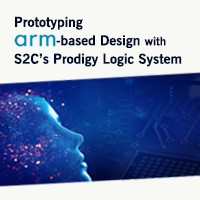 While writing the definitive book on ARM history we could not have imagined a more different exit than the SoftBank acquisition, not even close. It is now very clear why SoftBank acquired ARM for $31B. It is also very clear why alternatives like RISC-V are trending on SemiWiki and will continue to do so, absolutely. No matter what IP you choose you will have to prototype your design and that brings us to the topic at hand:
Prototyping ARM-based SoCs with S2C's Prodigy Logic Systems

ARM is the world's leading technology provider of silicon IP for custom SoCs, for the widest range of devices and applications. Using ARM's technology to design an SoC is usually the first choice. Quickly building an FPGA prototyping target will significantly accelerate your hardware verification and software development for optimum time-to-market. In this webinar, we will focus on how to quickly prototype ARM-based designs using ARM for SoCs or Juno ARM Development Platform together with S2C's FPGA prototyping solutions.

Agenda:
S2C Company Overview

How to quickly prototype ARM-based designs

Demonstration – Revised Full-fledged Base TRD

Q & A
Presenters:
Daniel Nenni Founder of SemiWiki.com
Richard Chang Vice President of Engineering, S2C.
Another interesting note, S2C was recently acquired by SMIT Holdings, a Hong Kong based security devices provider. This was my fourth acquisition in four years but was quite different from the rest since it involved a foreign acquirer. Seriously, it is a whole new world in EDA M&A, absolutely. Hit me up in the comments section if you want the details or better yet buy me lunch.
Mr Shuai Hongyu, President of SMIT, said, "S2C is a well-established company principally engaged in rapid hardware-based verification systems and software for over 15 years. It has strong presence in China, Japan, Korea and Taiwan. The acquisition added a new and strategically important component to our ongoing business development and helps us to quickly tap into this new industry. It is also in line with our overall investment strategy in the high-technology sector, representing a good opportunity for us to broaden our revenue stream. Through SMIT's new investments, S2C will be able to accelerate new product developments and provide superior customer support."
About S2C
S2C Inc. is a worldwide leader of FPGA prototyping solutions for today's innovative designs. S2C has been successfully delivering rapid SoC prototyping solutions since 2003. S2C provides: * Rapid FPGA-based prototyping hardware and automation software * Prototype Ready™ IP, interfaces and platforms * System-level design verification and acceleration tools. With over 400 customers and more than 2,000 systems installed, S2C's focus is on SoC/ASIC development to reduce the SoC design cycle. Our highly qualified engineering team and customer-centric sales force understand our users' SoC development needs. S2C systems have been deployed by leaders in consumer electronics, communications, computing, image processing, data storage, research, defense, education, automotive, medical, design services, and silicon IP. S2C has offices and distributors in US, UK, Israel, China, Taiwan, Korea, and Japan. For more information, visit http://www.s2cinc.com.
Share this post via: