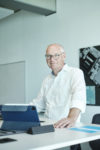 Since 2012, Dr. Jan Peter Berns is the CEO of Hyperstone, a producer of Flash Memory Controllers for Industrially Embedded Storage Solutions. Before that, he held a Senior Manager Position at Toshiba Electronics for several years. Jan Peter brings more than 20 years of management and executive experience in the semiconductor and electronics market.
Hyperstone was founded in 1990 by the German computer pioneer Otto Müller. After selling his previous company "Computertechnik Müller (CTM)" to the Diehl group, he carved together a small team and developed a 32-Bit RISC processor. Starting in 1990, Hyperstone marketed the processor core first as a silicon IP-block later also as a general-purpose microprocessor chip. In 1996 the design was enhanced to become an efficient architectural combination of RISC and DSP making it perfect for the emerging Digital Camera boom. In this context, one of the licensees was Lucky Goldstar, today better known as LG Electronics. LG requested Hyperstone develop a NAND flash controller chip with accompanying firmware. This moment in time was the inception of the company's product focus today.
What problems are Hyperstone addressing?
NAND flash is inherently unreliable at storing data. Higher densities and complex 3D structures have made data storage exceedingly complex over the last decade. Bit errors, cell wear and tear, deteriorating data retention and read disturbs are just some of the physical effects that need to be mitigated to ensure data can be stored efficiently. Achieving the highest levels of reliability and security, the lowest field failure rates and the best functional safety is Hyperstone's mission.
What are the solutions proposed by Hyperstone?
Hyperstone is working closely with flash vendors globally to understand the growing complexities of NAND flash failure modes that have come hand in hand with higher density flashes. These insights allow Hyperstone to push the boundaries of reliable NAND flash storage and is one of the many building blocks that enable the company's controllers to turn NAND flash into storage that lives up to the most critical requirements.
Why should someone choose Hyperstone?
While consumer grade storage is sufficient in cameras, tablets and mobile devices, industrial applications have higher, more intricate demands regarding reliability, availability, and data integrity. This is Hyperstone's expertise – the insights and experience in designing for industrial grade storage and supporting customers globally throughout the entire design process. From telecom base-band stations to automotive systems to IoT devices and robots operating in the industrial automation setting, Hyperstone has the knowledge to identify the unique demands of any use case and design to its specifications.
Which markets are Hyperstone targeting?
Hyperstone currently serves a range of industrial markets. The strengths of the companies R&D lie in embedded security and reliability, two tenets that gear Hyperstone towards the industrial IoT, security, and automotive markets. The company also supports and has significant experience in industrial automation, telecommunications, the energy sector, medical and transport applications.
What customer problems have you solved thus far?
A lack of use case understanding is the most common and critical issue the company has identified over the years. The assumption that one size fits all, especially for industrial grade applications is the root cause for customers experiencing issues with their storage solutions.
When partnering with Hyperstone on a project, the first question asked is what are the demands of the storage system at hand? By identifying these unique demands, Hyperstone can optimize the flash controller to best support the requirements of the system. At the end of the day, there is no single problem solved; the company optimizes solutions for specific use case demands.
What do the next 12 months have in store for Hyperstone?
Within the next year, Hyperstone will be launching a new SD controller and achieve significant development milestones towards the next eMMC controller. Demand for the company's products and reliable NAND storage is surging.
Which markets do you feel offer the best opportunities for Hyperstone over the next few years and why?
The companies' support for all industrial markets worldwide won't change. Hyperstone does, however, acknowledge the growing demand for reliable and secure storage in the automotive, industrial IoT and security arenas. These are three markets where Hyperstone's key differentiator's, reliability and security are crucial.
How is Hyperstone responding to the current semiconductor shortage, especially in the European market?
The current climate of the semiconductor industry has impacted the world. While the company can't avoid it entirely, Hyperstone has long taken measures to ensure supply shortages are managed as swiftly as possible. This includes buying wafer allocation and tester slots as well as qualifying new substrate and test-service suppliers.
Hyperstone has long established second sourcing for critical process steps to react flexibly to any shortages. To ensure the company's quality expectations are not compromised, Hyperstone has also accepted increase pricing of major parts. At the end of the day, a strong relationship with suppliers and service providers has ensured the company's success in these tumultuous times.
And how has the pandemic affected Hyperstone and its customers?
The pandemic impacted Hyperstone's customer base in unique ways. Different markets experienced different levels of shortages and demands were very volatile as well. While the medical manufacturing market showed significant growth, other markets like the automotive industry were hit hard by the pandemic or supply chain disruptions. Hyperstone was well positioned to benefit from growing markets like medical, 5G and security.
Last question, what is Hyperstone's future roadmap and direction?
Hyperstone has been growing its R&D teams significantly in the last two years and will continue to do so. The company will expand its portfolio of memory controllers and offer a comprehensive line of storage solutions for industrial and automotive applications. Another major strategic focus is going to be on IoT and security applications.
About Hyperstone
Pioneers in the NAND flash memory controller business, at Hyperstone we design and develop highly reliable, robust controllers for industrial and embedded NAND flash-based storage solutions. We pride ourselves on developing innovative solutions, which enable our customers to produce world-class products for global data storage applications. Our flash memory controller portfolio supports a range of interfaces and form factors including SecureDigital (SD) cards, microSD, USB flash drives, Compact Flash (CF) cards, Serial ATA (SATA) and Parallel ATA (PATA) SSDs, Disk-on-Module (DoM) and Disk-on-Board (DoB) solutions as well as embedded flash solutions such as eMMC.
Also read:
Selecting a flash controller for storage reliability
Share this post via: