NAND Flash Controllers for Industrially Robust Storage Solutions
We design, develop and deliver high-quality, innovative semiconductor solutions to enable our customers to produce world-class products for industrial, embedded, automotive and global data storage applications.
Founded in 1990, Hyperstone is a fabless NAND flash memory controller company enabling safe, reliable and secure storage systems. With a focus on industrial solutions, the company strives to be the key component in world-class products for industrial, embedded, automotive and global data storage applications.
Hyperstone's products include NAND flash memory controllers for Serial ATA (SATA) and Parallel ATA (PATA) Solid-State Disks (SSDs), Disk-on-Module (DoM), Disk-on-Board (DoB), embedded flash solutions such as eMMC, and flash cards such as CF, SD, and microSD. USB controllers complete the portfolio. Hyperstone's hyMap® flash controller firmware is supplied with the flash memory controllers and is customized for each flash application.
While the company's headquarters is based in Konstanz, Germany there are subsidiaries in Taiwan, and the USA serving a global customer base. Research and development take place at headquarters, while industry-leading partners provide world-class wafer-subcontracting, packaging and testing services.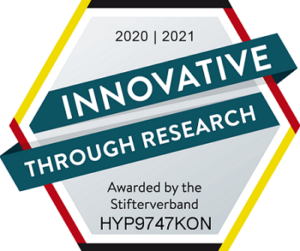 Innovative through research
Hyperstone receives seal of approval from the Stiftverband of German Science. Hyperstone receives the "Innovative through Research" seal of approval from the Stifterverband of German Science. The Constance-based company is thus honored for its special commitment to research and development.
In 2020 there were about 3 million companies in Germany, less than 30,000 of which were engaged in research – less than 1 percent. But it is precisely this group of companies that creates particular added value. Because only through research and innovation can the German economy meet the challenges of the future.
Flash Memory Controllers for Embedded Systems & Industrial Storage Applications
Our Product Portfolio has a range of reliable NAND Flash Memory Controllers for SD, USB, SATA, CF and PATA Interfaces
Our Product Portfolio of NAND Flash Memory Controllers includes USB controllers, SATA controllers, SD controllers and CF PATA controllers. With our complimentary firmware, hyReliability™ features and our hyMap® Flash Translation Layer, our flash memory controllers deliver the highest endurance and reliability for embedded storage solutions that must not fail. Power-Fail robustness, error correction, wear-leveling, and data refreshing are a few of the many important reliability features needed to ensure that storage solutions such as SSDs, eMMC, SD-cards, USB drives, and embedded flash drives can function reliably. Due to the physical characteristics of NAND flash memory, reliable data processing is only possible with a quality NAND flash memory controller that enables the NAND flash to be used in demanding applications. Due to the unique demands of reliable storage applications within industrial markets, failing storage applications are not an option for us. If you require storage solutions, which combine reliability with the highest endurance, our NAND flash memory controllers are your best choice.
USB Controllers for USB flash drives, eUSB modules and USB security solutions
SATA controllers for SSDs, CFast cards and embedded flash drives
SD controllers for SD cards, microSD cards, eMMC and security solutions
CF controllers for CF cards, Parallel ATA or IDE SSDs and embedded flash drives
Share this post via: