Compared to the automation of digital design, the development of automation for analog has taken a much more arduous path. Over the decades there have been many projects both academic and commercial to accelerate and improve the process for analog design. One of the most interesting efforts in this area is being spearheaded by Blue Cheetah Analog Design. They are taking a new approach to deliver no compromise PPA analog IP with standard integration collateral. I had a chance to talk to Blue Cheetah President and Co-Founder Krishna Settaluri recently about what sets them apart.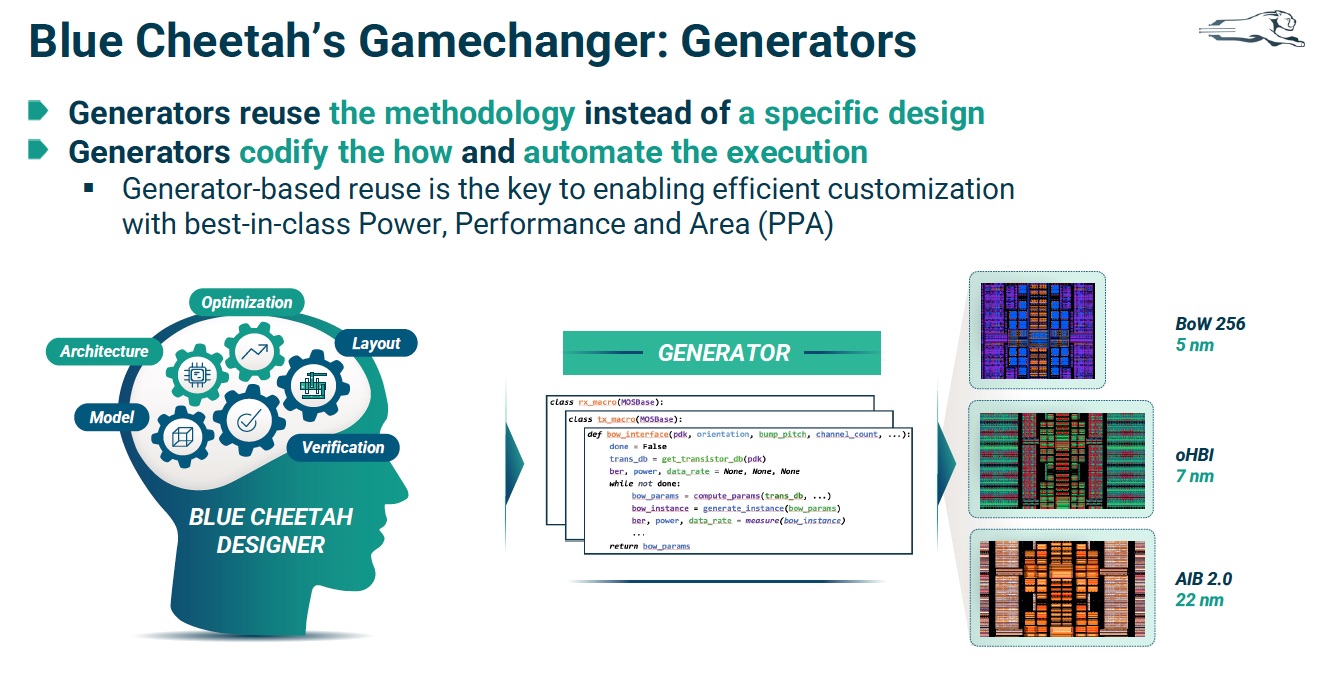 At the core of their analog IP offering is the use of generators to rapidly deliver customized analog IP. They acknowledge that analog design still needs to be done by skilled analog designers and that generators are not a panacea. Rather, expert designers can leverage their generator technology, which is based on work spearheaded by Chief Scientist and Co-Founder Eric Chang, to allow the rapid development of production ready analog blocks.
One calculated move that Blue Cheetah has made is to focus initially on the chiplet interface market. This is a rapidly growing market that is undergoing early efforts at standardization. Blue Cheetah is a proponent of open standards and, amongst them, CEO and Co-Founder Elad Alon has been a strong voice in various standards committees. In this space there are Open Domain-Specific Architecture's (ODSA) Bunch of Wires (BOW), Intel's AIB, Open HBI, and the recent emergence of UCIe as the leading evolving standards. These all reflect the consensus that parallel interfaces make more sense than serial links for communicating between die that are within the same module or package.
Serialization and deserialization add unnecessary complexity for in-package links where there are sufficient numbers of bumps to send data in parallel. To increase efficiency the PHY layer for parallel interfaces can be stripped down to make the individual bit-lines as small as possible. For instance, BOW uses just two optional wires for FEC and AUX per 16 bits of interface and relies on a separate I2C or SPI link for control. Also, BOW offers the option of forgoing termination when it is used for short links. Of course, BOW can also be used with termination on links up to 20mm channel reach – which Blue Cheetah's generators provide as a design choice.
Blue Cheetah started with the premise that generator technology, based on the analog generator framework (BAG) initially developed at UC Berkeley can meaningfully change the nature of analog design. Analog designers are just as important as ever, but generators let them work more efficiently and allow for much easier adjustment of design parameters and migration between processes. Blue Cheetah generators use what they call primitives to capture what is needed for a particular device in a specific process node. Generators allow the rapid creation of the heterogenous process PHYs often needed within a single module/package.
Blue Cheetah generators help with circuit and physical design efficiency resulting in fully characterized and optimized output. This makes it possible for designs to go from spec to sign-off quality GDS in their flow. Blue Cheetah's customers receive the industry standard set of design views needed to integrate the PHY IP into their design, from simulation models to physical layout. The generators make it easy to adjust the IP during the design process to adapt to design changes such as ECOs, etc.
Blue Cheetah's vision is for horizontalization of the analog mixed signal blocks that are needed as foundational IP. High quality commercialized custom IP for these building blocks can be a market changer for the industry. Starting with chiplet interface IP makes a lot of sense because it is a rapidly growing market with few entrenched proprietary vendors. Blue Cheetah generator technology looks like a realistic blending of automation and skilled designer input to produce no-compromise analog blocks. More information about Blue Cheetah is available on their website.
Also read:
Blue Cheetah Technology Catalyzes Chiplet Ecosystem
Podcast Episode 23: What are chiplets and why are they gaining popularity?
Alphawave IP and the Evolution of the ASIC Business
Share this post via: