The Linley Group, whose conference on mobile I recently attended, has some interesting data about the processor core market. Firstly, the numbers are big: CPU cores shipped in over 10 billion chips last year which is up 25% on last. ARM has a share of 78% of that entire market. The big surprise to me was the #2 was not MIPS but Synopsys with the ARC processor that they acquired with Virage. They have a 10% share. MIPS can only manage 6%.
ARM licensees shipped 7.9 billions chips on which ARM collected an average royalty of 4.6¢ down a little from 4.8¢ the year before. By contrast, MIPS licensees shipped just 650M chips although they made around 7¢ per chip.
Given that kind of imbalance it is hard to see how MIPS can compete with ARM and there are plenty of rumors that MIPS is being shopped around. But that kind of instability make licensing really difficult. Nobody wants to invest in licensing a core when the company is short of resources to invest in R&D, and if the future of the whole company is uncertain the problem is compounded. Especially since a likely acquirer might be a competitor.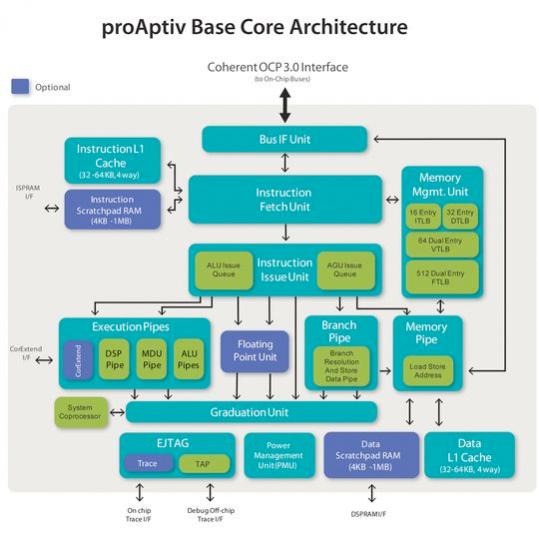 However, having said all that, MIPS announced three new cores today under the brand name Aptiv. The three cores are the microAptiv, interAptiv and proAptiv in increasing order of performance, power and area. The high end proAptiv is firmly positioned as a competitor to ARM's Cortex-A15. Whether these new cores are enough to convince anyone other than current licensees remains to be seen. One point I just re-discovered today that may or may not be significant is that the Chinese Loongson processor uses the MIPS instruction set. I'm not sure if this is a good thing for MIPS (wider use of software in the MIPS instruction set) or not (a competitor with the same instruction set).
The DSP core market is dominated by Ceva with a market share of over 90%. Linley classify Tensilica and ARC as CPU blocks as opposed to DSPs but Ceva would still dominate the sector if they were classified as DSPs.
The graphics GPU market is dominated by Imagination Technologies (just a short drive from ARM) with 82% market share (that's what's in your iPhone for example). ARM have their own GPU Mali but it has very limited acceptance so far. There is clearly some potential leverage for integrating the CPU and the GPU but so far ARM don't seem to have found the magic formula. Qualcomm both licenses GPUs and has one of their own but since it is not externally licensed I assume that it is not included in these numbers. Samsung also has their own GPU Exynos which is the current performance leader.
Linley expects CPU IP to maintain a CAGR of 10% for a least another 3 or 4 years until the market matures and smartphone growth starts to slow.

Share this post via: