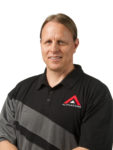 CEO's background: what led to your current organization?
Since an early age, exceeding expectations has driven me to succeed in my areas of interest. While enlisted in the Finnish Army, I was selected, trained, and short-listed for the country's astronaut training program before it was unfortunately dissolved.  A major realized goal was to qualify and represent Finland in the 2004 Athens Olympics. In the US, I won the NCAA javelin championship in 2013. This rigorous athletic discipline complemented a similar intense academic drive to extensively research advanced analog electronics with an emphasis on radiation tolerance, reliability modeling and characterization structures. While completing a PhD in Electrical Engineering, I had a focus on evaluating analog IC modelling correlation issues affecting advanced small geometry technologies. During the course of this work, it became apparent that a significant unserved opportunity existed to deliver ultra-low power, high-speed, and high-resolution data converter solutions. I was particularly interested in the mixed signal aspects of conversion architectures especially as applied to analog circuit functionality and reliability when using emerging very small nanometer-scale geometries. Those experiences led to managing successful research and development programs where the ideas were put into practice. Once the technology and opportunity were validated, I made the entrepreneurial leap as the Founder and CEO of Alphacore Inc.
Please tell us about Alphacore and its product offering.
The Alphacore design team has extensive experience in delivering products and solutions for a diverse customer base. We offer products and services that often far exceed the performance specifications of what is available in the market today. These solutions fulfill the needs of a broad range of leading-edge commercial, scientific, and aerospace communication applications. For example, Alphacore's novel data converter architecture, HYDRATM (Hybrid DigitizeR Architecture), allows us to deliver a best-in-class family of RF data converters. The resolution in this family is up to 14bits with analog bandwidths as high as 25Ghz, while consuming milliwatts of power. These hybrid architecture innovations are key to delivering the unbeatable specs found in our Gigasamples per second and milliwatts of power RF data converter library.
From our foundation in RF Data Converters, we have built a transceiver architecture, SMARTTM (Scalable Macro Architecture for Receiver and Transmitter), that is delivered to customers as scalable macros. This innovative and multi-core macro approach is ideal for phased arrays, beam forming, Massive-MIMO, 5G/6G applications that offer significant advantages compared to other approaches. Starting with our RF data converter family, we cover selectable data converter specs for multi-channel arrays available from a few hundred MHz to 20 Gigasamples per second. Alphacore's innovative hybrid architecture enables these arrays to be configurable with best-in-class area and power efficiency. Our scalable macro transceiver architecture can be configured with on-board PLL's, with selectable I/O formats, and with or without SerDes.  This scalable approach enables optimum performance, maximum configurability, with minimal customization and design risk.
What makes Alphacore Intellectual Property/products unique?
Continuing with the theme from the previous questions, there are really two things that make our products unique. First, and probably most important is that the team has invented and now productized HYDRATM and SMARTTM architectures that solve the area, performance, and power challenges of not just the data converters, but of the macros required at the RF system level.
Alphacore is growing fast, and leverages our small company agility to deliver innovative architectures and remarkable system performance for our partners and customers. Our ADCs have the lowest power in their resolution and bandwidth class. Additionally, we are a member of the prestigious GlobalFoundries FDX Network that recognizes these industry demonstrated design accomplishments. We continue to blaze new trails in leading edge process technologies such as GF's 22FDX 22nm fully depleted silicon on insulator (FD-SOI) CMOS process, our customers are assured their unique solution is developed using rigorous discipline approved by an internationally respected partner.
For example, our exciting IP cores with World-class performance levels, using low power FD-SOI technologies, offer proven solutions that include data converter products. We alone offer reduction in power that is 10X lower than nearest commercial competitors, wide bandwidth, and innovative automatic background calibration for spur removal all with Gigasample-class conversion rates. The outright performance increase of our cores offers a unique market disrupting position with established competitor data conversion vendors. Significantly, these have enabled cost-effective IC readout solutions with frame rates all the way up to 600,000 frames per second, and more reliable control electronics for harsh environments.
What customer challenges/competitive positioning are you addressing?
Our commercial customers are in market segments that are driven by frequently upgraded specifications and new advanced product demands, such as emerging 5G communications standards, and Advanced Driver-Assistance Systems that demand high quality solutions at low-cost. Alphacore delivers data converters with the best performance figure of merit (power dissipation, sampling rate, effective number of bits, and signal-to-noise and-distortion ratio parameters), imaging solutions with the highest resolutions and frames per second available, and power management products such as the most power efficient DC-DC converters.
As mentioned before Alphacore's new products enable market disrupting consumer priced solutions with unbelievable performance and pricing in monolithic packages that replace expensive and less reliable hybrid multi-chip modules. Alphacore's business model provides our customers with optimum tradeoff selection for power and performance of data converters to propel faster time-to-market for their system designs that are simpler, smaller and more affordable, with available assistance from our dedicated technical support during the process.
Furthermore, competitive versions of these products can be delivered with characterized radiation tolerance specifications.
Which markets most benefit from Alphacore IP?
Our technical team includes disciplined and seasoned "Radiation-Hardened-By-Design" (RHBD) experts; however, we specialize in designing commercial high-performance solutions for niche needs of demanding segments including 5G communications. Alphacore's very-low-power and high-speed data converter IP design blocks are ideally suited to direct RF sampling architectures necessary for advanced communication standards including 5G, LTE and WiFi and their base stations.
Also, our library of IP facilitates the fast development pace of new technology in other major markets for automotive sensors, aerospace, defense, medical imaging, homeland security, scientific research, or electronics for High Performance Computing (HPC) in space environments.
All of these market segments drive next generation products, that similar to Moore's Law, seem to demand 2x, 3x, multiples of performance or resolution increases at similar multiples of economies of scale and pricing. Significantly, Alphacore's product roadmap with complementing photolithographic breakthroughs, novel scaling architectures, etc., is ideal whether customers request low-cost high-performance IP or much larger scaled IP versions with massive increases in data or image resolution.
What are Alphacore's Goals?
The company is driving towards recognition of its strengths and expertise, and commercial business development of its products and licensable IP in a handful of strategic business opportunity-driven areas that directly focus on Alphacore's clear strengths. I would characterize these critical growth areas for us as 1) High-performance Analog, Mixed-Signal and RF Solutions, 2) Advanced CMOS Image Sensor, Camera System and ROIC products and services, 3) Radiation Hardening expertise for applications with Harsh Environments, and 4) Emerging Solutions for 5G, SATCOM, Scientific Research, Automotive, Defense, Space.
Also Read
CEO Interview: Kelly Peng of Kura Technologies
CEO Interview: Aki Fujimura of D2S
CEO Interview: Frankwell Lin, Chairman and CEO of Andes Technology
Share this post via: