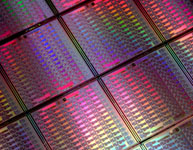 Sidense will be exhibiting at the Common Platform Technology Forum in Santa Clara, California on February 5, during which time they will be discussing their one-transistor, one-time programmable (1T-OTP) memory IP products. Based on their patented 1T-Fuse™ bit cell, Sidense antifuse-based 1T-OTP macros offer a secure, reliable, low-cost and field-programmable alternative solution to mask ROM, eFuse, EEPROM and flash memory technologies in many applications.
Sidense Corp. provides secure, very dense and reliable non-volatile, one-time programmable (OTP) memory IP for use in standard-logic CMOS processes with no additional masks or process steps required. The Company's innovative one-transistor 1T-Fuse™ architecture provides the industry's smallest footprint, most reliable and lowest power Logic Non-Volatile Memory (LNVM) IP solution. With over 100 patents granted or pending, Sidense OTP provides a field-programmable alternative solution to Flash, mask ROM and eFuse in many OTP and MTP applications.
Sidense 1T-OTP macros are implemented in standard logic CMOS processes and need no additional masks or process steps. The macros are available at many process nodes and variants, including BCD and high-voltage nodes, from 180nm down to 28nm from leading top-tier foundries and selected IDMs. Sidense macros are available in densities up to 512 Kbits per macro, which can be combined to implement several megabits of storage on a chip. Sidense offers some products with read and programming capability up to 150ºC, ideal for automotive "under the hood" applications. Programming may be done at test, at wafer probe, or in the field from an external source or with an on-chip charge pump.
1T-OTP macros are inherently low power, making them ideal storage choices for mobile communications and other handheld devices. Designers are using Sidense 1T-OTP for code and key storage, look-up table data, processor and logic configuration, ID tags, and analog trimming and calibration. Typical applications include sensor conditioning, power management, display drivers, image processors, network controllers, wireless LAN and Bluetooth controllers for the automotive, mobile, commercial and industrial market segments.
Sidense 1T-OTP is now licensed to more than 100 customers including several of the top semiconductor manufacturers and is now designed into devices in mass production in all major semiconductor markets including: media processors, display drivers, automotive sensors, image sensors, wireless peripherals and microcontrollers. 1T-OTP is available with more than 10 foundry partners and IDMs including all top-tier foundries. Sidense also broadened the process node availability from 180nm to 28nm for the Company's products. To further align the portfolio with customers' requirements, 1T-OTP has been ported to power/BCD processes qualified for automotive applications and high-voltage processes for display drivers.
For more information, please go to www.sidense.com and visit Sidense at the Common Platform Technology Forum in Santa Clara, California on February 5, 2013:
General Agenda:
8:30am – 9:00am Registration and Continental Breakfast
9:00am – 11:30am Keynote Session
11:30am – 1:00pm Lunch / Exhibit Area Open
1:00pm – 4:40pm Technical Session
4:40pm – 6:00pm Reception
Partner Exhibit Hours:
Who said there is no such thing as a free lunch! I hope to see you there!

Share this post via: