According with ABI research, worldwide annual media tablet shipments are expected to top 120 million units in 2015, which is more than decent for a niche market. But if you compare it with the smartphone market (you can find the smartphone shipments forecast here), media tablet will weight 15% in unit shipment of the smartphone in 2015. Maybe the media tablet Silicon content will generate more $ per unit? Alas the answer is no, at least if we look at the heart of the system, the application processor, as the IC used in media tablet is strictly the same than for smartphone: OMAP4 from TI, Tegra2-NVIDIA and even Apple using A4 for iPhone4 and iPad (or A5 for iPhone5 and iPad2). So the SC Total Addressable Market (TAM) is directly linked with the Media Tablet unit shipments, at least if we evaluate the application processor TAM, and the comparison with Smartphone unit shipments make sense.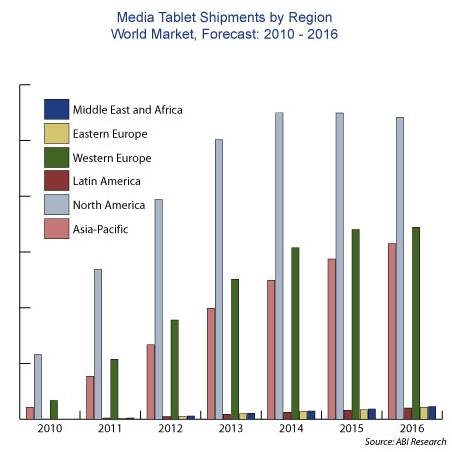 Is this TAM really addressable by the Nvidia, TI, Qualcomm and more?
The same research from ABI says "Android media tablets have collectively taken 20% market share away from the iPad in the last 12 months. However, no single vendor using Android (or any other OS) has been able to mount a significant challenge against it." This means that, during the last 12 months the "real" TAM for the SC pure players (excluding Apple) was 20% of the 40 million units shipped (IPnest evaluation). Or 8 million application processors, at an Average Selling Price (ASP) of $20, that makes a "huge" $ market of $160M. Let's compare it with the same figures for the smartphone market for the same period: about 400 million units shipped in total, 330 million being non Apple, create a $ TAM over $6B. The application processor TAM for media tablet is today less than 3% of the equivalent for smartphone!

It will certainly change in the future, as both products shipment are expected to strongly grow and we can expect Android based media tablet to gain market share against iPad, increasing both the market size and the addressable part of the application processor IC market. If we make the assumption that Apple market share of the media table pass from 80% to 50% from 2011 to 2015, it will leave about 60 million to A5 competitors, Nvidia, Qualcomm, TI and others. As the ASP for Application processor is expected to decline to about $15 in 2015, the $ TAM will grow to about $1B, which is pretty good for a niche market! But this is still a mere 10% or so of the application market for the smartphones.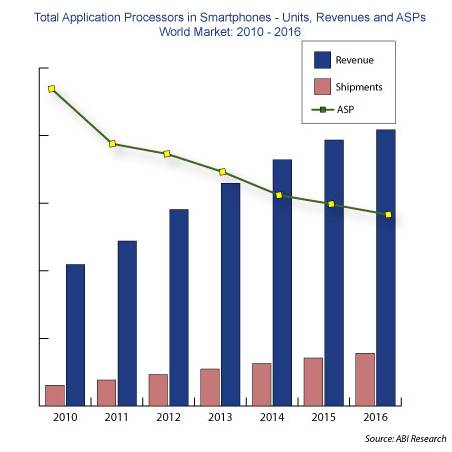 You may want to question these forecast about the media tablet, thinking the market size growth evaluation is underestimated… Let's have a look at the regional split from the first figure: the largest part is in North America, then comes Western Europe and then Asia-pacific. Eastern Europe, MEA and Latin America are staying very low. The first conclusion is that it's a market for "riche" people (in countries where the personal income is high).
If you still have a doubt, just imagine you are 20, part of the middle class in one of these "rich" countries, and you have $500 to invest. What will you buy first?
·Laptop(even if you probably need to spend a little more)?
·Netbook (in this case some money will remain)?
·Smartphone (you will probably not pay it through the subscription)?
·Or a media tablet?
I would bet that media tablet will come last, or just before the netbook!
Last point: a couple of years ago some analysts have predicted the Netbook segment to explode. As a matter of fact, the Netbook shipments have seen very strong growth in 2009. It seemed confirming these predictions, but this was in fact due to the recession: it was more economical to buy a Netbook than a Laptop. If we look at the forecast for Netbook shipment for 2011, they are expected to decline by 18%. Partly because the economy is better than in 2009, partly because they are cannibalized by the media tablet. So, the media tablet is not essential, like can be a PC or a smartphone, and you can guess that they would be severely hurt by any economy recession, more than smartphones would be. We think media tablet is a nice, niche product for rich people, but it will never generate the expected revenues as the smartphones will for the application processor IC manufacturers. But you may have a different opinion… feel free to post it!
Eric Esteve from IPnest
Share this post via: