Any article or blog on mobile phones talks about the ongoing battle between Apple and Samsung or the never ending struggle of Nokia and Blackberry. These reports are primarily based on the US market that hosts close to 322 million mobile subscriptions as per report in DEC 2012 by mobiThinking. With 81% (256 million) of the US population on 3G/4G i.e. Smart phones, it makes sense to have the articles talk around them. While the US leads the market in terms of product launch and adoption, 30 percent of the world's mobile users live in India and China. China leads in terms of subscriptions with 1+ billion subscribers out of which 212 million are 3G/4G users. India is ranked second with 906.6 million total (699 million active) subscribers and only 70.6 million 3G/4G users. This means it will take quite some time for the Smart phones to overtake feature phones and the reasoning might be dropping price point and not the need from consumer unless a killer application cuts in. What it also means is that with Nokia still leading the feature phone market, it has some room left to pick up.
This belief of mine turned stronger when I visited a few stores in search of a phone recently. My wife's touch screen CDMA phone from a leading brand lost its touch sensitivity again. It has already demanded service twice in last 5 months. Infact, it was the 3[SUP]rd[/SUP] CDMA phone bought in 2 years while our GSM one still continues to operate smoothly. With limited CDMA phone options available it was always a compromise on the handset. The reason for sticking to CDMA was the unlimited talk time plan offered by one of the carriers. With the capital cost balancing the savings on operating cost, we decided to transition from CDMA to GSM that has full range of handsets. With a tablet available for internet browsing, the usage of phone is limited to calls. Taking a rational approach, we decided to look for sub $200 phone to overcome this need (still guessing if the result was an outcome of my convincing capability or my wife's ability to understand the logic). Note – In terms of carriers providing the handsets with a 1 or 2 years plan, India has limited options. The phones are bought mostly bought directly from stores hosting a range of handsets from a variety of sources.
On our visit to the store, there was a wide range of options within $200 price tag and Nokia was clearly leading the range. The price points for the features offered were amazing. Samsung failed to impress in this category and there was not a single handset from LG. While there were a lot of Chinese phones but the packaging is still poor and no matter if they provide double the features for the same price, if the phone hangs, God help! For a $200 phone category, one of the impressive sets was Xolo from Lava powered by Intel Atom. It had the largest display with clarity and maximum features in this price category. Finally Nokia won the choice by being closest to the requirement in all respect.
After reaching back, I checked on the latest reports on the Indian market to validate our buy. According to CMR's India Mobile Handsets Market Review, 2Q 2012, September 2012 release, during 1H 2012 (January-June 2012), total India shipments of mobile handsets was recorded at 102.43 million units. During the same period, total India shipments of smart phones were 5.50 million units. Interestingly Nokia still leads the market here.

Even in the Smart phone market in India, Nokia still has a strong presence followed by RIM. No Apple yet!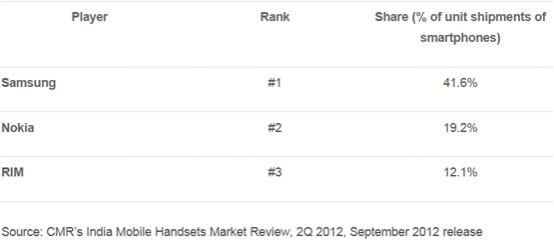 The cell phone market in India is unconventional in terms of handsets, services and usage but carries strong potential. Considering the developments in this domain, what if Nokia enters the Wintel partnership directing it to the cell phone market? Intel recently announced that it is looking to attack the lower price segment to increase foot print in the mobile segment. Nokia already has tied up with Microsoft for its OS. Why not extend this partnership further and make a 'NokWinTel' or 'WinTelKia'. The later could be interesting as "Kia" in Hindi means "did" giving the partnership a regional flavourJ. All 3 are recognized as top brands in the local market. They need to hit the right price points with a variety of products along with look & feel. If this trio (Microsoft, Intel & Nokia) is able to collaborate and attack this LONG FAT TAIL, all 3 would be able to claim a bigger share for their respective products.

Share this post via: