A three-dimensional integrated circuit (3D IC ) is a chip in which two or more layers of active electronic components are integrated both vertically and horizontally into a single circuit. The semiconductor industry is hotly pursuing this emerging technology in many different forms, as a result the full definition is still somewhat fluid.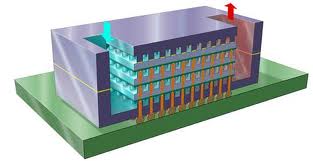 If you need to increase your system- and/or IC designs' performance, while reducing power dissipation, space required and eventually cut NRE and unit cost, you want to update yourself at #48DAC on our industry's progress regarding 3D ICs.
3D Tour Guide for DAC 2011:
To assist you in this effort, the GSA's 3D IC Working Group compiled this year again the "Tour Guide to 3D-IC Design Tools and Services". It includes 3D-centric information from 14 EDA vendors, 4 R&D centers and industry organizations, 3 market research firm and 1 value chain provider. This 3D Tour Guide can be downloaded here:
If you want to know more about the 3D IC Working Group's activities, you can download presentations given by 3D experts at recent meetings here:
3D-focused DAC Event:
On Monday morning, June 6, Herb Reiter will moderate a pavilion panel on the exhibit floor (Booth 3421) with the title : "3D IC: Myth or Miracle?"
Riko Radojcic from Qualcomm, Ivo Bolsens from Xilinx and Suk Lee from TSMC will outline their view of 3D technology and answer questions from the audience.
More about this panel here:
At the end of this 3D panel the GSA will offer you – in exchange for your business card – a hard copy of the 3D Tour Guide with its 60+ pages of 3D information.
Please join us on Monday morning, 10.30 am at Booth 3421. Utilize the 3D Tour Guide to direct you to Tools and Services for 3D IC design and manufacturing.
Other 3D-focused events BEFORE the summer break:
June 29 to July 1will be the "Design for 3D" conference in Grenoble, France.
More about agenda, registration here.
In addition to the IC-design focused events about, our industry's manufacturing experts are also going to address 3D Technology in several workshops and on the exhibit floor at the upcoming Semicon West in San Francisco, from July 12 to 14. More here:
If you want to join the GSA 3D IC Working Group and contribute to general 3D topics or specific efforts (3D test, data exchange formats, 2.5D, …) please contact Herb Reiter with a brief outline of your strengths and the topics you want to influence.
Herb Reiter
Chair of the GSA 3D IC Working Group
herb@eda2asic.com
Share this post via: