The TSMC Symposium kicked of today. I will share my general thoughts while Tom Dillinger will do deep dives on the technology side. The event started with a keynote by TSMC CEO CC Wei followed by technology presentations by the TSMC executive staff.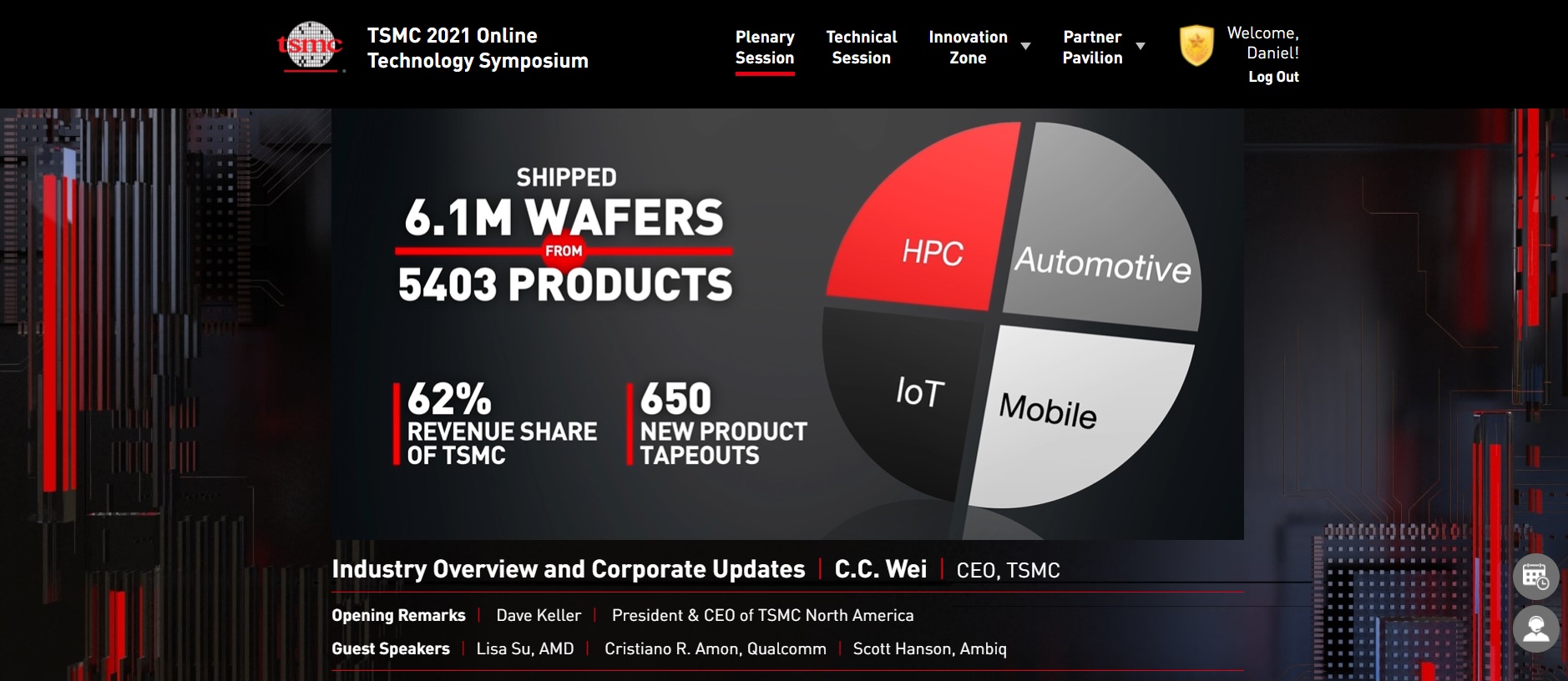 C.C. Wei introduced a new sound bite this year that really resonated with me and that was "actions speak louder than words". TSMC has always reminded me that it is important to speak softly and carry a big stick. While this does not always get TSMC the best media coverage it works extremely well with customers, and of course is a key ingredient to the TSMC "World's Trusted Foundry Partner" strategy. Transparency is another key ingredient and you will not find a more transparent foundry than TSMC.
Who else presents defect density numbers? Which is really where the rubber meets the road for ramping new process technologies. Let me remind you how lucky we are to have C.C. Wei leading TSMC. He is a brilliant technologist and a great leader which is a very unique combination. I fully expect the many CEO awards to come his way in the not too distant future, absolutely.
The keynote was followed by presentations from the executive staff.  Noticeably missing was Cliff Hou who is now Senior Vice President, Europe and Asia Sales. My guess is that direct customer experience is a stepping stone to something bigger for Cliff. That and gray hair.
Learn About:
TSMC's smartphone, HPC, IoT, and automotive platform solutions
TSMC's advanced technology progress on 7nm, 6nm, 5nm, 4nm, 3nm processes and beyond
TSMC's specialty technology breakthroughs on ultra-low power, RF, embedded memory, power management, sensor technologies, and more
TSMC's advanced packaging technology advancement on InFO, CoWoS®, and SoIC and other exciting innovations
TSMC's manufacturing excellence, capacity expansion plan, and green manufacturing achievement
TSMC's Open Innovation Platform® Ecosystem to speed up time-to-design
Y.J. Mii (Senior Vice President, Research & Development) discussed advanced logic technologies, technology innovation beyond 3nm, and advanced integration technologies.
Kevin Zhang (Senior Vice President, Business Development) discussed specialty technology development and offerings.
Y.J. Mii (Senior Vice President, Research & Development) discussed advanced technology value aggregation, design ecosystem readiness for N5-N4-N3, and RF design platform update, and 3DIC design ecosystem for system innovation.
Y.P. Chin (Senior Vice President, Operations) provided a manufacturing update with new capacity ramping and new fab status, advanced packaging and testing operation, and green manufacturing.
This was followed by more technical sessions on advanced technology for smartphone and HPC platforms, 3D fabric technology, advanced RF and analog technology, BCD technologies for PMIC, eNVM and automotive, and ultra-low power technology for IoT platforms.
There is a LOT of information to cover so let us know what you are most interested in and we will prioritize as appropriate. Or ask us questions and we can answer them directly.
Hopefully the other foundries will take this symposium to heart and talk more about actions and how they have helped customers, the environment, and the world of electronics in a transparent manner. Thank you for reading and there is plenty more to come.
Share this post via: