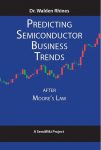 Wally Rhines is one of the most prolific speakers the semiconductor industry has ever experienced. Wally is also one of the most read bloggers on SemiWiki.com, sharing his life's story which is captured in his first book: From Wild West to Modern Life the Semiconductor Evolution.
On April 2nd at 10am PDT we will host Wally on a live webinar for a presentation on his second book which will be made available for download during the event. There will also be a live Q&A. If you cannot attend the live version a link to the replay will be sent to all registrants. If you are not available to attend and want to ask Wally a question please include it in the comments section and I will make sure it gets answered. This is a must attend event, absolutely!
Let's start with Wally's updated biography, yes he has a Wikipedia page, followed by the book introduction:
Wally Rhines is widely recognized as an expert in business value creation and technology for the semiconductor and electronic design automation (EDA) industries.
Dr. Rhines was CEO of Mentor Graphics (a "Big Three" EDA company with $1.3B+ revenue) for 24 years, has served on the boards of four public companies, managed the semiconductor business of Texas Instruments (TI), and is a spokesperson, writer and highly-sought-after speaker for the high-tech industry delivering more than twenty keynotes per year.
Dr. Rhines currently serves as CEO Emeritus of Mentor, a Siemens Business, consults for investors, corporations and the U.S. government on strategic directions, value creation and technology and serves on public and private boards.
Business achievements include major turnarounds, both at Texas Instruments, through his creation and management of the digital signal processing business, and at Mentor, where he managed more than 3X growth in revenue and a 10X increase in enterprise value before acquisition by Siemens AG.
Dr. Rhines' technical expertise includes semiconductor design, process engineering and manufacturing as well as financial modeling of trends and value creation.
He has been deeply involved in global business development including projects in China and India.
As CEO and Director, he has managed businesses through difficulties including unfriendly takeover attempts, favorable outcomes for both the company and the activists, with three of the world's leading activist investors, and volatile economic and business cycles.
He continues to seek new opportunities to grow businesses, particularly through private equity, consulting and personal investing.
https://en.wikipedia.org/wiki/Wally_Rhines
Predicting Semiconductor Business Trends After Moore's Law
Introduction
In 1952, AT&T sold licenses to patents and basic know-how for their newly developed solid-state transistor technology to any buyer willing to pay $50,000. As a result, the companies who chose to commercialize this technology competed on a level playing field with no initial competitive barriers such as patents or existing market share. They created what soon became the most significant example of a free market business operating in a world economy. Regulations for this new industry didn't exist and the new companies created a hotbed of new ideas, new business approaches and financial growth. It was the "Wild West" of business. As a result, the semiconductor industry today provides the most significant example in recent history of free economics in worldwide commerce.
Without a formal licensing process, IBM's development of the Winchester disk drive had a similar effect beginning in 1956. Over the next thirty years, the number of companies competing in the hard disk drive business peaked at eighty-five. Clayton Christensen of Harvard University did a study of the disk drive industry because it could be analyzed using nearly ideal conditions of supply, demand and free market economics (see Christensen, Clayton, "The Innovator's Dilemma: When New Technologies Cause Great Firms to Fail", Harvard Business Review Press, May 1, 1997.)
He used disk drive companies as a surrogate for other industries in the same way that biological researchers use fruit flies. Fruit flies are born, mature, reproduce and die in 24 hours so you can study biological effects over many generations. Christensen's thesis was that the disk drive industry provided a research vehicle similar to fruit flies in that these companies were founded, grew and went out of business in a very short period of time.
The semiconductor industry exhibited life cycles that were longer than the disk drive industry but had the same free market characteristics. Over time this unfettered competition followed trends in a worldwide market that could be quantified and used to predict the future. Over the past forty years or more, I've collected data and made presentations showing how the actual economics and technology of the semiconductor industry can be used to predict its future direction and magnitude. This book is built upon excerpts of presentations made during the last thirty years that analyze the business and technology of the semiconductor industry. In most cases, the figures in the book are copies of the original slides as they were presented during one or more of those presentations. In general, they show how predictable the semiconductor industry has been. They should also provide insight into the future of the industry.
—Dr. Walden Rhines, December 2019
Share this post via: