With the support of the Heart of Technology, one of the big events this year at DAC will be the Kickin' It Up in Austin celebration on June 3, at the amazing, world famous Austin City Limits Live! The event starts at 8:00 PM, runs until 1:00 AM and features three bands – 9-time Grammy winner Asleep at the Wheel; Vista Roads, an industry band featuring Jim Hogan and friends; and Texas Terraplanes, described as "Rock'n Electric Blues…sounds like a hot steam'n plate of Texas ribs and brisket with a side of seafood gumbo."The first 400 guests in the door at the 50[SUP]th[/SUP] anniversary celebration will receive a free concert T-shirt. A DAC badge is required for entry.
A special part of the celebration takes place in the HOT Zone sponsored by Heart of Technology and several emerging companies in the EDA and IP industry. Held in the Jack and Jim Gallery at the top of ACL Live, the HOT Zone features artist and performance photos from the famed photographer Jim Marshall. The Jack stands for Jack Daniels, and premium drinks will be served there all night. This is a great opportunity to party with friends as well as raise money for a good cause.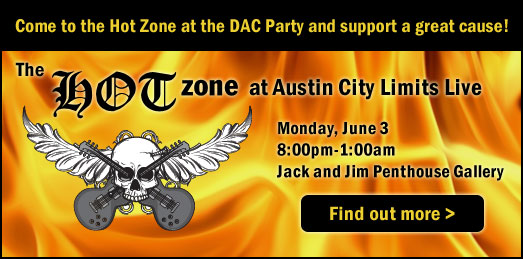 The Heart of Technology has served as a fundraising accelerator for charities for nearly ten years now. Conceived and lead by the efforts of Jim Hogan, and with the assistance of many other industry professionals, the Heart of Technology assists non-profits by helping them raise money for causes that strengthen communities and help people going through difficult life transitions. With DAC being held in Austin, Texas this year the Heart of Technology has turned its attention to host an event to benefit CASA (Court Appointed Special Advocates) of Travis County. CASA speaks up for children who've been abused or neglected by empowering the community to volunteer as advocates for them in the court system. Prior charities have included Second Harvest Food Bank, FleaHab, and southern Bay Area schools.
To be a guest at the HOT Zone, just donate $50.00 or more to CASA of Travis County. Your donation is tax deductible. Find out more details on the HOT website.
What's Sizzling in the HOT Zone
· Private performance by "The Red Headed Stranger"
· Premium drinks including Jack Daniels for which the gallery is named
· Unique food including Texas Treats on a stick and breakfast buffet on a stick
· Photo booth, tattoos
· Entry into a drawing for a Stratocaster guitar signed by Asleep at the Wheel
· Private balcony seating for main stage performances
· Featured entertainment at the DAC party includes Grammy Award winning artists Asleep at the Wheel, Vista Roads Band, and Texas Terraplanes
The first 100 people to make a donation of $100 or more will receive a rock and roll HOT Zone t-shirt! Find out more at www.heartoftechnology.org.
Don't miss what will be one of the most memorable DAC events yet!
Full Disclosure: I will be singing in the Vista Roads band at the event.
lang: en_US

Share this post via: