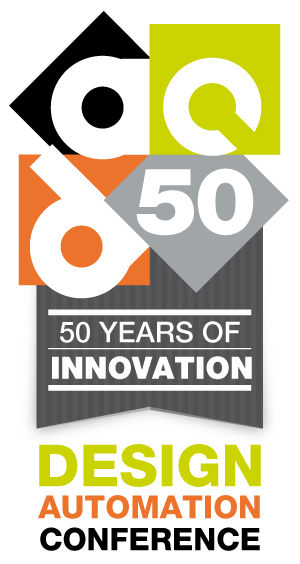 DAC's technical program offers the best-in-class solutions that promise to advance Electronic Design Automation (EDA) and Embedded Systems and Software (ESS). DAC 2013 is seeking submissions that deal with design technologies and algorithms, addressing all aspects of electronic design across several submission categories.
The Design Automation Conference (DAC) is recognized as the premier event for the design of electronic circuits and systems and for electronic design automation (EDA) and silicon solutions. Since 1964, a diverse worldwide community of many thousands of professionals has attended DAC. They include system designers and architects, logic and circuit designers, validation engineers, CAD managers, senior managers and executives as well as researchers and academicians from leading universities. Close to 60 technical sessions selected by a committee of electronic design experts offer information on recent developments and trends, management practices and new products, and methodologies and technologies.
A highlight of DAC is its exhibition and suite area featuring leading and emerging EDA, silicon, intellectual property (IP) and design services providers. The conference is sponsored by the Association for Computing Machinery (ACM), the Electronic Design Automation Consortium (EDA Consortium), and the Institute of Electrical and Electronics Engineers (IEEE), and is supported by ACM's Special Interest Group on Design Automation (ACM SIGDA).
Sign Up for the DAC Austin email list
DAC FAQs: Are available on each of the individual submission pages
Special Session Proposals – OPEN!Technical and Pavilion Panel Proposals – OPEN!Tutorial Proposals – OPEN!

TOPIC AREAS:
In addition to well established EDA and ESS subjects, special focus areas in 2013 include embedded software and architectures, multi-core, security, virtualization, energy harvesting, emerging devices, cloud computing, parallelization, 3-D, design for manufacturability, cyber-physical systems, bio interfaces, bio sensors, and bio design automation.
SUBMISSION CATEGORIES:
Electronic Design Automation (EDA)
Embedded Systems and Software (ESS)
Designer/User Track
The Design Automation Conference (DAC), celebrating its 50th year as the premier conference devoted to the design and automation of electronic systems (EDA), is the oldest and largest conference focused on EDA, embedded systems and software (ESS), and intellectual property (IP). The first DAC was held in 1964 in Atlantic City, New Jersey. Half a century later, DAC 2013 is a not-to-miss occasion for the worldwide community of system designers, system architects, IC designers, validation engineers, CAD managers, senior managers, executives, researchers and academics. I hope to see you there!

Share this post via: