When you're designing a hardware solution to plug into what is arguably the most complex system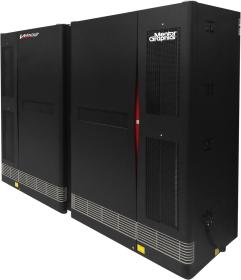 of all – the Internet – you can't get away with a little fake traffic to test whether your box is going to do all the right things at the right performance. You have to model realistic voice, video, data and wireless traffic in multiple protocols (and software-defined networking) at variable bandwidths.
First, you're obviously not going to do this with a simulator, which, best-case, might model 100 packets per day. You need to get to tens of millions of packets a day over 128 ports to have a reasonable chance of tracing bugs. And that's only possible in emulation.
But then how do you model realistic traffic? Networking design teams already know the answer to this one. They work with companies like Ixia who are well established in providing solutions for validating and optimizing physical and virtual networks and particularly, in this instance, for network modeling and traffic testing.
So you have great solutions on either end of the modeling problem – design modeling and network modeling – but that usually means the design team has to figure out how to hack some kind of connection between the two, usually inelegant, inefficient and incomplete and often in as much need of debug as the design itself.
Or the solution providers on each end could partner, which is exactly what Mentor and Ixia have done. Mentor has integrated the Mentor® Veloce® emulation platform- through the Virtual Network (VN) App – with Ixia's virtual edition test product family – IxNetwork® Virtual Edition (VE) to accelerate the verification of complex networking chips.
The key value of the integration is Ixia script re-use with the emulator. This means that Ethernet traffic generation is consistent between simulation, emulation and lab testing. Being able to run realistic traffic on the emulator is half of what design teams need – knowing that it will correlate with real lab testing is the other half and is often where custom-crafted integrations break down.
Mentor built the VN App in a close collaboration between the R&D teams at Mentor and Ixia. VN has been designed to create a highly optimized flow from simulation to the lab for greater efficiency and improved debug. Mentor is currently demonstrating a working prototype to mutual customers in their emulation lab in Fremont California.
You can learn more about other Veloce emulator applications HERE.
Share this post via: