Next week is the Mentor U2U Conference in Silicon Valley. By chance I had coffee with one of the U2U keynote speakers while we were waiting for the FD-SOI Symposium to start last week and can tell you this FREE event is one you don't want to miss:

"Merger Mania"
Keynote presented by:
Wally Rhines, Chairman & CEO, Mentor Graphics
In 2015, the transaction value of semiconductor mergers was at an all-time historic high. What is much more remarkable is that the average size of the merging companies is five times as large as in the past five years. This major change in the structure of the semiconductor industry suggests that there will be changes that affect everything from how we define and design products to how efficiently we develop and manufacture them. Dr. Rhines will examine the data and provide conclusions and predictions. Many of them will surprise you.

Register now!
Wally joined Mentor as CEO in October of 1993 and has been presenting his thoughts on the semiconductor industry ever since. As you can imagine, that's probably more than a hundred presentations to thousands of people around the world. Wally is also a serial conference attendee and I know this by experience. Combine that with 23 years of customer and partner visits and you will not find a more articulate person with their finger on the pulse of the semiconductor industry, absolutely.
The other keynote is from Zach Shelby, VP of marketing for the Internet of Things at ARM. Zach came to ARM in 2013 through the acquisition of IoT start-up Sensinode Oy:
"Driving Beyond IoT"
Keynote presented by:
Zach Shelby, VP of Marketing for the Internet of Things, ARM
As a growing industry, while IoT is driving innovation, there is also a natural convergence of requirements from trends that are leading the next wave of evolution in SoC design. ARM is seeing that evolution today, with strong demands for security and connectivity that are driven by requirements for services in the cloud and end-to-end requirements for security, as well as a new wave of software developers. In addition, some of these IoT requirements are influencing other market segments such as automotive, which may change the way hardware and software is developed. To meet the requirements challenge, ARM's targeted acquisitions of Sensinode, PolarSSL and Sansa Security are helping the company build the foundation upon which all future ARM-based IoT devices will be designed.

There are of course technical tracks on AMS Verification, Calibre, Emulation, Functional Verification, High Speed Design, IC Digital Implementation, PCB Flow, Silicon Test and Yield Solutions. You can see the full agenda HERE.
On another interesting note, Wally is also a Moore's Law aficionado and has recently published a blog in Scientific America. Yes, Wally is now a blogger:
Moore's Law and the Future of Solid-State Electronics

I will be at the U2U Conference early (to miss the San Jose traffic) so if you want to meet for coffee let me know. I hope to see you there!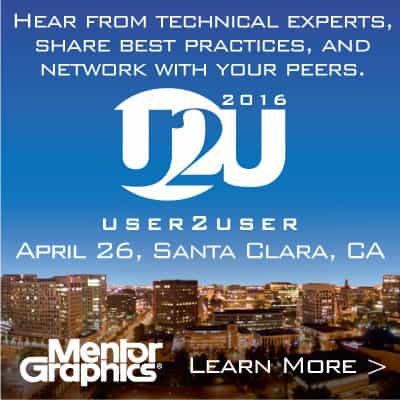 User2User is a highly interactive, in-depth technical conference focused on real world experiences using Mentor tools to design leading–edge products. Join us for a day of networking and learning opportunities with Calibre, PCB Flow, High Speed, Functional Verification, IC Design Implementation, Emulation, AMS Verification and Silicon Test.Admission and parking for User2User is free and includes all technical sessions, lunch and a networking reception at the end of the day.

Register now!
Share this post via: