Archaic tech metaphors abound, stuck in the psyche of users everywhere. We still "dial" numbers, long after the benefit of a short pull area code disappeared. (Humans could dial 1, 2, or 3 a lot faster on a rotary phone, and there were fewer dialpulses for central office switches to decode – thus big cities with more phone traffic like New York, Chicago, and Los Angeles got their original area codes.) We press a small icon that looks like a floppy disk to save a document. We say "stay tuned" when there is more to a story coming soon.
We have one of these terms in EDA: tapeout. That first job I mentioned in a recent post, designing and building analog autopilots? One sheet of translucent mylar per layer, black graphic tape, tape circles for through-hole pads, a lightbox, a ruler, an X-ACTO knife, and hours and hours under the tutelage of a very experienced and patient printed circuit board designer to create, check, and double check one board layout.
Thank goodness that nonsense is over. In a modern PCB layout with 12 or 16 layers or more, surface mount packaging, fine pitch BGAs, controlled impedance, matched propagation delays, and dense routing tactics like blind and buried vias, automation is sorely needed – but not to be implicitly trusted. State of the art in PCB layout is moving to auto-assist, blending tool automation with designer experience so the layout is seen as it unfolds.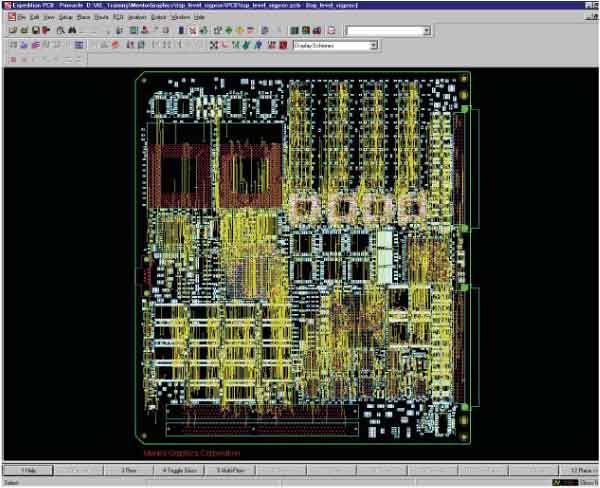 Auto-assist is featured in the latest version of Mentor Graphics Xpedition, a PCB design platform targeting better productivity for complex designs. Xpedition represents an entire flow, from system definition, simulation, schematic entry, constraint definition, layout, verification, DFM, and design data packaging for handoff to fabrication. The focus is on reducing manual data manipulation and automating tedious tasks, a must for yielding successful layout faster, working within distributed teams and enabling effective reuse of layout IP quickly and accurately.
There are many new features in Xpedition, and one of the more interesting is Sketch Router. Auto routing can produce some interesting (ok, bogus is more like it) results, especially on wide parallel bus structures, so designers usually resort to manual efforts to avoid problems in critical areas. Unfortunately, those are often the most crowded areas, requiring a lot of time and care.
Sketch Router is an interactive auto-assist router providing more control and following intent, allowing guidance with simple, step-by-step visual feedback so the user can see exactly what is happening and adjust or retry as necessary. On the Sketch Router page, several short product demo videos show some of the capability.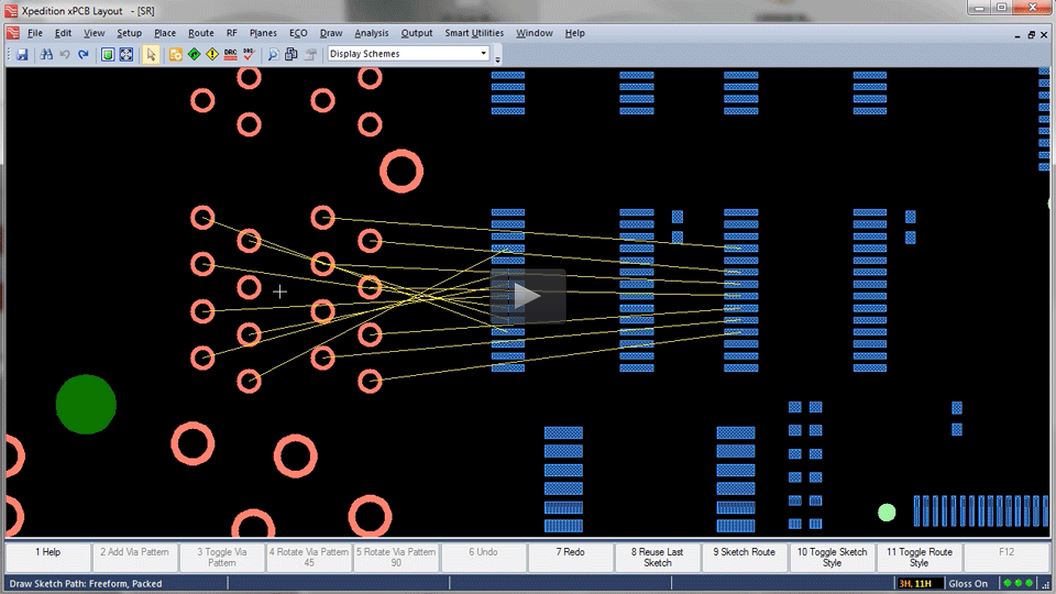 In difficult areas, hug routing creates local bias using existing routes as a guide to completing an area. Push and shove allows the designer to move traces around, automatically clearing planes as required. Groups of traces move smoothly, including curved trace routing for BGA patterns, and differential pair routing with phase matching. All this capability works with defined rules and constraints, helping to "paint" a layout to completion with better assurance of routing quality.
Mentor has started a new blog series with Charles Pfeil and Vern Wnek, exploring the new capability in Xpedition and some real world PCB routing challenges. Both have put up their first entries in the Xpedition Enterprise Blog – it's funny, Charles starts with a similar story to mine – and will be continuing the discussion there. There is also a webinar on Routing Automation with a longer presentation showing how Sketch Router works. If you're interested in complex PCB layout issues, or trying to decide on an automation tool, these are good resources to explore.
lang: en_US
Share this post via: