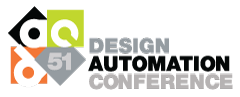 Yes, it is that time of year again, DAC is coming and it is in San Francisco so you can bet we will break attendance records, absolutely. I would like to call on ALL semiconductor IP companies to exhibit this year. IP is the center of the semiconductor design universe, DAC is the premier semiconductor design event, and San Francisco is right next door to Silicon Valley, home of the largest semiconductor IP consumers, simple as that.
Semiconductor IP is today, and has always been, the highest source of organic (search based) traffic for Semiwiki.com: IP Integration, IP Verification, IP Qualification, and just about anything else IP.

MONDAY AT DAC: IP TECHNICAL TRACK
Keynote – Monday, June 3


Sir Hossein Yassaie, CEO of Imagination Technologies

Invited Panel Sessions


Providers & users on topics such as IP Selection, Verification & Export

Paper and Poster Sessions


Users on their experiences building and deploying IP in the SoC's, IP Verification & Software
IP EXHIBITS SoC PASSPORT PROGRAM
The DAC SoC Passport program assists attendees in finding the IP providers on the show floor, while providing an exciting platform to learn, network and win prizes.
DAC SoC Passport program is open to all exhibitors that provides IP or IP tools.
All participating IP providers are listed on SoC Passport
Attendees can pick up an SoC Passport at:
Main registration, IP company's booth, DAC Pavilion
Attendees visit the IP providers during DAC; learn about the company's IP offering; get a stamp in one or more categories listed on card
SoC cards must be turned in before the end of the show at the DAC Pavilion or DAC Registration to be scanned
Complete cards will get a DAC IP t-shirt and entered to win the grand prize.
Program Benefits:
Participating in the program is free of charge to all exhibiting IP providers
DAC will promote program prior and during the show for full exposure and attendee awareness
Each participating company will:

Be listed on the SoC card with booth number
Be listed on t-shirt giveaway
Receive a stamp and SoC cards for distribution
SoC Passport Sponsorship:
Sponsors of the program will receive:

Logo on SoC card and t-shirt
Sponsorship recognition in promotional materials
Logo listed as a program sponsor on the IP SoC Passport website
Receive leads from turned in SoC cards
The DAC IP Track brings together Intellectual Property Core designers, users, and IP ecosystem providers. IP Designers and users from leading companies like ARM, Synopsys, Imagination, Intel, IBM, Samsung, TI, Toshiba, Qualcomm, and others will present their products and design experiences on effective design flows, methods, and tool usage.
IP Track Submission Categories:
IP Provider CPU / GPU
IP Provider Memory Controller / NOC
IP Provider Communications IP
IP Provider Analog / PHY
IP Provider Embedded Software
IP Management / Assembly
IP Verification
Designer Track brings together IC designers and embedded software developers from across the globe. Designers and software developers from Intel, IBM, Samsung, TI, Toshiba, Qualcomm, AMD, Freescale, and other leading IC companies will present their design experiences on effective design flows, methods, and tool usage:
DT Submission Categories:
Front End Silicon Design
Back End Silicon Design
Embedded Systems & Software
The Design Automation Conference (DAC) is recognized as the premier event for the design of electronic circuits and systems, electronic design automation (EDA) and embedded systems and software (ESS).
Members are from a diverse worldwide community of more than 1,000 organizations that attend each year, represented by system designers and architects, logic and circuit designers, validation engineers, CAD managers, senior managers and executives, and researchers and academicians from leading universities.
More Articles by Daniel Nenni…..
lang: en_US
Share this post via: