A lot of folks in the semiconductor business are familiar with Dassault Systèmes because of their product life cycle management (PLM) products for IC design. They are, of course well known in other industries as well for their 3D modeling and simulation software. Over the years they have added capabilities and intelligence to their product offerings, allowing them to be used for ever more sophisticated and comprehensive modeling and simulation. Decades ago, they worked with Boeing to create a complete 3D model of the 777 aircraft during its development and today their customers can also model the production planning and operations of their products across many industries including semi fabs.
In a recent conversation with Dassault Systèmes' Simon Mellier I learned a lot about their new vision for improving semiconductor manufacturing. Dassault Systèmes has expanded the concept of 3DEXPERIENCE to address manufacturing challenges in a new way. This new concept is called 3DEXPERIENCE Virtual Twin. Much as it sounds, it leverages an executable model of every element in a fab. Simon emphasized that this is of particular interest for the semiconductor industry due to the huge complexity of its products and production models.
Having a complete and fully functional model of a fabrication facility offers numerous benefits. In our discussion Simon touched on a number of these. A fully instantiated virtual twin doesn't only model the operation of each piece of equipment, it can also help foundries extend to the facility operations including all workflows.
One example he used was in the case of maintenance. Not only can the virtual twin help provide feedback and information about potential equipment failures, it can also offer a laboratory for training technicians on performing complex maintenance operations. Technicians can practice the steps for equipment repairs or maintenance prior to bringing a high value fab line down to perform the actual repairs. As a result, such operations are likely to be more efficient, leading to reduced equipment down time.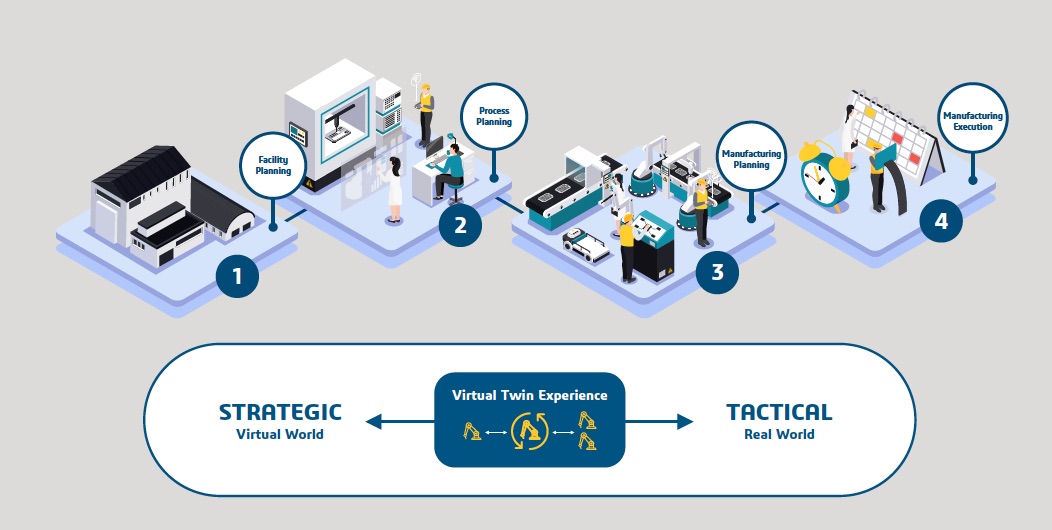 With a virtual twin, manufacturing processes and parameters can be optimized to improve yield and efficiency. The virtual twin can be kept up to date with real performance metrics from the physical fab, providing a closed loop to ensure high accuracy. Of course, this is not all peaches and cream. For this technique to work, detailed information about the foundry equipment is necessary. Ideally the manufacturers will provide intelligent 3D models and information about external interfaces so that a high accuracy model of every aspect of the foundry can be captured. So naturally, sophisticated security mechanisms are required to secure intellectual property. The benefits of a highly integrated executable virtual twin clearly exceed the effort to get and organize the information needed to build the models. There are some parallels with the methods that are used in IC design for dealing with IP blocks.
Dassault Systèmes has a bold vision for virtual twins in semiconductor manufacturing. They have been applying these same techniques at growing scale in other industries. The advantages in planning and operation are pretty much self-apparent. There are a lot of pieces of this that can be fleshed out. Expect to see more articles here on the specifics. In the meantime, it is worthwhile to check out the Dassault Systèmes website for more information on virtual twins and how they represent the next stage in improving manufacturing efficiency.
Also Read
Optimizing high performance packages calls for multidisciplinary 3D modeling
A Brief History of IP Management
Delivering Innovation for Regulated Markets
Share this post via: