When delivering devices to markets that require heavily audited compliance it is necessary to document and demonstrate development processes that follow the various standard(s) such as IEC65108, IATF16949, ISO26262.
For complex multi-disciplinary designs this can be difficult as they are often developed by multiple teams in different locations. Additionally, hardware and software IP is frequently supplied by other groups or 3[SUP]rd[/SUP] party organisations. To further complicate matters, disparate sets of tools often are used to develop the devices and included IP. Nevertheless, at the system integration level there is a need to manage functional and technical requirements, and to trace the safety and compliance goals or requirements throughout the design, verification and validation steps.
'Requirements driven verification' is a methodology which is baked into these standards, ensuring that requirements are adequately verified by connecting them to verification tasks.
As an example, the ISO 26262 standard for automotive electronics systems requires that a dedicated qualification report needs to be provided along the hardware component or part that documents the appropriate safety requirements. The qualification report demonstrates that the applied analyses and tests provide sufficient evidence of compliance with the specified safety requirement(s). The relevant failure modes and distributions also need to be included to support the validity of the report.
The safety requirements can be authored in any number of systems such as Doors, 3DEXPERIENCE, excel, word, pdf, etc. Furthermore, technical requirements for the design may exist in many other information systems. For instance software, digital and analogue teams use different IDEs and tools like JIRA to manage their development process. The ability to trace and follow of all these requirements from disparate heterogeneous information systems is needed to efficiently synchronize the validation.
Figure 1 shows an example of this type of traceability using the 3DEXPERIENCE platform. It provides a birds-eye view in which high level information is displayed, giving users a view of the instantaneous status on the coverage for their project, and the ability to quickly navigate to the source System of Record for the information.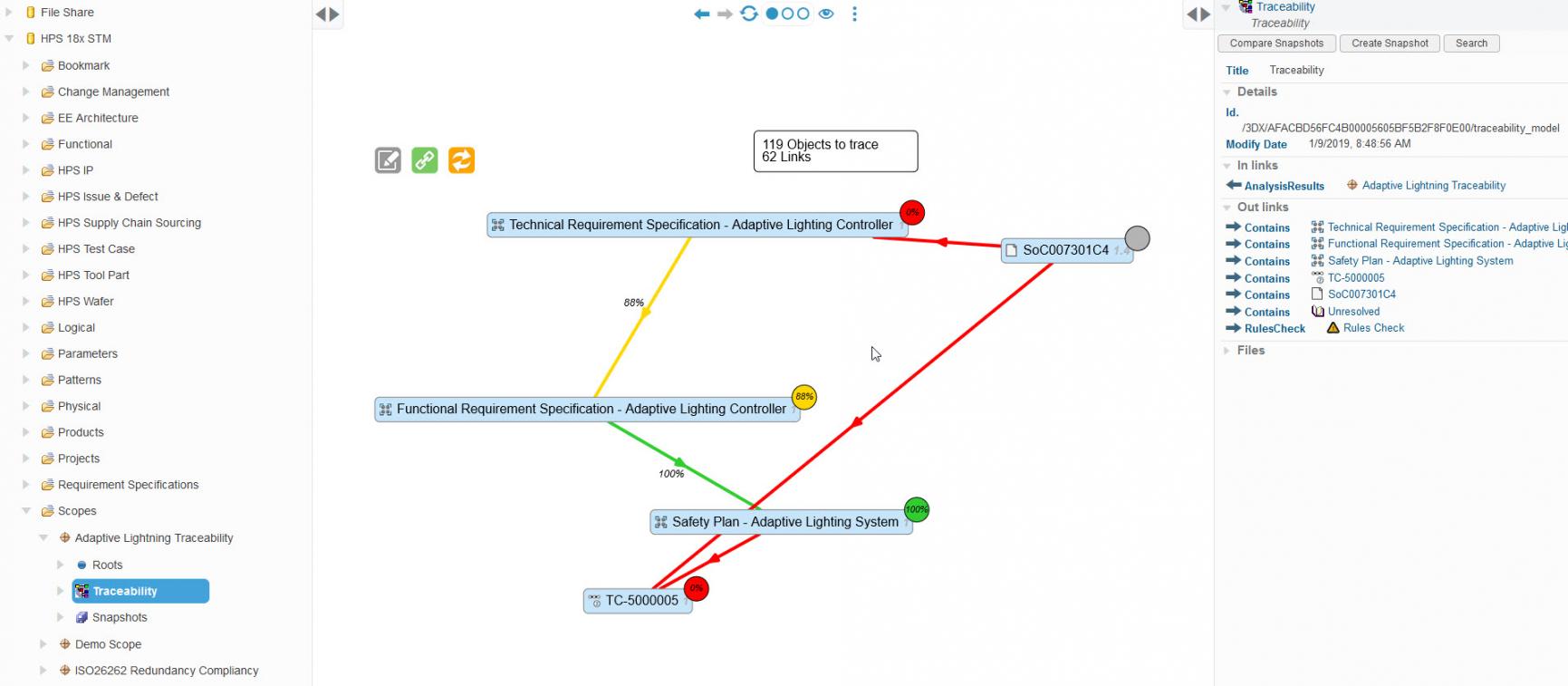 The view in figure 2 drills down to a more detailed representation, giving engineers information on what is already covered, what is still uncovered and their status at each level of the project. It provides flexible navigation from one project artifact to another.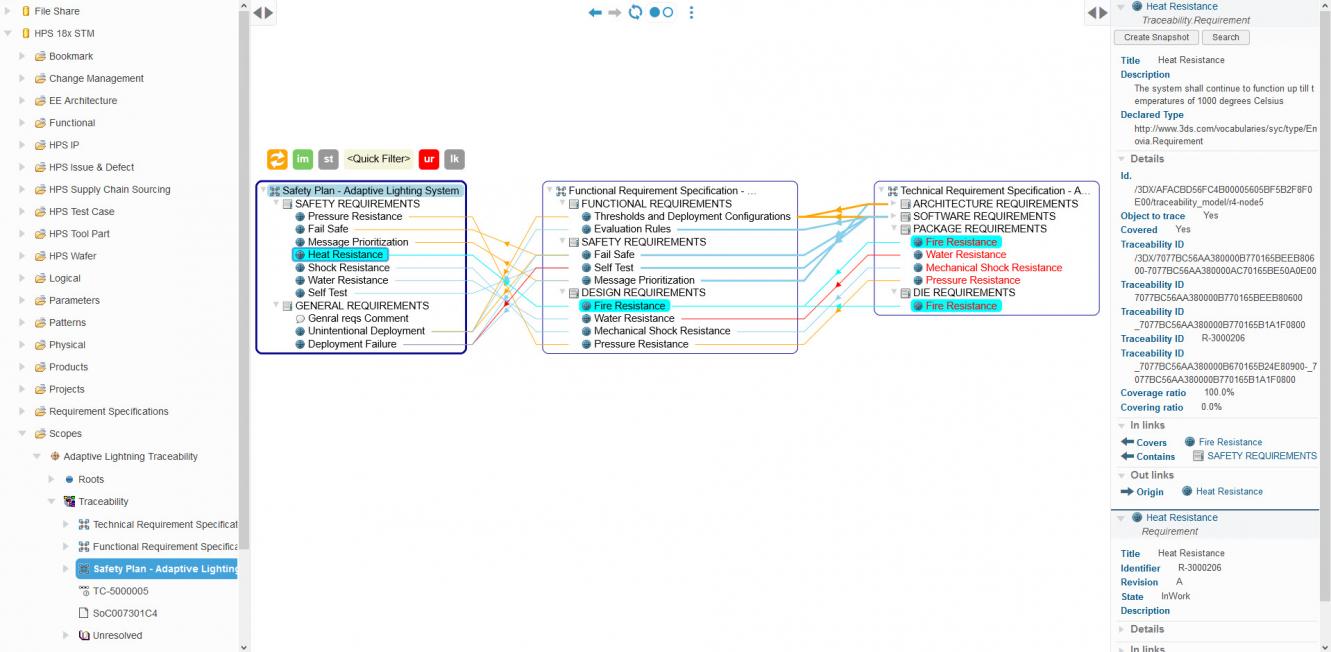 In addition it is important to be able to maintain a history of the different project stages. These are called snapshots in the system traceability tool, which are read-only versions of the project stages. They are mandatory to monitor project progress and to answer questions like: What requirements have changed? What are the impacts on my development and testing? How is the coverage of my requirements progressing? These snapshots could be linked to project milestones and can generate the traceability matrix for each milestone or product delivery.
3DEXPERIENCE offers essential features necessary for complying with safety and reliability standards, such as those found in the automotive industry. For devices developed for these markets, there are a number of deliverables that are essential. Primarily they relate to documentation that ties specific features back to initial safety requirements. With large dispersed development teams, it is necessary to have a unified system to provide traceability and help generate documentation that supports final system qualification. More information about how to help meet compliance requirements for semiconductors is available on the Dassault Systèmes website.
Also Read
Webinar: Next Generation Design Data & Release Management
Share this post via: