If DAC is the most general event in our industry, then the LicenseMonitor Users' Group Silicon Valley has to be one of the most focused. It was held back in May but one of the key presentations was Brian Janes of RTDA talking about what is new in the latest version of LicenseMonitor which is 2013.03.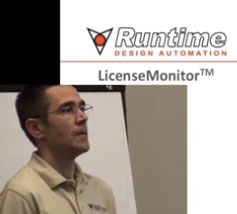 Like a number of people at RTDA, he is fox turned gamekeeper. He used to be in a CAD organization and they had all sorts of problems with open source versions of tools for controlling, monitoring and recording their jobs. Then he ran across RTDA's products and acquired them. But working for a big company wasn't for him so he called RTDA and asked for a job…and here he is.
LicenseMonitor is a tool for monitoring…surprise!…licenses. It works with RTDA's NetworkComputer job scheduler, and with other widely used job schedulers such as LSF, and collects information that can be used to investigate, for example, which simulator is used the most, which licenses are in short supply, which licenses are unused and so forth. For a large CAD organization with perhaps tens of thousands of licenses this is not a simple task.
Brian's presentation is available as a video, which includes the slides. Requires an RTDA login. Just over an hour (about 40 mins of presentation before a Q&A).
The first thing Brian talked about are some improvements to the user interface. Drop-down menus, historical usage grouped into a single section, redesign of trend reporting. There is also a capability to export plots as CSV files for Excel or other programs to analyze.
Then there are changes behind the scenes. LDAP authentication has been a problem but Brian will bet any amount of money it now works. There is also support for locked license support such as Matlab NNU. Most licenses these days are floating, but some are node-locked or user-locked. For example, Matlab will sell you a named-user license for half the cost of a floating license, so for users who tie up a license anything close to most of the time this can be attractive. But
LicenseMonitor couldn't handle this before.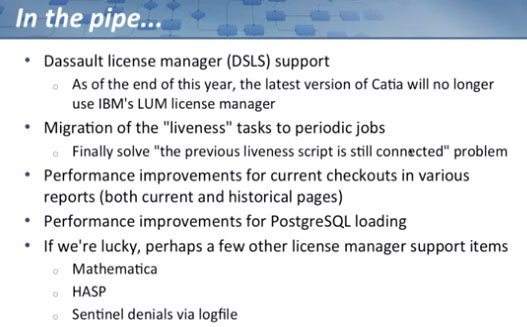 In the pipe is support for Dassault's license manager DSLS since they are moving away from IBM's LUM for Catia and other products. Perhaps other license managers too. Plus, of course, various performance improvements.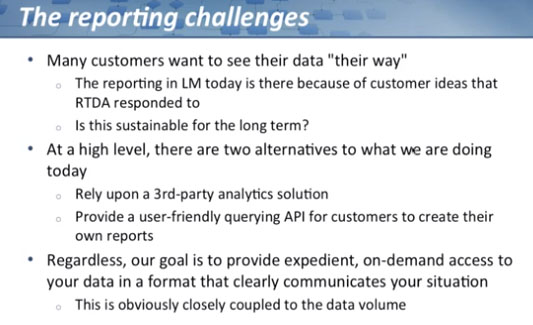 One issue with LicenseMonitor is how to provide analytics for users. Up until now, RTDA has basically provided what customers ask for. But that doesn't really scale with more and more customers leaving two approaches:
standardize on one of the good analytic packages out there such as Tableau or Splunk
or provide a good API so users can pull any data they want and do whatever they want with it
or both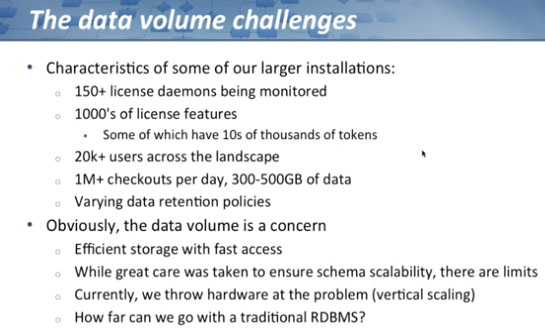 One of the challenges is the sheer amount of data, which causes performance issues. For example, one of RTDA's larger customers monitors over 150 license daemons, with 1000s of license features to track, 20,000 users, over 1 million license checkouts per day, generating 300-500GB of data. So another issue is whether putting everything in a standard relational database (RDBMS) will continue to scale or whether new data management such as MongoDB (which has no schema) or Vertica or something homegrown makes more sense. People certainly don't want to tie up half a dozen servers just storing the data that the license usage is generating.
And with that it was time for questions. I'll leave that for you if you want to dive deeper. Once again the video is available here.
Share this post via: