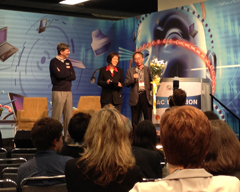 Today at DAC Belle Wei received the Marie Pistilli Award, presented to her by Patrick Groeneveld the DAC chair (and flowers from DAC via Chi-Foon Chan, now co-ceo of Synopsys). She was then interviewed by Daya Nadamuni.
Her father was a military general in China and in 1949 in the revolution her family fled to Taiwan where she was born. She went to all-girl middle-school and high-school and girls were encouraged to excel in all subjects. Her family moved to the US around the time she graduated high school. Then she went to Berkeley for a physics degree, followed by a masters at Harvard in engineering. She came back to the bay area and worked for a couple of years before deciding she wanted to study more so she returned to Berkeley for a PhD in electrical engineering and, in particular, semiconductors.
When she joined San Jose state she was the first female faculty in the school of engineering in its 40 year history. She was even asked if she would be able to spend enough time at work or would she feel she needed to take care of her family (I think it was illegal to ask that even then). She says it has changed now and the environment is a lot more nurturing. However, she did admit that she had her baby before going to San Jose State and never had a second one.
She started a program to bring middle and high school students into contact with engineers. She got motivated to do this since she knew that although in Taiwan 24% of students study some branch of engineering (and 30% in China), in the US it is only 4.4%. So they expose young people to engineering curriculum early on. She is proud that of the 3000 students who have been through the program, 25% are women and 41% are Hispanic.
Last week it was announced that Dr Wei will be leaving San Jose State and is going to Chico State to be the Provost and the VP for Academic Affairs. Belle feels that although the top-tier schools that she attended (Berkeley, Harvard etc) get the brand-names, that schools like San Jose State and Chico State make the real different since they process so many more people in aggregate. This isn't the place for the signalling theory of education, that the main advantage of going to a place like Harvard is to be able to say you went there, nothing to do with what they teach you, whereas at a school like San Jose State it is the other way round.
Of the 4000 or so colleges in the US, almost none of them are headed by engineers. And our political leadership, unlike those of other countries, are also notable for the lack of engineers and scientists (and, of course, the large number of lawyers).
Belle also started a program sending students overseas. With globalization there is a lot of action outside silicon valley. They have sent over 200 students in the last 8 years (fully sponsored by local companies) to Taiwan, China and India. When there they get to see the dynamism of their host country and absorb some of its culture. This is perhaps even more important in a school like Chico which is not as diverse as silicon valley where every other person you meet was born overseas.

Share this post via: