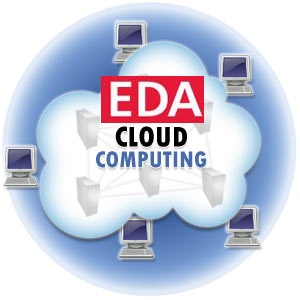 Cloud computing is the talk of the tech world nowadays. I even hear commentaries about how entrepreneurs are turned down by venture capitalists for not including a cloud component into their business plan no matter what the core business may be. The commentary goes "It's cloudy without any clouds." Add some clouds to your strategy and the future will be bright and sunny.
With such a strong trend, one might have expected companies within the $300B semiconductor market to have adopted "cloud" into their strategies by now and the answer is yes to varying degrees. Large established semiconductor companies as well as semiconductor value chain producer companies have built their enterprise-wide clouds for their engineers to tap into their vast compute farm. But access to the right number of latest and greatest compute resources may not always be available for the task on hand, independent of the size of the compute farm. This is because the compute farm is typically upgraded with new hardware resources on an incremental basis. So although the engineers may have their own private clouds to address the chip design needs, peak-time compute resource needs are not addressed optimally. And then there is the matter of peak-time EDA tools resource. Companies are still limited by the number of EDA tools licenses they own. If you're a major customer of an EDA tools supplier, it is not an issue as peak-load license needs are addressed through temp licenses or short-term licenses. For everyone else, it is a painful negotiation with their EDA tools supplier. As much planning as can be done, peak-load needs cannot always be predicted well ahead of time. And the longer the negotiation with the EDA supplier takes, the more the customer falls behind on their tapeout schedule and consequently time-to-market schedule.
In other words, today, large to medium sized semiconductor companies have a private cloud for their compute needs and a kludge solution for their EDA license needs given their stature with their EDA suppliers. This solution has many issues. (1) they don't need to maintain their compute servers but they do only to ensure they have access to compute power on-demand (2) they don't have an automatic solution to add EDA tools resources on-demand (3) if using an EDA tools supplier's cloud, customers don't have a seamless cloud-based design flow simply because the design flow involves tools from more than one supplier.
As for smaller semiconductor companies, they neither have their own private cloud nor do they have the same flexible access to EDA tools licenses on-demand. And if using an EDA tools supplier's cloud, they face the same issue as the larger customers do.
If a secure cloud-based chip design platform from a third-party company provides EDA suppliers agnostic, seamless design flow where the customer could tap into one particular set of tools for one chip project and a different set of tools (as per their team needs/skills) for a different chip project, that would be the ultimate offering. That ultimate offering is what would be called "Chip in the Clouds" platform.
"Chip in the Clouds" may have sounded a lot like "Head in the clouds." But it is not. The time has arrived for "Chip in the clouds" platform to play a key role in redefining how chips are designed and implemented. Why do I say this? Stay tuned for future installments of my blog in which I'll discuss the driving factors for the adoption as well as what is happening in the platform offering space.
http://www.linkedin.com/in/kalarrajendiran
Share this post via: