For decades development work on Artificial Intelligence (AI) and Machine Learning (ML) was done on traditional CPUs and memory configurations. Now that we are in the "hockey stick" upturn in deployment of AI and ML, the search is on for the most efficient types of processing architectures. The result is a wave of development for specialized SoCs that accelerate AI and ML operations, which tend to be highly parallel and require flexible interconnection. Specialized SoCs are going to be used everywhere from the data center to mobile devices. Regardless of where they will be used, AI and ML SoCs will need to be extremely efficient. Designers implementing them will have to use the latest IP for memory and interconnect to achieve the necessary efficiencies, bandwidth and performance.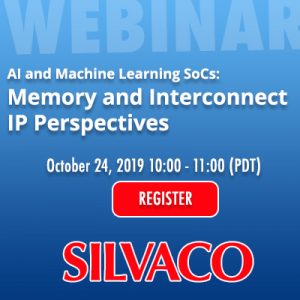 Silvaco will be offering a webinar on the topic of "AI and Machine Learning SoCs – Memory and Interconnect IP Perspectives" to help viewers understand effective strategies for successful SoC development. The free webinar will be on October 24th at 10AM PDT. The webinar will cover the challenges of AI/ML SoC design including key requirements of memory and interconnect IPs. IP solutions from Silvaco, SIPware, will be discussed in this context.
The presenter is Ahmad S. Mazumder, Principal Field Engineer in Silvaco's IP Engineering Division. He is an industry veteran on the development of high-speed memory, interface IPs, and many types of analog IPs. He has worked on cutting edge DDR, extreme high-speed SerDes, interfaces, ESD, and QoR for 24 years at various SoC companies (Intel, Broadcom, C-Cube Microsystems, etc).
This should be an invaluable webinar for academics, engineers and management who are looking for the optimal solutions for designing and implementing AI and ML SoCs. As is usual for Silvaco webinars, it should be very informative. Webinars are a great way to stay current and abreast of developments in the semiconductor design space.
About Silvaco, Inc.
Silvaco Inc. is a leading EDA tools and semiconductor IP provider used for process and device development for advanced semiconductors, power IC, display and memory design. For over 30 years, Silvaco has enabled its customers to develop next generation semiconductor products in the shortest time with reduced cost. We are a technology company outpacing the EDA industry by delivering innovative smart silicon solutions to meet the world's ever-growing demand for mobile intelligent computing. The company is headquartered in Santa Clara, California and has a global presence with offices located in North America, Europe, Japan and Asia.
Share this post via: