Intro
Simon Young, Product Marketing manager at BDA gave me an update at DAC last week on their circuit simulator, Analog Fast SPICE (AFS).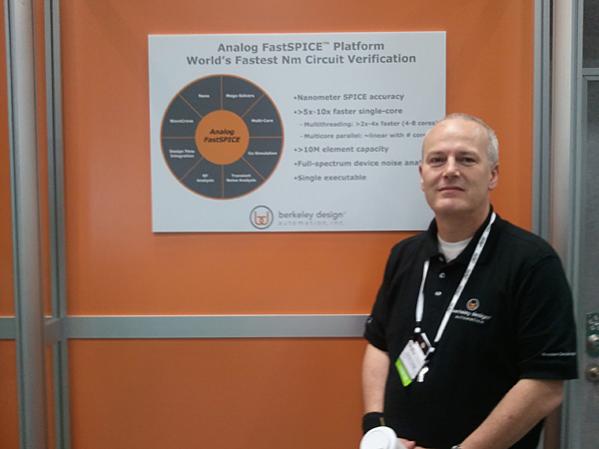 Notes
Quarterly release: 2011 Q2 now
Speed Improvements: Still 5 to 10X speed improvement over other SPICE tools
Multi-Threading – 2 to 4 X improvement using 4 to 8 cores.
Device Noise – three ways to compute noise: Transient, PSS/pnoise, Oscillator
– Comparing transient noise with PSS they agree with each one to one (Cannot do that in Spectre, they are different values)
Customers – About 120 logos this year
Distributors – Canada, India and Israel added in past year
Competitors – Spectre, FineSIM, Eldo, HSPICE
Customers – high speed IO design, , PLL/DLL clock synthesis and recovery, data convertors, delta-sigma modulators, full-circuit RFCMOS ICs, memories.
Capacity – 10M elements
Summary
BDA coined the product category Analog Fast SPICE to denote a circuit simulator that is SPICE accurate with a 5X to 10X speed improvement over traditional SPICE algorithms. The other EDA vendors claim to have caught up to BDA's tool, however you'll just have to benchmark it on your own circuits to determine the speed, accuracy and capacity claims.
I continue to see BDA in growth mode by adding new staff, so their products must be selling well around the world.
Share this post via: