The first version of the debug platform Verdi (then called Debussy) dates back to 1996 over 15 years ago. The second version was released in 2002. And now SpringSoft is releasing the 3rd version Verdi[SUP]3[/SUP]which is a completely new generation. A tool environment like Verdi seems to need to be completely refreshed about every 5 or 6 years to take account of the changes in the scale of design and the issues which have become important.
The motivation for creating Verdi[SUP]3[/SUP] is to fit in with how engineers on today's design teams work. The debug tasks vary widely depending on the company's methodology and flow, the attributes of the design, what needs to be done, and the engineer's job-function, experience and style. There are three themes in the changes to the platform:
new user-interface and personalization capabilities
open platform for interoperability and customization
new infrastructure for performance and capacity improvements
Personalization means tailoring the appearance and layout of the tool to the way that you want to work to accomplish the task at hand.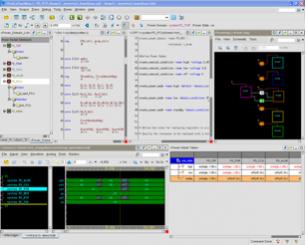 Customization is the capability to change or add to the functions available such as adding automation to perform a repetitive task, or integrating proprietary tools into the environment. Of course there is also functionality available from 3rd parties too, not to mention the VIA website announced last year. The extensibility is built on top of VIA (Verdi Interoperability Apps) making it easy to plug-in in-house tools, add items to menus, create hot-keys and so forth. For example, above the environment has been configured for power analysis.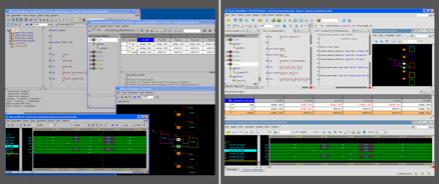 The new user-interface is more modern and cleaner. Gone are the overlapping windows with information regularly buried out of sight. Instead the interface is now tiled so everything is within sight. Plus there are some big incremental capabilities such as being able to have multiple source-code windows open at the same time (the older version of Verdi only allowed one). A powerful search capability makes finding anything easy. Above is a comparison of the old user interface (on the left) and the new (on the right).
The basic infrastructure has been refreshed. A new parser lifts restrictions from the old one, is multi-threaded and generally faster. The FSDB (simulation data) has been compressed by 30% compared to the previous version, and also reads twice as fast on a typical 4-core configuration.
So, Verdi[SUP]3[/SUP] is a rebuild of Verdi from the ground up, with major developments in productivity, a much richer capability for customization and higher performance and capacity.
Verdi[SUP]3[/SUP] is in general beta which means all existing customers have access today and can go and download the beta release. Official first customer ship is in April.
If you are just interested in finding out more, the Verdi[SUP]3[/SUP] product page is here.
Share this post via: