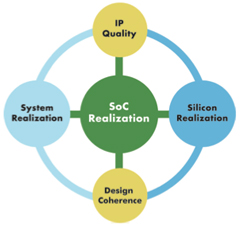 Last May, Atrenta and TSMC announced the Soft-IP Alliance Program which uses SpyGlass and a subset of its GuideWare reference methodology to implement TSMC's IP quality assessment program. TSMC requires all soft-IP providers to reach a minimum level of completeness before their IP is listed on TSMC online. Since TSMC is so dominant in the foundry business right now (Global struggling with process, Intel talking the talk but not yet really walking the walk, UMC…whatever happened to them anyway?) getting approved and listed with TSMC is extremely important.
Atrenta put everything needed to meet TSMC's requirements in an IP Handoff Kit. Under the hood this uses SpyGlass's RTL analysis suite to check for syntax and semantic correctness, simulation-synthesis mismatches, connectivity rules, clock domain crossings, test coverage, timing constraints and…lots more.
Suk Lee of TSMC (my successor at running IC marketing when we were both at Cadence) sees this as measurably improving IP quality. Of course TSMC isn't directly responsible for IP quality but if IP fails and chips don't go into production TSMC don't make any money. Anyway, ten companies have now jumped through all the hoops and qualified their IP for inclusion in the TSMC 9000 IP library.
The companies in this initial program are a veritable who's who of the IP world (with the notable exceptions of ARM and Synopsys). In alphabetical order so as not to offend anyone:
Arteris (NoC)
CEVA (DSP cores)
Chips&Media (video IP)
Digital Media Professionals (graphics IP)
Imagination Technologies (GPU cores)
Intrinsic-ID (security IP)
MIPS Technologies (CPU cores)
Sonics (NoC)
Tensilica (reconfigurable processors and cores)
Vivante (GPU cores)
Now that the dominant way to build an SoC is through assembling IP, the issue of IP quality is is a huge problem and a mixture of tools, methodologies, standards and certification is for sure the way to address it.

Share this post via: