In a previous blog, Black Friday and the Predicted Semiconductor Shortages, I reported that total semiconductor manufacturing capacity is shrinking as older fabs close and new ones ramp up even slower than expected, resulting in a record reduction of total wafer capacity and silicon allocation starting in 2010. DRAM shortages and price hikes are already in place and the leading foundries are expecting a 20%+ growth rate and predicting full (95%+) capacity by the end of 2010.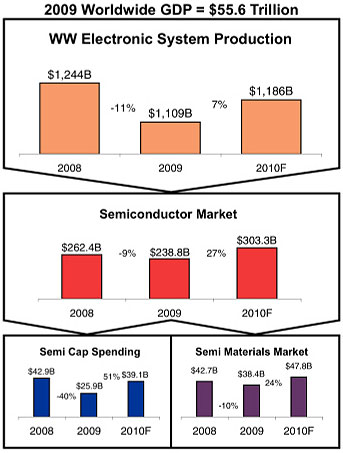 Semiconductor Intelligence did a nice report, based on the Q4 2009 Semiconductor International Capacity Statistics, also predicting semiconductor shortages by the 2[SUP]nd[/SUP] half of 2010. Semiconductor Intelligence is actually a guy named Bill Jewel, a 27 year semiconductor veteran from Texas Instruments. It is always nice to read semiconductor reports from a guy with actual semiconductor experience.
"IC wafer production (or utilized capacity) should outgrow total capacity throughout 2010, with 4Q 2010 production slightly higher than the peak levels in 2008. As a result, utilization will continue to rise, passing 95% by 4Q 2010. Utilization has exceeded 95% only 3 times in the 16 year history of SICAS data: 96.0% in 2[SUP]nd[/SUP] half 1995, 96.4% in 3Q 2000, and 95.4% in 2Q 2004. 95% to 96% appears to be a practical limit indicating the industry is running at full capacity."

While semiconductor capital spending was at an all time low in 2008 and again in 2009, 2010 looks to break records with both IDMs and Foundries, and of course the IDMs that pretend to be foundries.
Ranking Capital Spending
[LIST=1]
Samsung US$6B
Intel US$5.3B
TSMC US$4.8B
GlobalFoundries US$2.5B
Hynix US$2B
Toshiba US$1.9B
Micron US$1.7B
UMC US$1.5B
Nanya US$1B
Elpida US$1B
Unfortunately placing orders for semiconductor manufacturing equipment and actually taking delivery of said equipment are two very different things. Process ramping problems at 40nm also delayed capacity expansion plans as does me visiting Taiwan (natural disasters).

The Global Semiconductor Monthly Report by Future Horizons also supports the strong IC recovery mantra that I have been chanting since my blog started early last year. Malcolm Penn, who has 139 years of semiconductor experience (he doesn't look a day over 90!), has upped his forecast to 30%+ IC revenue growth in 2010 and it could be as much as 40%. If a normally quiet first half is this strong, the 2[SUP]nd[/SUP] half of 2010 could be full of upside surprises.

In his report Malcolm also agrees with my semiconductor capacity shortage cry illustrated with a myriad of colorful graphs. The majority of the red line 300mm capacity is 65/40nm, which will likely see allocation before the year is out.
Semiconductor revenue growth projections for 2010:

Gartner: 19.9%
iSuppli: 21.5%
Morris Chang (TSMC) 22%
Semico Research: 22.0%
Semiconductor Intelligence forecast 25%
IC Insights 27.0%
Future Horizons 30%

If Semiconductor capacity does not significantly increase this year and next, demand will clearly outpace supply and we will see manufacturing utilization rates comparable to the boom times of 1995, 2000, and 2004. The supply and demand economic model illustrates that in a competitive market, price will equalize the quantity demanded by consumers, and the quantity supplied by producers, resulting in an economic equilibrium of price and quantity. Driven by the mobile internet market, semiconductors represent an ultra competitive market so expect a significant equilibrium up-shift in regards to pricing.

Share this post via: