Production of electronic equipment (including computers, communications, consumer, etc.) has been sluggish over the last year in all key regions of the world except China. The chart below shows three-month-average change versus a year ago for electronics production in local currency through April 2013 (May 2013 for China). Total industrial production is shown for Europe and South Korea where electronics production data is not available. China has maintained growth of over 10% since the beginning of 2011. The U.S. showed moderate growth until turning negative in October 2012. Industrial production in Europe and South Korea was healthy in early 2011. Europe turned negative in February 2012 while South Korea has been negative since February 2013. Japan electronics production has not recovered since the March 2011 earthquake and tsunami, with mostly double digit declines. Other key electronics manufacturing countries not shown on the chart include Taiwan and Singapore, each of which turned from growth to decline in early 2012.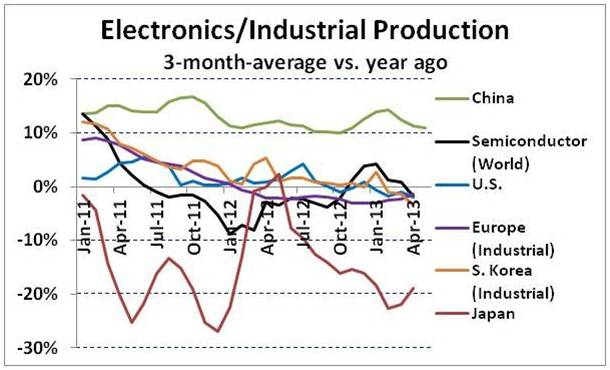 The black line on the chart above shows three-month-average worldwide semiconductor shipments versus a year ago from WSTS. The semiconductor market went negative in July 2011 then turned positive in November 2012 before slipping to a 1.8% decline in April 2013. It is worth noting that semiconductors turned positive in November 2012 with only China showing significant growth in electronics production.
Can the semiconductor industry return to growth with only China driving increases in electronics? The answer is probably yes. China has emerged as the dominant power in electronics manufacturing, especially in the last 12 years. The chart below shows electronics production in local currency based on government data for China, the United States and Japan. Each country is indexed to 100 in 2000. Electronics production in China in 2012 was over eight times the level in 2000. U.S. production in 2012 was two-thirds 2000 production. Japan 2012 production was only 36% of 2000. Comparisons of values of electronics production between countries is difficult due to differences in definitions and exchange rates. Based on the closest available data, the U.S. dollar value of electronics production in 2012 was $1,100 billion in China, $342 billion in the U.S. and $65 billion in Japan. In 2000 production was $100 billion in China, $510 billion in the U.S. and $134 billion in Japan. Europe is not shown on the chart, but the electronics production in euro of the 15 European Union (EU) member countries in 2000 was basically the same level for those 15 countries in 2011.
Semiconductor shipments by region from WSTS do not completely reflect this shift in electronics production. The table below shows the percentage of semiconductor shipments by region from WSTS. The Americas is primarily the U.S., but also includes Canada, Mexico and South America. EMEA is Europe, the Middle East, and Africa. Asia Pacific includes China, Taiwan, South Korea, Singapore, India, the Philippines and other Asian countries.

The growth of Asia Pacific from 25% of the world in 2000 to 56% in 2012 is impressive, but does not fully show the relative growth of China. China is becoming a larger portion of the Asia Pacific region. While China's electronic production grew over eight times from 2000 to 2012, Taiwan's electronics production was roughly the same level in 2012 as in 2000.
Also the region of shipment of semiconductors may not necessarily be the region in which the semiconductors are used in electronics manufacturing. For example, a Japan-headquartered electronics company may purchase semiconductors for its warehouse in Japan, counting as a Japan shipment. The company may then transfer the semiconductors to its manufacturing subsidiary in China. The final use of the semiconductors for manufacturing is in China, but the shipment region is Japan in WSTS data.
Accurate worldwide electronics production data is not available. We at Semiconductor Intelligence estimate China accounts for over half of worldwide electronics production. China should continue to be the key driver of electronics production growth for at least the next decade. The mature regions of the U.S., Japan and Europe are unlikely to show any meaningful growth in electronics production in the next few years, if ever.
lang: en_US

Share this post via: