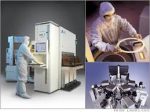 LAM will likely bounce on Korea gains & TSMC
Memory still sucks but TSMC is hot!
Korea upside from share gains?
Japan/Korea – The "Beer Barometer"
Looks like a good Q3….
We think when Lam reports their Q3 this wednesday it will likely be a positive catalyst for the stock as we think the report will be better than expected and guided and guidance for Q4 is likely to also be better than expected.
We are not suggesting that the cycle is over and we are "off to the races" but rather that there are some near term drivers that will cause a bounce off the bottom that we have been bouncing along on.
We would caution investors to not get overly excited as memory is still in the dumps and associated spending on memory is still weak at best.  Memory spend is not likely to recover any time soon given excess capacity and the current situation.
Logic/Foundry is Hot
Logic/foundry, however is hot, very hot, as we have heard from TSMC, which bumped up its capex plans by a whole lot and looks like they will have a very big "hockeystick" of spend at the end of the year. While a real, full blown recovery would be both memory and logic recovering at the same time, we will have to be happy with the industry bouncing nicely on a primarily logic lead recovery.
As we have repeated many times, we have been expecting a logic led recovery as memory remains over supplied as many machines remained idled.  Those machines have to come back on line first before the industry will even consider buying new memory tools…likely a long ways off.
Korea share gains at the expense of Japan
For several months we have talked about share gains we expect to see of US companies, like LRCX & AMAT versus Japanese companies like TEL & Hitachi in Korea due to the ongoing trade dispute between Korea and Japan which is far from over.
The dispute is far worse than the US/China trade dispute as it has pushed to the surface, decades long simmering animosity over past cultural/political issues.
Korea, its people, its government and its industry have all reacted very negatively, in unison, to Japan and its products.  We think this will mean substantial losses for TEL and Hitachi and gains for Applied & Lam as Korea seeks to replace all things Japanese with anything else.
Semes, a semiconductor equipment arm of Samsung is likely the biggest winner over the long run but in the near term its better to buy US equipment than Japanese.
We would expect to hear that Lam is doing better in Korea…wether they admit to or talk about share gains at the expense of the Japanese is another thing.
The "Beer Barometer"
In case you think I am joking or making this up take a look at Japanese beer sales in Korea.  Ashai beer from Japan has long been a dominant force in Korea with very large market share.
In August, Japanese beer sales in Korea were down 95% (yes you read that right) due to the dispute and a public boycott of Japanese beer.
While you may then think that this has nothing to do with semiconductor equipment, we have heard that the Koreans have asked that even US made semiconductor equipment, in some cases, not have Japanese manufactured sub components, so as to avoid anything related to Japan being imported into Korea
Japanese Beer Sales in Korea Link
Germany is benefiting at the expense of Japanese car makers as Korean purchases of Japanese cars is down 60%
Germany share Gains versus Japan in Korea
We think we will see similar, maybe not as bad, news as it relates to Japanese versus US made semiconductor equipment.
Collateral Benefit
Aside from what we think will be good news for Lam, we would also expect US suppliers to the industry to benefit. Two of our favorite suppliers to the industry that will definitely benefit from the upside we expect will be MKS Instruments (MKSI) and Ichor (ICHR).
We think there may even be more upside in these suppliers as Lam, Applied, ASML and KLAC have all run up in anticipation of some sort of a recovery but the sub suppliers and smaller market cap companies have lagged this run up.
This is how it works in all of the many past cycles we have been through…..the large cap names recover first followed a quarter or two later by the smaller cap names and sub suppliers to the industry.
The Stocks
We have no problem going out and buying in front of the quarter as we think there is an opportunity for a nice near term uptick, some of which we have seen a preview of.  In general, we think some of the smaller cap names have more upside as investors start looking around for other names not wanting to pay up for the large caps which have already had a strong run.
We also would not have any qualms about taking some money off the table after some strong quarterly news and gains as we may not get another catalyst after the quarterly reporting is done.  We also do run a small risk that after spending strongly for a couple of quarters, TSMC could slow down again before memory ever wakes up.  The odds of Korea and Japan kissing and making up is much lower and likely to be a longer term issue.  We still have the US/China trade dagger over the industries head but the administration seems to be pre-occupied doing other odd things and is less focused on trade…at least for a while.
Share this post via: