Water, the planet's lifeblood, remains a finite and precious resource. The Earth's total water supply has remained relatively constant over millennia. However, it is the uneven distribution of freshwater and the challenges of providing access to clean water that are causing stress in various parts of the world. Coupled with the growing demands of both human consumption and industrial use, the imperative for quite some time has been, to find innovative ways to balance and sustainably manage water.
Industries are significant water users and consequentially contributors to environmental stress. For example, semiconductor fabs require substantial amounts of water, with some facilities using as much as 460 cubic meters per hour for manufacturing processes. But the semiconductor industry is already a leader in water reclamation and recycling due to its critical need for ultrapure water (UPW). Another reason Fabs invest heavily in water recycling is to reduce the demand on freshwater resources and minimize the discharge of pollutants into the environment. This is not to say that the industry does not face challenges in implementing cost-efficient and effective solutions. Continuous innovation is needed to keep up with the advances in the semiconductor manufacturing processes.
Reclaiming water involves treating and purifying wastewater generated during semiconductor manufacturing processes to restore it to a suitable quality for using again. Recycling water involves collecting and treating various wastewater streams generated within a facility and then repurposing this treated water for use in other processes or areas within the same facility. Reusing water refers to the practice of using treated wastewater for non-critical purposes unrelated to semiconductor manufacturing processes.
Mettler-Toledo recently published a whitepaper that goes into the details of the challenges faced during reclaiming wastewater and recommended solutions to enable water recycling and reusing.
Challenges to Water Reclamation, Recycling and Reuse
Semiconductors are manufactured in a highly controlled environment that demands ultrapure water (UPW) with extremely low levels of impurities. Semiconductor wastewater is characterized by wide disparities in pH, dissolved oxygen (DO), conductivity, total organic carbon (TOC), suspended solids content, and metallic contamination. Finding the right technology to treat such wastewater and ensuring consistent and reliable operation can be challenging. In addition, the industry faces several unique challenges when attempting to implement water reclamation, recycling, and reuse practices due to its stringent water quality requirements and sensitivity to contamination. Even minor variations in water composition can impact the performance and reliability of the equipment, potentially leading to product defects or yield losses. The semiconductor industry also operates under strict environmental regulations, requiring companies to comply with various standards and guidelines.
Continuous innovation and collaboration with technology providers are key to overcoming these challenges and ensuring sustainable water management in semiconductor manufacturing.
Mettler-Toledo's Solutions
Mettler-Toledo's analytical measurements provide the semiconductor industry with the critical sensors needed to help continuously measure and control water quality. Conductivity, TOC, temperature, pH, and DO are all measured and controlled continuously. Continuous, real-time monitoring with multi-parameter analytical process sensors is pivotal in achieving effective measurement and control during the water reclaim process. The following Figure shows the typical in-line sensor monitoring and measuring points.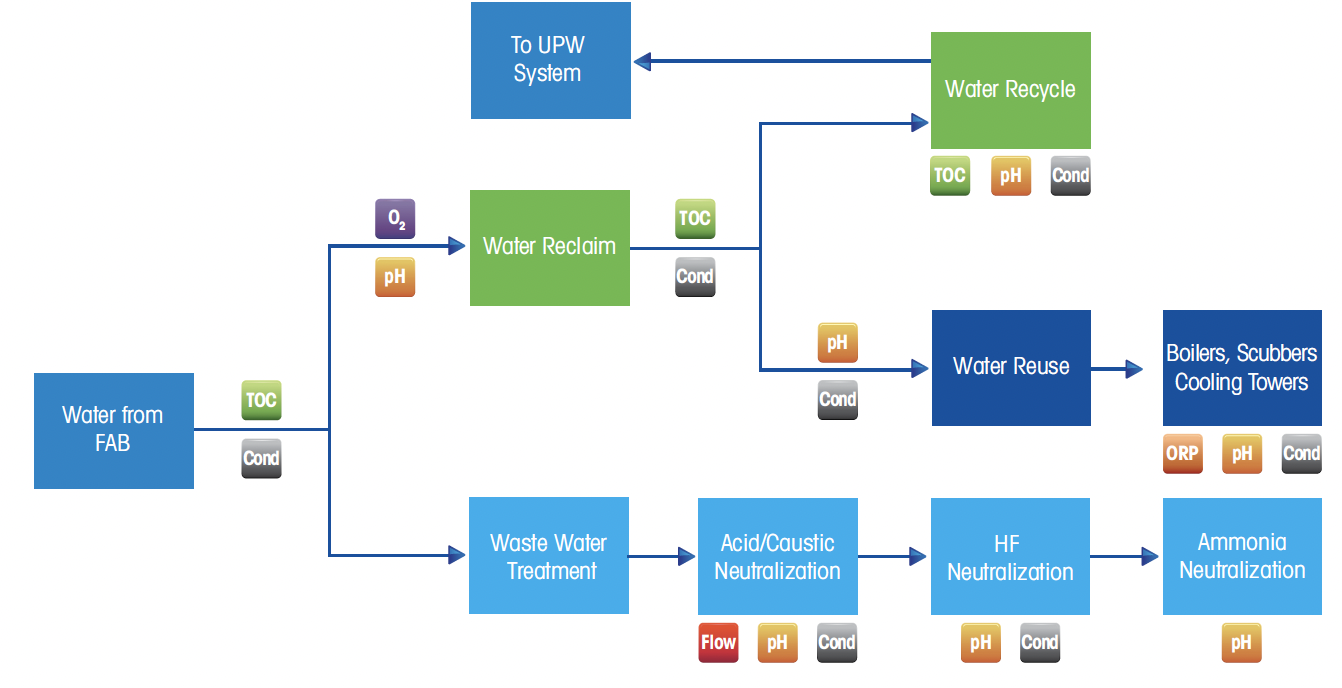 TOC & Conductivity Measurement
Traditionally, semiconductor facilities have used conductivity, pH, and DO to measure and control the waste stream. However, recent advancements in analytical technology, such as Mettler Toledo's Thornton 6000TOCi Total Organic Carbon sensor and the NEW UPW Unicond Resistivity sensor, have revolutionized the process. TOC measurement is critical for controlling the varying waste streams in real-time, as it immediately detects excursions and allows for quick corrective action. There has been a need for improvement and innovation in resistivity monitoring in UPW when it comes to temperature compensation and signal stability. The NEW UPW Unicond sensor is the breakthrough the industry has been waiting for. It delivers next level stability and accuracy well beyond current industry standards for resistivity.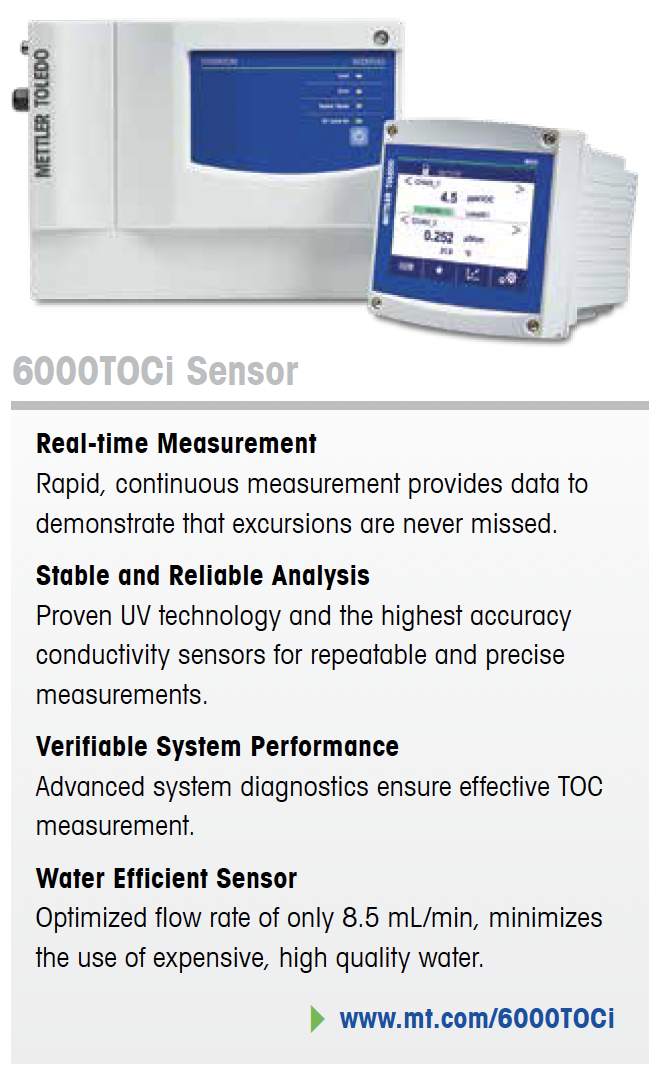 To learn more details, visit www.mt.com/6000TOCi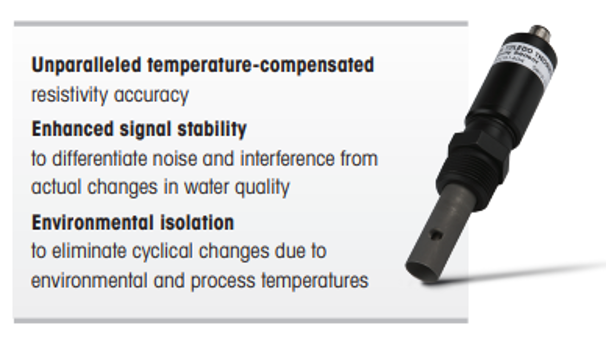 To learn more details, visit www.mt.com/upwUniCond
Summary
As the semiconductor industry continues to evolve and develop more advanced technologies, the burden on local water resources and support infrastructures intensifies. This not only poses environmental challenges but also impacts the long-term viability of semiconductor manufacturing in water stressed regions of the world. However, sustainable water management practices and responsible water use can help mitigate these challenges.
Mettler Toledo's whitepaper provides valuable insights and recommendations to guide this transformation. By prioritizing measurement, control, and improvement in materials reclaim, recycling, and reuse, semiconductor manufacturers can reduce their environmental impact, minimize waste, and contribute to a greener future.
Also Read:
Intel Ushers a New Era of Advanced Packaging with Glass Substrates
Podcast EP182: The Alphacore/Quantum Leap Solutions Collaboration Explained, with Ken Potts and Mike Ingster
Share this post via: