With this post, we welcome NetApp to the SemiWiki family. NetApp was founded in 1992 with a focus on data storage solutions. Initial market segments were high-performance computing (HPC) and EDA and their first customers were EDA and semiconductor companies. NetApp has become a primary force in on-premise data management for the EDA industry. Their name should be familiar to most SemiWiki readers. Whether you know it or not, you've probably used NetApp technology to manage and/or recover data on your projects. Building on their solid on-premise data management accomplishments, NetApp now offers comprehensive support for moving your EDA flow to the cloud
Chip design teams are connecting on-premise flows with to the cloud, creating hybrid multi-cloud architectures. Since NetApp has been providing on-premise EDA data management for over 20 years, they are an excellent partner to support this migration and have become a leader in this area.
I got the chance recently to chat with Scott Jacobson, EDA Solutions Strategist at NetApp. Scott is part of a vertical market team that focuses on the unique requirements of EDA. Scott described an "EDA-first" strategy at NetApp, where the special requirements of chip design are part of the NetApp integrated approach. He talked about the specific HPC demands of tasks such as verification, place and route and even DFM-related processes such as optical proximity correction (OPC).
I know something about OPC having run a company in that space and I can tell you it's a particularly nasty problem from a compute and data management point of view. Scott's perspective is that EDA workflows are unique, with some processes managing metadata stored in millions of files and others, such as layout data increasing exponentially in size as designers migrate to advanced nodes.
EDA in the Cloud – Self-Managed to Fully Managed
Scott explained that NetApp's cloud strategy for chip design is cloud vendor neutral. The company is EDA tool agnostic as well, meaning to the extent possible they will support all options. NetApp's core storage operating system is called ONTAP and it runs on both on-premise hardware and in the cloud.  This capability can be used to develop a self-managed hybrid cloud/on premise environment with low effort. This is how most organizations start their cloud journey. In their words, ONTAP allows users to accomplish the following with their existing infrastructure and staff:
Simplify the transition to a cloud-ready data center
Modernize infrastructure with flash and cloud, without creating silos
Deploy emerging applications with enterprise-grade data services
Radically change the economics of your data center
Move data to run optimally at the edge, in the core, or in the cloud
Use one set of tools to manage and protect data, wherever the data is
I've personally lived through a massive chip design cloud migration and I can tell you NetApp's comprehensive support for moving your EDA flow to the cloud will help a lot. Scott explained that ONTAP offers proven storage efficiency (this is NetApp after all), simple application provisioning, automatic tiering in the cloud and consistent efficiency (with written guarantees).
NetApp also supports the storage infrastructure for managed services from Azure, AWS and Google Cloud. This allows organizations to scale gracefully from a hybrid starting point to a fully managed environment from the cloud supplier of their choice. This broad support and flexibility are quite unique.
The NetApp approach for hybrid cloud integration delivers excellent scalability, with increased availability, lower time to deployment and reduced costs as shown below.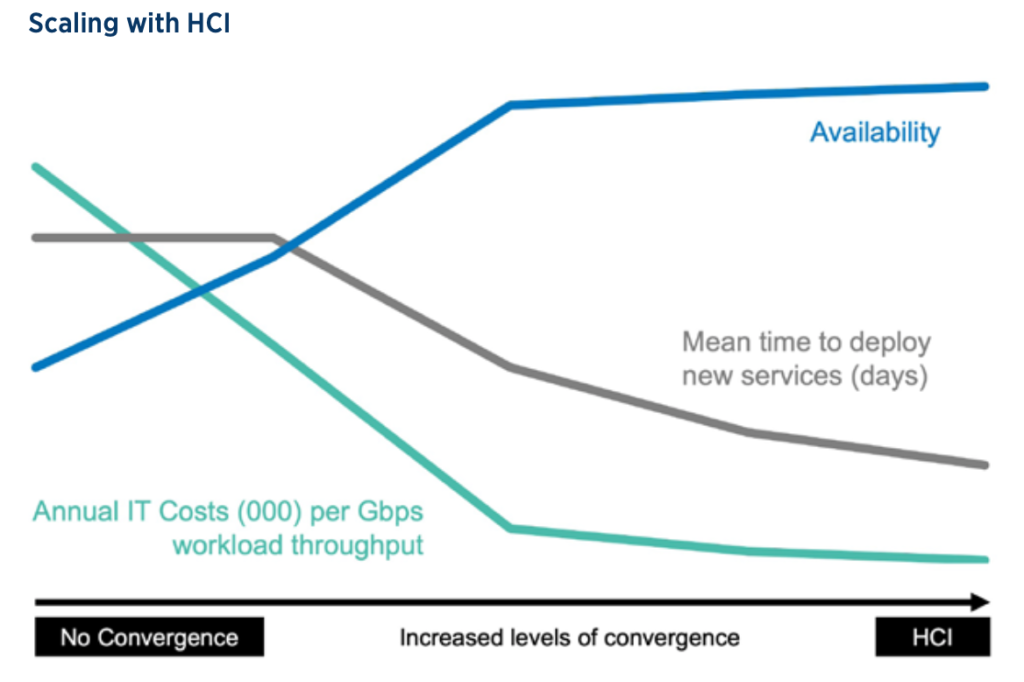 EDA in the Cloud – Built-in Data Protection & Security
Every chip design contains someone's "crown jewels". Typically, many such instances from IP providers, foundries and of course the original design work of the team. Moving from an on-premise environment to the cloud can be jarring from a security point of view. The process and tools to implement security and data continuity are known and understood for an on-premise implementation. Once in the cloud, there is a sense of loss of control.
NetApp has clearly thought a lot about these items and offers a comprehensive infrastructure to lower the stress level. From a data continuity perspective, NetApp offers:
Synchronous mirroring
Zero planned and unplanned application downtime
Zero data loss
Set-it-once simplicity
Zero change management
Hypervisor and application integration
The result is continuous data availability with built-in back-up and recovery protection against hardware failures. Security is also well thought out. Highlights of their security protocols include:
Secure management of multiple tenants
Multifactor Authentication (MFA)
Role-based Access Control (RBAC)
Data-at-rest encryption with FIPS certification
In-transit data encryption for back-up and DR
Onboard and external key management
Secure purge to help clean up data spills and meet GDPR compliance
Comprehensive logging & auditing
NetApp also helps meet governance and compliance requirements with something call SnapLock. Features include:
Write once, read many (WORM) data retention solution
SnapLock Compliance certified to meet strict regulatory requirements

SEC 17a-4, HIPAA, DACH, Commodity Futures Trading Commission (CFTC) Rule 1.31(b)

SnapLock Enterprise enables organizations to meet legal requirements plus protect against ransomware attacks and deletion of critical data
License-based feature of ONTAP that works with application software

Can be used in a cluster with both SnapLock data and standard data
Support for file workloads (NFS and SMB/CIFS)
You can find more details about NetApp EDA support here. The website contains a lot of good information, including a success story from Mellanox and a press release from Synopsys and Google Cloud. They also recently published an eBook entitled Cloud Data Storage: The Promise and The Challenges. All aspects of cloud migration are covered in this book. If you're contemplating a move the cloud, I would consider it required reading. You can get a copy of the NetApp eBook here.
That's it for now.  I hope you found this introduction to NetApp useful. Going forward, we'll be covering more topics on effective data management strategies from NetApp.
Also Read:
NetApp Simplifies Cloud Bursting EDA workloads
NetApp Enables Secure B2B Data Sharing for the Semiconductor Industry
NetApp's FlexGroup Volumes – A Game Changer for EDA Workflows
Share this post via: