Again, my economic bellwether is TSMC, and judging by the first half, 2010 will go down as one of the most profitable years the semiconductor industry has ever seen. In the 2[SUP]nd[/SUP] quarter the foundries again posted record breaking wafer shipments, revenues, and profits. 3[SUP]rd[/SUP] quarter foundry financials should be even stronger. Bottom line, the semiconductor industry will see its largest yearly expansion and will easily break the $300B barrier in 2010.
Pent up demand certainly explains the V recovery. My family was in financial lock down in 2009 but will more than make up the difference in 2010. New laptops, mobile phones, we even added a car and new energy efficient kitchen appliances, all semiconductor laden devices.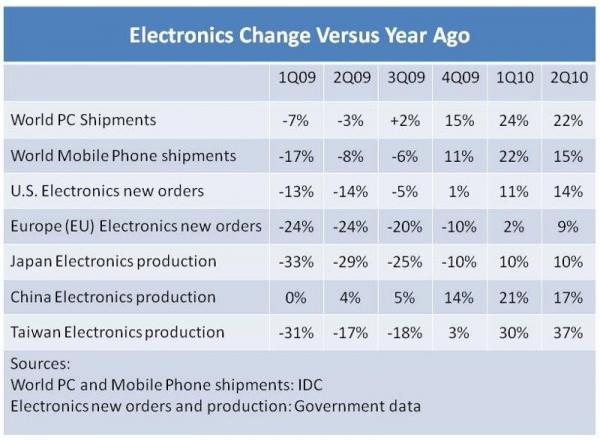 Unfortunately, TSMC CEO Morris Chang recently commented that "inventory levels of its fabless and IDM customers have increased at a rate close to the increase in sales." Total semiconductor inventories did grow 10% in Q2 which is double what was forecasted. Customers of both TSMC and UMC reported high inventory sequential growth levels for the second quarter of 2010:
Qualcomm's grew 11%
Broadcom's went up by 21.6%
MediaTek's jumped 24%
AMD's rose 14%
TI's climbed 10%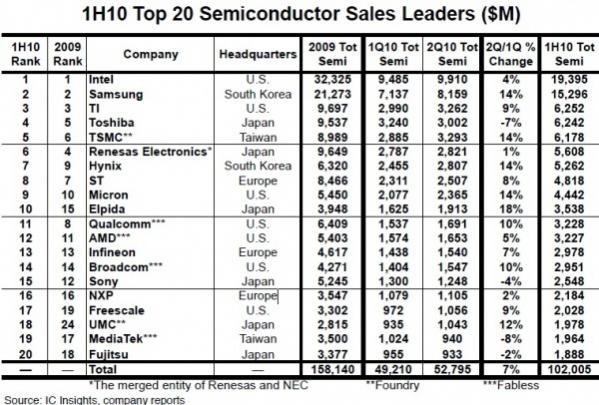 An August 5th post by Bill Jewel of Semiconductor Intelligence summarizes recent growth forecasts by the top analysts, which have risen dramatically month-to-month throughout 2010. Seriously, forecasting semiconductor growth this year has been like forecasting the weather, anything farther than 10 days out is just not reliable!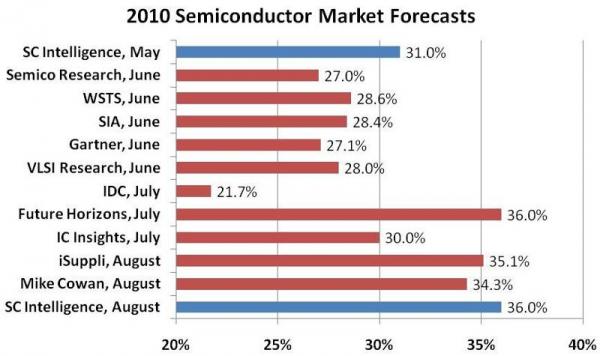 Bill however does not exactly follow my semiconductor Boom to Bust prediction in 2011:
Electronics new orders and production data from key countries also indicate a strong recovery.U.S.electronics new orders were up 14% in 2[SUP]nd[/SUP] quarter 2010 after showing a year-to-year decline of 14% in 2[SUP]nd[/SUP] quarter 2009. The European Union, Japan and Taiwan all had significant declines in electronics in early 2009, but have all bounced back to solid growth in 2010. China electronics production was the least affected by the recession, with 1[SUP]st[/SUP] quarter 2009 flat with a year ago. Chinahas recovered back to double-digit growth since 4[SUP]th[/SUP] quarter 2009.

Nor does Bill support my position on growing semiconductor inventories:
What about electronics inventories? Are they getting ahead of demand? Data from theU.S.andJapanshow the ratio of the inventory held by electronics manufacturers to their shipments began to climb in early 2008. The ratio peaked inJapanin December 2008 and then declined rapidly. In 2010, the ratio inJapanhas leveled off in the 80% to 90% range, below where it was in early 2008. TheU.S.ratio peaked in March 2009 and has declined to the 130% to 140% range, about the same level as the beginning of 2008.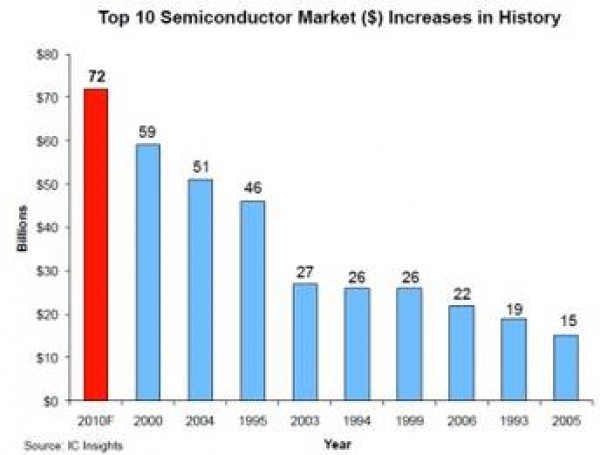 Unfortunately, government stimulus packages are expiring and leading economic indicators: consumer confidence index (CCI), jobs, housing, etc… are in decline, which supports my 2011 semiconductor bust (back to single digit growth) prediction. Not that there is anything wrong that!
Hopefully the recent semiconductor foundry CAPEX surge will result in excess manufacturing capacity in 2012, which will in turn keep chip prices low. Remember, a modern GigaFab only has to run at 40% capacity to break even. Low chip prices will then support rampant consumerism and we will back to double digit semiconductor growth yet again. That's my story and I'm sticking to it!
lang: en_US
Share this post via: