After returning from a week in Southern China I found the TSMC Q4 2019 conference call even more interesting. In China they are preparing for the New Year's Celebration so everything is very festive but what struck me hardest was the massive investment in infrastructure and security. Semiconductors are of course a big part of that thus the urgent need for China to be semiconductor-self-sufficient, absolutely.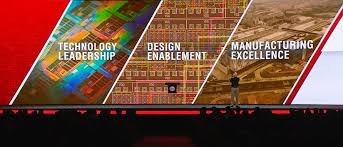 TSMC of course is a valued partner of China and will benefit the most from China's continued semiconductor boom. If you read between the lines of the TSMC Q4 conference call you will see it more clearly. First let's look at the technology parts of the prepared statement:
"16-nanometer and below, accounted for 56% of wafer revenue, up from 51% in the third quarter. On a full year basis, 7-nanometer contribution increased from 9% in 2018 to 27% of wafer revenue in 2019. 10-nanometer was 3% and 16-nanometer was 20%. Advanced technologies accounted for 50% of total wafer revenue, up from 41% in 2018."
It is interesting to note that TSMC 20nm and 16nm shared fabs where 20nm was the sacrificial lamb and 16nm is the cash cow. It was the same with 10nm and 7nm (cash cow). So, what is going to happen now that TSMC is moving 7nm customers to 6nm and 5nm is ramping up this year? Will TSMC break the cycle and have two cash cows in a row? From what I have been told 6nm is an EXCELLENT process and will be VERY competitive on price / performance with both TSMC and Samsung 5nm. In fact, my guess is that TSMC 6nm will even outperform Intel 10nm on density, yield, and most certainly cost.
"Now let's take a look at revenue contribution by platform…. On a full year basis, smartphone and IoT led the growth with 12% and 33%, respectively, while HPC, automotive and DCE decreased 8%, 7% and 8%, respectively… Overall, smartphone accounted for 49% of our 2019 revenue; HPC, 30%; and IoT, 8%."
Remember, in 2019 China is second in TSMC revenue (20%) behind the US (60%) but well in front of the other parts of the world and China revenue is on the rise. My guess is that China will be 25% of TSMC's revenue in 2020 further out pacing Japan, Korea, Taiwan, and the EU, who are all in single digits.
The TSMC smartphone and IoT surge are a very good reflection of the China market.
Samsung is being pushed out of china leaving Apple as the only foreign smartphone supplier in the top 5. Huawei is dominating and Huawei and TSMC go together like peanut butter and jelly. In order to compete the other China smartphone suppliers are forced to follow Huawei into the TSMC ecosystem so it is all about TSMC.
IoT is the interesting one. The number one IoT driver in China is security (cameras) which are EVERYWHERE and backed by AI. 5G is a national priority in China and will increase the abilities of AI on the edge.
For example, in the US we have license plate readers so our local police can identify and recover stolen cars and the criminals that are driving them. The next level is facial recognition where law enforcement can identify known criminals and recover them. China is already at that next level, semiconductors and AI are everywhere and there is no stopping it no matter how you feel about privacy.
"We raised our 2019 CapEx guidance by $4 billion to $14 billion to $15 billion, and we ended up spending $14.9 billion. Our 2020 capital budget is expected to be between $15 billion and $16 billion. Out of the $15 billion to $16 billion CapEx for 2020, about 80% of the capital budget will be allocated for advanced process technologies including 3, 5 and 7-nanometers, about 10% will be spent for advanced packaging and mask-making and about 10% for specialty technologies."
As I mentioned before, TSMC won the 7nm, 6nm, and 5nm popular vote so do not be surprised if CapEx is again raised and we have another hockey stick of growth in Q4.
"For the full year of 2020, we forecast the overall semiconductor market growth excluding memory to be 8%, while foundry industry growth is forecast to be about 17%. For TSMC, we are confident we can outperform the foundry revenue growth by several percentage points in U.S. dollar term."
Now that 's what I'm talking about… 20% growth. It really is satisfying when hard work pays off.
"Now allow me to talk about our N5 volume production. Our N5 technology is a full node stride from our N7, with 80% logic density gain and about a 20% speed gain compared with 7-nanometer. N5 will adopt EUV extensively and is well on track for volume production in first half this year and with good yield."
"Finally, I'll talk about our N3 status. We are working with customers on N3's design, and the technology development progress is going well. We have many technology options in development and we carefully evaluate all the different approaches. Our decision is based on technology, maturity, performance and cost… We will announce more details about our N3 technology at our TSMC North America Technology Symposium on April 29."
TSMC N3 will again be FinFET based. We can talk more about this after the Symposium. The Q&A was pretty lame this time but here is the best answer:
"But I can just tell you that whatever you read on the newspaper is not true…"
Share this post via: