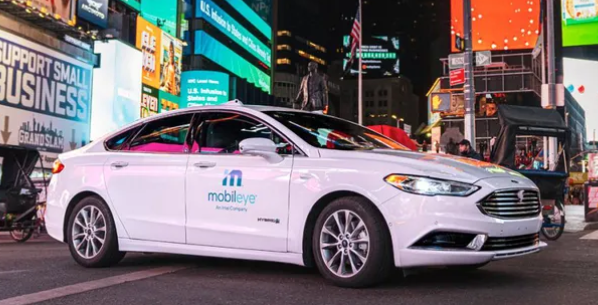 Last week, Mobileye released a 40-minute long unedited video of the company's camera-only Supervision automated driving system in action on the chaotic streets of New York City. The video release was part of an announcement of an expansion of Mobileye's testing of autonomous vehicle technology including New York City (as the only permitted AV operator in the state) and with two systems or paths to market – the camera-only solution and a radar and lidar enhanced offering.
Unedited Mobileye Autonomous Vehicle Ride in New York: https://www.youtube.com/watch?v=50NPqEla0CQ
Mobileye described the initiative as part of a broader effort targeting the "robotaxi" segment encompassing planned deployments in Tel Aviv (with Volkswagen), Paris, New York, Munich, Tokyo, Shanghai, and elsewhere with auto maker partners Ford, Nio Motors, and Geely, among others. Speaking at the event, Mobileye CEO Amnon Shashua made a distinction between robotaxi deployments and related system configurations and "consumer" AV systems, such as that offered by Tesla Motors.
In fact, Shashua painted a picture of Tesla as the lone auto maker offering a semi-autonomous driving system vs. all other AV developers working toward robotaxi solutions. This is the dichotomy defining the future of automotive transportation in the estimation of Mobileye. (It is a view at odds with the emerging conventional wisdom that the commercial long haul trucking industry will be first to benefit from autonomous tech.)
He further noted that the robotaxi proposition is encompassed by the consumer AV vision. This is manifest in and validated by Tesla's announced intention to enable a robotaxi capability in the not-too-distant future. In contrast, the robotaxi concept does not encompass the consumer AV vision, which is defined by vehicle ownership.
Shashua is proud of Mobileye as the only commercially available camera-based autonomous vehicle hardware-software stack solution suitable for both robotaxi and consumer deployment. As if adding a cherry on top of the icing on the cake, Mobileye also owns Moovit which is intended to ultimately serve as the app-based front end to the full mobility-as-a-service (MaaS) offering.
Mobileye is in a unique position to bring its vision to life. The company is the dominant supplier of silicon and software for front facing camera systems.  Mobileye shipped 19.5M systems to auto makers in 2019 – nearly a quarter of the entire global market – and anticipates surpassing 100M Mobileye-equipped vehicles on the road by the end of 2021.
Mobileye parent, Intel, has AV-supporting microprocessor solutions and has a stake in mapping provider HERE. Mobileye is also building out a data collection platform in its Road Experience Management system for identifying road signs and hazards in real time.
Mobileye is demonstrating a Tesla-like consumer AV solution with Geely-owned Zeekr in Israel with a production vehicle due this year. For the purposes of the New York event, Mobileye appears singularly focused on the robotaxi proposition – a concept that has yet to prove its commercial viability.
At the heart of the robotaxi solution is a geographically limited area of operation – hence, Mobileye's city by city deployment and testing. At the heart of the Tesla-led consumer AV concept is cost concerns (Target: <$5K) and the ability to operate anywhere.
To demonstrate its camera-only solution Mobileye chose New York City, an operating environment better suited to a system additionally equipped with LiDAR and radar. It may be that Mobileye is constrained by the reality that each of its OEM partners – such as Nissan with its ProPilot 2.0 system – has its own vision for camera-only Level 2 (semi-autonomous driver supervised) hands-free highway operation a la GM Super Cruise.
It is notable that the Intel Mobileye event occurred the week before Tesla's earnings report and the same week that Tesla announced plans for a $199/month self-driving subscription service. Coincidentally, Revel simultaneously announced New York approval for its launch of a Tesla-based taxi service in New York.
Shashua's portrayal of the company's progress toward a global robotaxi offering scaling and deploying on a city-by-city basis belies the reality that Mobileye offers the only commercially available autonomous vehicle solution ready for production. By demonstrating that system's camera-only offering in action with the unedited video Mobileye is serving notice to its broad customer base that it has a market ready road worthy solution proven on some of the meanest streets in the world.
Shashua talks a good game about thousands of robotaxis and scalability, but the ultimate objective is to deliver a production ready mass market solution suitable for immediate implementation. This was especially important for Mobileye to communicate ahead of the end-of-week announcement of Magna's acquisition of Veoneer – the leading rival to Mobileye.
Skeptics reviewing the Mobileye unedited video saw it as an effort to demonstrate its ability to outperform Tesla's Autopilot. While superior to Tesla Autopilot, the video suggested other limitations. Most auto makers are probably more interested in hands-free highway operation than AV operation in an urban setting. In that respect the demonstration was something of a science experiment – as if Mobileye was simply telling the industry: "Look what we can do."  For the time being, Mobileye is the only robotaxi in town – even if it is only in testing mode.
Share this post via: